Last Thursday's premiere performance by Katie Noonan And Brodsky Quartet at QPAC's Concert Hall (28 April) was a stunning tribute to the artistic brilliance of Queensland's finest writers, composers and musicians.
From the eerily beautiful introduction of strings and song to the final performance rejoicing love, the audience was swept up in a bewitching music ensemble that was an emotive and raw journey of the human condition.
'With Love And Fury' is an especial creative collaboration. Together, Katie Noonan and the internationally acclaimed Brodsky Quartet (UK) expressed the arrangements of ten compositions with exquisite musicality on stage. The programme symbolically featured two distinct halves exploring shadow and lightness. It was simultaneously intense and inspiring.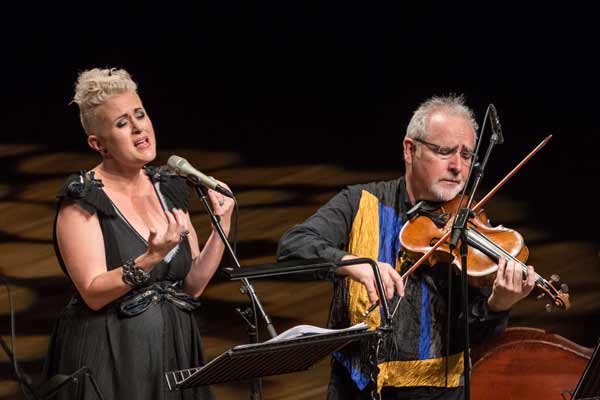 Image © Darren Thomas
Part 1 featured the re-imagining of the works of Judith Wright: one of Australia's esteemed writers, poet and social critic. Judith Wright was a progressive and uncompromising environmentalist and social activist. Her intellect, compassion and literary craft positioned her as an influential feminist voice who campaigned for indigenous land rights and environmental conservation.
We were reminded by Paul Cassidy of the Brodsky Quartet: "Judith Wright's words could have been written today, they show we haven't moved on too much, in terms of human destruction."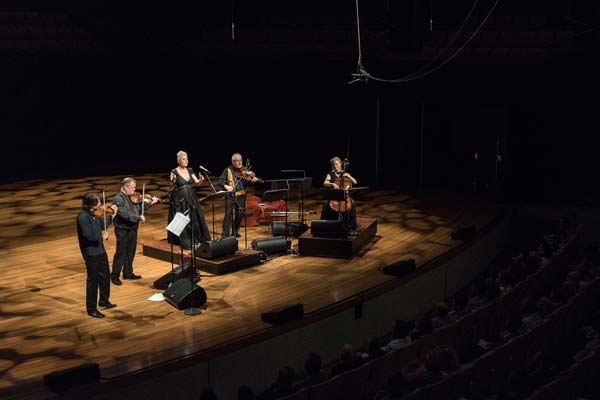 Image © Darren Thomas
Katie Noonan selected nine of her favourite contemporary Australian composers including Richard Tognetti, John Rogers, Elena Kats-Chermin, David Hirschfelder, Carl Vine, Iain Grandage, Paul Grabowsky, Andrew Ford and Paul Dean, to interpret Judith Wright's poems. They have done so with such clarity there is a palpable edge conveyed that provokes a strong, emotional buy-in: soul jarring, confronting and awaking.
So much so, I feel it would be impossible for any audience member to not be touched by the composers ability to encapsulate the elegiac tones of Judith Wright's works: sorrow, heartache, regret and hauntingly poignant. While the creative processes and interpretations of each composer varied, their respect for Judith Wright's words and desire to do them justice rang true: "It can only be another form of expression of the poem: never better, re-immortalising her works so they live on."
Image © Darren Thomas
Part 2 was a shift in mood: lighter in spirit. The Brodsky Quartet showcased arrangements from their own repertoire commencing with three instrumental pieces featuring one entitled 'Stradbroke': touching many hearts, including Katie who shared her personal connection to "Straddie, Noonuccal Country".
This superb outfit of musical maestros were then re-accompanied by the technically brilliant and sublime vocals of Katie. Together, they showcased just how hip a string quartet can swing as they serenaded us with a selection of songs by Elvis Costello, Bjork, Katie and Gordon Summer aka Sting. The soaring strings and dynamic vocals displayed a virtuosic confidence that enthralled the audience, culminating in the finale 'Fragile'.
Spurred on by Katie's belief: "Anyone who can talk, can sing," the audience sang with Katie Noonan and the Brodsky Quartet, creating a symbolically bitter-sweet moment, reflecting on the fragility of existence. "On and on the rain will fall. Like tears from a star. On and on the rain will say. How fragile we are."
The unique musical showcase had been an epic experience for all, including Katie who shared how joyful the entire evening had been for her: "The pressure leading up to tonight has been intense. Thanks Brissie for being bad-assed and making this world premiere so cool."