Normally, Logan Hall takes his media calls in between tour dates: travelling between cities, waiting on the next flight or watching the world go by from the passenger seat.
Today, however, the singer and multi-instrumentalist is busying himself in a different manner. "I've just been playing Wii with my kids," he laughs. Now a father of four, with his oldest recently entering their teens, Logan is making the most of the time that he gets with his family in between demanding world tours.
He attests that, while the balance isn't always easy, he is grateful both for every moment he can spend with his loved ones and every opportunity that he and the rest of his bandmates are given. "My youngest daughter is nearly six-months old, and I've been away from her nearly half of her life already," Hall says; his tone a mix of lament and incredulity.
"That's kind of been the case with all of our kids: we all have families, and we all have children at various stages of their life. Every year keeps on getting busier and busier, too. We've been full-time musicians for over ten years now, so the main adjustment has just been to the workload. Honestly, we count ourselves very lucky: we have amazing partners that are able to hold down the fort when we're away, and the phone is still ringing with more shows coming in for us to go and play."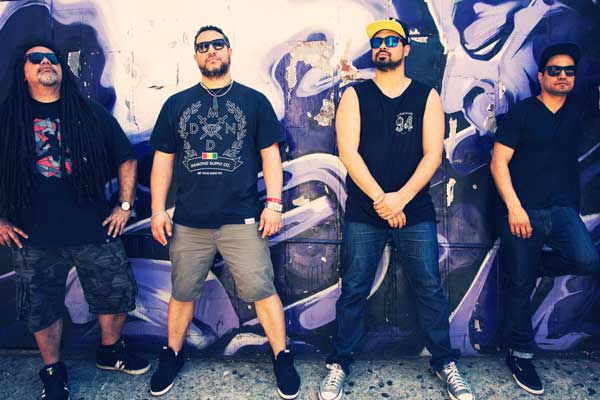 After humble beginnings in the late '90s, Katchafire have evolved into not only the biggest reggae export from their native New Zealand, but one of the most popular, contemporary purveyors of the genre. Along with some key international touring, the band have also spent time recently working on the full-length follow-up to their 2010 album 'On the Road Again'.
This has included some recording sessions in Jamaica, which is certainly a dream for any reggae-inspired artist and certainly no exception for a band from the other side of the world. "It's been a real honour," Hall says of the writing and recording sessions, which has resulted in new single 'Burn It Down'.
"We've gotten to work with some great producers out there. A lot of people think that the reggae from that country is just out of the Marley stable, but there is so much talent still out there. There are countless musicians, engineers and producers that are all doing such genius work over that way. I feel like we've brought Jamaica a lot closer to Katchafire, and vice versa, too. It's definitely going to play a big part on this next album. I don't want to let the cat out of the bag just yet, but we have some pretty exciting collaborations in the works."
This October will see Katchafire embarking on a run of Australian tour dates with fellow countrymen L.A.B. Rather than simply taking in the capital cities, the band will work their way through 20 dates across 5 states. "From this band's conception, we've been a fan of making sure the small towns are made to feel like the big towns every once in awhile," Hall says. "We like to get out in the heartland of where we're travelling and get to know the people at the grassroots of the country. Where else will we have 500 people filling out their town hall on a Wednesday? You can't match that kind of vibe, mate: you really can't."
Katchafire Australian Shows
Thu 6 Oct - The Gov (Adelaide)Fri 7 Oct - The Plaza (Melbourne)Sat 8 Oct - Chelsea Heights Hotel (Melbourne)Sun 9 Oct - Prince Bandroom (Melbourne)Wed 12 Oct - Uni Bar (Wollongong)Thu 13 Oct - The Cambridge (Newcastle)Fri 14 Oct - Max Watts (Sydney)Sat 15 Oct - Rooty Hill RSL (Sydney)Sun 16 Oct - The Rhythm Hut (Central Coast)Thu 20 Oct - The Jack (Cairns)Fri 21 Oct - Kirwan Tavern (Far North QLD)Sat 22 Oct - Magnums (Far North QLD)Sun 23 Oct - McGuries CBD Hotel (Mackay)Wed 26 Oct - Shamrock Hotel (Toowoomba)Thu 27 Oct - Hotel Brunswick (Brunswick Heads)Fri 28 Oct - Wharf Tavern (Sunshine Coast)Sat 29 Oct - Parkwood Tavern (Gold Coast)Sun 30 Oct - Island Vibe Festival (Brisbane)