If you've ever wondered what it'd look like to have a room full of people chair-dancing to 'world music', you've probably never seen Joseph Tawadros perform live.
Tawadros is an ARIA-winning, Egyptian-Australian oud player with a knack for spellbinding audiences with the ability to take an often overlooked instrument and create a wealth of different textured sounds.
The oud (a classical Middle Eastern instrument more lute than guitar) might not be your first choice for say, rockin' the blues. But in the right hands, it's capable of wielding bluesy sounds like nobody's business.
And that, right there, is the magic of Tawadros' work. He takes an instrument that most audiences expect to see and sound a certain way, and he uses it to explore a variety of genres and sounds.
This isn't traditional Arabic music, though it's certainly a large inspiration.Instead, Tawadros infuses traditional elements with Western genres as wide ranging as folk, classical, bluegrass, and metal.
Tawadros is currently touring Australia with solo, duet and group events around the country.
On 30 October at QPAC in Brisbane, the Joseph Tawadros Trio – a collaboration between Tawadros, percussionist brother James Tawadros and jazz pianist Matt McMahon – performed to a dazzled crowd as part of QPAC's 'Twilight Notes' series.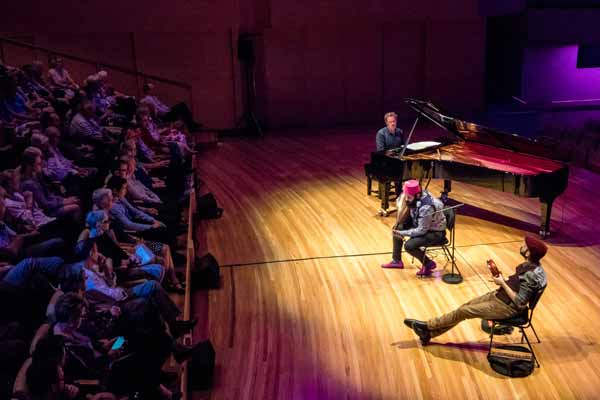 Joseph Tawadros Trio - image Darren Thomas
Though Tawadros joked that these are the 'hits you've never heard of', the truth is that the brothers and their collaborators have an ever-growing fan-base. If you're expecting a serious night of sombre performance, this probably wouldn't be your ideal concert.
As a duet, the brothers are an odd (should that be 'oud'?) couple: Joseph flashy brashness, James quiet on and off the stage. While Joseph cracks the jokes, his brother seems more than happy to settle in and watch the chaos unfold.
Tawadros' humour might not be to everyone's taste, but it's undeniable comedy gold to watch James Tawadros stare the show's star down, expression masterfully blank.
Adding McMahon to the mix only highlights the joy of that duality, providing another laconic sparring partner for Joseph's comedic storytelling.
But it's the music that captivates, especially in the otherwise stillness of the Concert Hall. It's haunting, dancing between heartache and soul-lifting in the way only really good music can.
Each man brings to the stage a passion for their work that's palpable, playing the sort of music that gives you goosebumps and steals your breath.
The Tawadros brothers have a gift for captivating performances and adding McMahon to the mix only adds another layer of beauty to the finely crafted pieces of music. As night-outs go, this was a doozy.
Joseph Tawadros is continuing his Australian tour from November 9-17.
Click here for more information.