Fresh from his UK tour, Aussie music icon Jon Stevens is touring the country to celebrate his latest solo album release, 'Starlight'.
Accompanying Jon on the road is very special guest and long-time friend, Kate Ceberano and her larrikin brother Phil and his band The Phil Ceberano Band. The result was a night (QPAC Concert Hall in Brisbane, 10 August) of raucous humour, nostalgia, and two of Australia's best delivering rock and soul as only they can.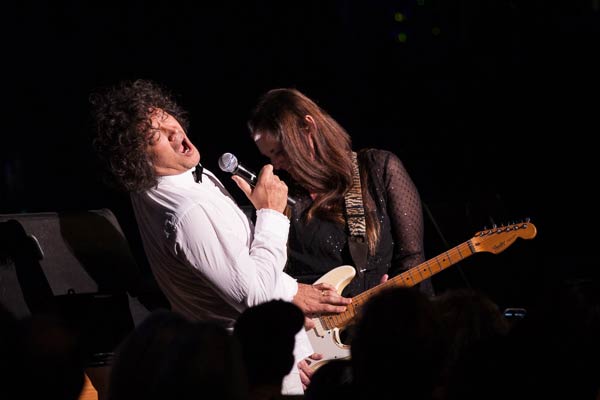 Phil Ceberano - image © Gethin Hill
If warming up the crowd was Phil and co.'s charge they delivered in spades, schooling the crowd on clapping styles and inviting members of the audience up for some innuendo-fuelled guitar duets before rocking the house with Led Zeppelin's 'Rock and Roll' and Van Halen's 'Jump'.
Click here for more photos from the show.
A video montage celebrating Kate's musical career and many other accomplishments in the entertainment industry preceded her arrival on stage. Upon spotting her I was instantly transported back to 2007 when I last saw her live in the Concert Hall touring her 'Nine Lime Avenue' album.
Timeless, ageless and oozing an appeal that is mesmeric to both men and women, Kate treated the audience to half a dozen hits delivered with her trademark big personality and smile. From the gospel tones of 'Brave', to the playful 'Young Boys Are My Weakness' and 'Pash', Kate had the audience eating out of her hand before bringing a hush over the room with her 1992 'Jesus Christ Superstar' rock opera hit 'I Don't Know How To Love Him'.
In a shout out to her father who was in the audience, Kate continued with a sublime cover of Roberta Flack's 'The First Time Ever I Saw Your Face' in memory of her late grandmother, before finishing her set with an impromptu cover of the Divinyls' 'I Touch Myself' featuring a snippet of 'Science Fiction'.
Jon Stevens - image © Gethin Hill
A video montage also preceded Jon's arrival on stage, however rather than being retrospective, his featured high praise from his 'Starlight' collaborators, Eurythmics' Dave Stewart and The Beatles' Ringo Starr.
Bounding on stage, Jon wasted no time unleashing his powerhouse voice on his new material including the rollicking 'Devil In My Heart', the country infused 'Oh Lord' and (my personal favourite because it has that anthem vibe) 'Feel Like Letting Go'.
Brisbane audiences can be hard work and for the first eight songs all bar a small number of people remained seated. Above the opening notes of Noiseworks' hit 'Touch', Jon urged the crowd to get on their feet and there they stayed as Jon belted out Noiseworks hit after Noiseworkhit with a side of INXS' 'Kick' thrown in for good measure.
Described as a 'gorgeous silver fox' by an enthusiastic fan unable to restrain her appreciation, Jon delivered a set that would bring men half his age to their knees. Returning to the stage for the encore, Kate joined Jon in reprising their 'Jesus Christ Superstar' roles of Mary Magdalene and Judas to perform the highly charged and intoxicating 'Everything's Alright'.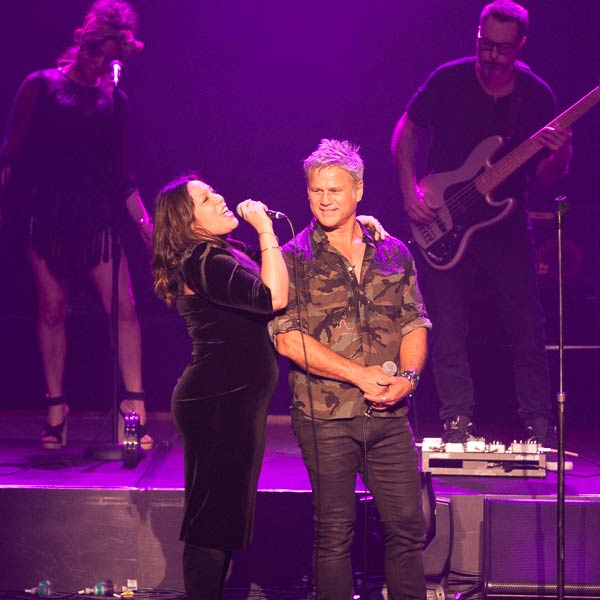 Kate Ceberano & Jon Stevens - image © Gethin Hill
Marvin Gaye and Tammi Terrell's 'Ain't No Mountain High Enough' was next, but after a false start, further slip-ups and helpless laughter, agreement was reached that the song would be scrapped from all future shows.
The final song, a cover of Sly & The Family Stone's 'I Want To Take You Higher', felt like a joyous family reunion, and as Jon and Kate departed the stage hand in hand, I couldn't help but feel grateful to them both for their ongoing contributions to good, Aussie music.
Click here for more photos from the show.