Slick but unpretentious and stylish without looking stuck up, the undeniably talented Joe Bonamassa played to a sold-out crowd at QPAC's Concert Hall (28 September).
And by 'played', a better description would've been 'created magical music that flooded the venue with sounds that brought grown men to their knees weeping with joy'. Or something like that.
Click here for photos.
Bonamassa knows he's good, but he walks across the stage not with an arrogant swagger but with a swing in his step and exuberant excitement. He has been doing this his whole life and it's clear to see it's where he is meant to be.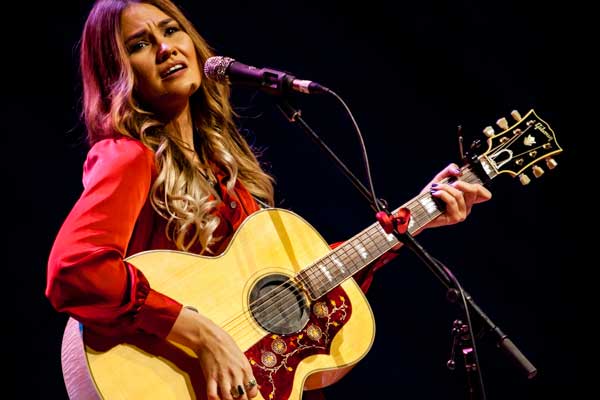 Sinead Burgess - image © Lachlan Douglas
Supported by the long-legged and golden-voiced Sinead Burgess (a beautiful local Brisbane artist), the night began slowly, gently and sweetly. Burgess sung dreamily, her stories set to music and each song felt like a snapshot into a moment of her life.
The contrast of Burgess to Bonamassa and his band was striking: from a solo figure standing centre stage strumming to a full band that filled the hall with booming soul sounds! The crowd was eclectic with the spread of ages from 5 to 75 and everything in between. There were more men than women and it was obvious that most were diehard fans, with people travelling from all over Queensland and Australia to get to the show.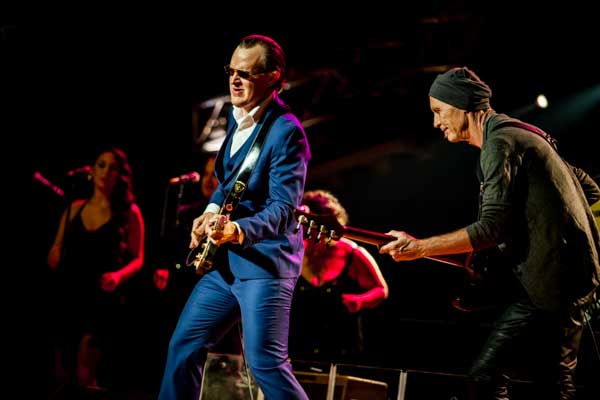 Joe Bonamassa - image © Lachlan Douglas
Bonamassa started his show in darkness, and the anticipation of the crowd was palpable with a sense of excitement in the air, wolf whistles and the occasional screaming of Joe's name. He came out on stage to a roomful of roars in a sharp, navy-blue suit, tan shoes, tinted glasses and a full band following him.
Joe Bonamassa - image © Lachlan Douglas
Three back-up singers, a saxophone player, a trumpet, a bass guitarist, a drummer and a pianist filled the stage and provided the soundscape that Bonamassa performed over. From that moment, it was all on and the frenetic fantastic musical feast of JB began. He crooned, he wailed, he soulfully sang; he strummed, he picked, he did things that can't even begin to be described.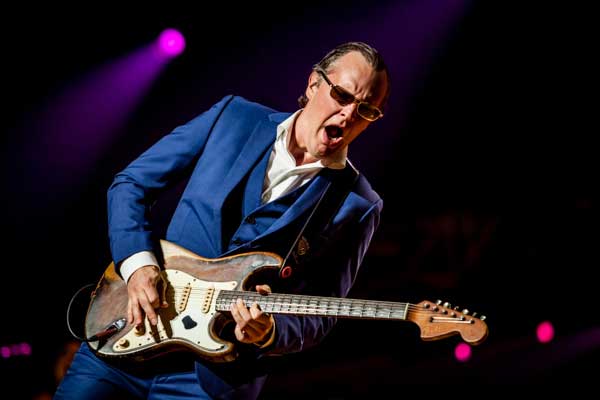 Joe Bonamassa - image © Lachlan Douglas
At one stage, it felt as though his guitar had become part of his body: his arms and fingers indistinguishable from the instrument. But throughout it all, it felt real. It felt like somehow you knew Joe and he was playing just for you. His banter was laced with jokes and stories about fans and slipped seamlessly between songs. This is a talent that not all musicians possess, and especially not when playing to huge crowds and an endless sea of people.
Joe Bonamassa - image © Lachlan Douglas
It's obvious that he was born for the stage and his gift to the world is his guitar skills.
Click here for photos.