Modern day rock music is a colourful kaleidoscope of sub-genres and influences, fusions and hybrids.
It's almost tricky to define, increasingly broad, ever-changing; though there's no questioning its raw authenticity when used to describe Jet.
Standing among the audience at The Tivoli Theatre (4 June) for the Brisbane leg of their 'Get Re-Born' tour felt unlike an audience worshipping 'what was', but still very much 'what is'.
Jet in Sydney - image © Pat O'Hara
The air was alive with nostalgic anticipation, certainly; nonetheless it felt like 2003 with so much palpable enthusiasm as if the album was fresh on the charts.
The four-piece (plus touring member Louis Macklin) entered without a fuss, stage lights flashing, each man taking his instrument, briefly tuning and tapping, instantaneously starting. Set list mirroring the 'Get Born' song order, 'Last Chance' was off the top, short and sweet.
Click here for photos from Jet's recent Sydney show.
They transitioned beautifully into 'Are You Gonna Be My Girl', hands hovering over guitars and symbol shaken slowly, eventually increasing to the tempo of the iconic intro.
While admittedly I wish the song was surrendered later, sets often being more energetic as they progress, Jet were able to comfortably assert themselves as more than a performance prolonged by the wait for any 'one-hit wonder'.
'Rollover DJ' kept the atmosphere elevated, though surprisingly excitement levels increased with 'Look What You've Done', a clear favourite, albeit slower. The audience was overly eager to dive into the emotional ballad, belting out the opening lines too early, frontman Nic Cester teasing: "I'll do the singing here."
Bass-heavy 'Get What You Need' came next, all band members exiting bar the guitarist and a switch in vocalist for the underrated 'Move On', afterwards. The track was a highlight (despite its forced false start – minor altercation in the crowd), Mark Wilson performing a notable harmonica solo.
Jet in Sydney - image © Pat O'Hara
The set remained slow with 'Radio Song', 'Get Me Outta Here' reversing the pace. 'Cold Hard Bitch' made a remarkably memorable impression, lengthy introduction comparable to AC/DC classics, the song arguably triggering the loudest crowd response.
'Get Born's back end proved less recognisable, though in no way weaker or less-rehearsed. The record's close saw the open of a 'Shaka Rock' selection, starting with 'She's A Genius', then 'Seventeen', dedicated to a fan, Louise.
I was unfamiliar with 'Walk', though 'Black Hearts (On Fire)' seemed to nestle itself among Jet listeners' all-time picks. 'Put Your Money Where Your Mouth Is' rounded off the set, but an encore was demanded, answered with an acoustic rendition of 'Shine On' and closed with underdog 'Rip It Up'.
The orderly, start-to-finish inclusion of an entire album initially daunted me; surprisingly, it translated fantastically in a live show format. While the record is top heavy, popular singles stacked at the beginning, playing 'Get Born' in full shone a light on the dark horses equally worth an honest listen.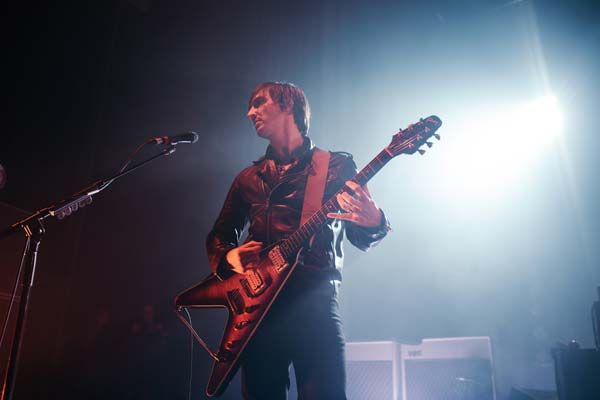 Jet in Sydney - image © Pat O'Hara
Quality wise, the band was faultless showcasing exceptional musicianship. The kind of act you witness in awe and quietly categorise as 'once in a lifetime', 'as good as it gets'. And it was simply, extraordinarily so, captivating without the embellishment of complicated sets, or lighting, or dramatised performing.
Their brilliant composing had room to breathe, as it should – let the songs speak. Each member exuded with years of experience, though radiated with youthful intensity, as well. It was an interesting balance, a rare equilibrium; too relevant, too much dynamite to date back 20 years, but too much talent to be green.
Rock music has been explored and experimented with in so much depth it's become a practically indefinable genre, lines blurred.
Though in a kaleidoscopic industry of shapes and shades, Jet are the primary colours – they're the foundation, the basic hues built upon when painting the rest.