The good folk at Dashville have done it again, compiling a stellar line-up for their premier event The Gum Ball.
This month's Gum Ball will be the twelfth instalment of the homespun festival and promoter Matt 'Magpie' Johnston says as always, the event is carefully and purposefully curated for a diverse audience.
"If you've been to The Gum Ball you know you'll get a bit of everything and that's pretty much our brief," Magpie says. "We put bands in positions because we feel that band is going to provide the right kind of vibe for that time of day and it's a journey.
"You start in the morning with something that's going to get you up and going in the morning, through the day we have some chilled stuff and towards the night it builds up. We've been doing these kind of line-ups for quite some time and it's amazing how they evolve."
A weekend of music, arts and camping set in the picturesque Hunter Valley, The Gum Ball in 2017 will play host to Regurgitator, Tripod, Kim Churchill, The Funk Hunters and Boo Seeka as well as a few of Magpie's own, personal highlights. "A lot of the acts we've got playing this year I haven't seen a couple of them before, but I've listened to a lot of their music," Magpie says.
"Gareth Liddiard [The Drones] is a guy, who to see him in a small room with a guitar is probably one of the most powerful things you'll ever see. Him coming to Gum Ball is a coup for us.
"The Go Set are a band that tour internationally and I've been trying to get those guys along for a couple of years, and this year it happened. Everything within that line-up has got a massive purpose towards the final result."
With The Gum Ball kicking off later this month, Magpie and his Dashville crew are busy putting the final touches on the festival and making sure it's a weekend of fun for the whole family. "There's lots of market stalls. We'll have yoga in the morning on both days and there will be skateboarding demos," he says.
"At night there's a kids creche, like a child-minding service, on both nights. There's another stage, a side stage which will have a lot of theatre and comedy going on as well and that runs in tandem with the music."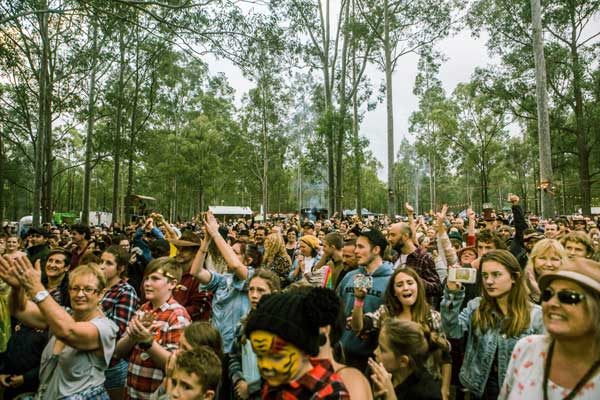 Image © Renae Saxby
Magpie says the continued success of The Gum Ball – as well as other events Dashville operates – is owed to the DIY ethos of the festival and the inclusive, community atmosphere it has fostered over the years.
"A lot of the people who come to Gum Ball will come to other events of ours as well," Magpie explains.
"It's overwhelming how positive everyone is. We get a lot of love and respect and there are a lot of friends we've met over the years. We're always welcoming to people who want to join that community and it's been established over a fair few years of friendships and good times."
After a temporary hiatus in 2015, Magpie says The Gum Ball is stronger than ever and poised for a healthy future.
"It was a bit of a gamble and coming back the next year everyone was keen and refreshed," Magpie says.
"They weren't very happy they couldn't have Gum Ball for a year, but I think Gum Ball's going to be around for a while, hopefully. If everybody works together, we'll just keep cracking along and keep the good times coming."
The Gum Ball is held at Dashville, Hunter Valley, 21-23 April.