After a hiatus, Little BIGSOUND in Brisbane returns this month with a re-vamped and re-energised programme that is a must-attend for young adults (aged 15-25) with a passion for the music industry.
The perfect opportunity to get your foot in the door, learn new skills, meet industry experts and discover more about the music scene, Little BIGSOUND will be jam-packed with speakers from the entertainment and music industry, performances from well-known artists and skill/ learning workshops.
The event is a day of networking with the aim to connect and teach youth creatives to come together as a community according to Event Program Organiser Trina Massey. "What we really want is to get these youth creatives in a room, so they can meet each other and meet likeminded individuals, which is such an important part in growing our community," Trina says.
"Another part of it is also the various events that are going to be happening throughout the day, so we're really focusing on trying to share skills and trying to share information," she says.
Trina adds the day will be brimming with activities and workshops. "It goes from the auditorium at the start of the day with an awesome key note from Airling. Hannah Sheppard [Airling] is going to be talking about her experiences as a youth creative because she started music seven years ago in a different band, finding her way through the music industry to where she is now."
Airling
There will be broad range of workshops for young creatives to immerse themselves in. "We have various things happening like the Get Good Panel, which focuses on songwriting with
Tia Gostelow
, Konsti from The Belligerents and also John Mullen from Dew Process," she says.
"These kids and these youth creatives are making local music and we want to be able able to give them tools to be able to get their music as far out as possible. But that's just one part of what Little BIGSOUND is doing," Trina says.
One aspect of the day will involve a pop-up Ableton studio, where participants will be able to use programmes to produce their own music. "They will be making and manipulating and producing music," Trina says. "In another room we've got The History of Synth, which I think is the coolest bit. We've got 11 different, interactive synths that people can interact and play with and learn about the history of synths."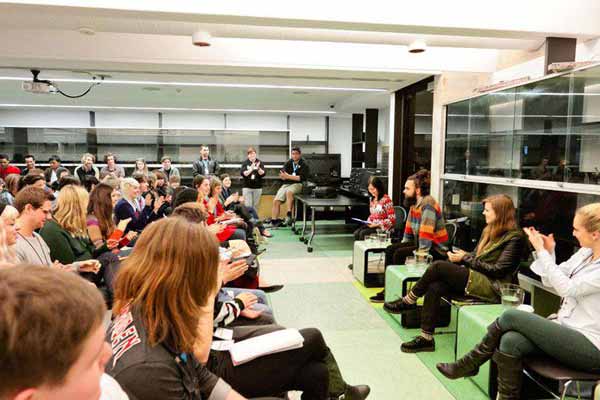 2013 Little BIGSOUND workshop
One of the biggest stumbling blocks for young creatives gaining a foothold in the industry Trina says is meeting professionals active in the scene. "Obviously networks are such an important thing in the industry and knowing people," Trina says.
"So we've got a series of roundtables were participants can meet a range of mangers, publicists and booking people from across Queensland," Trina says.
"And to end the day we've got Danny from The Kite String Tangle who will be using instruments and talking about how he creates a song and goes through the songwriting process. So there's a lot going on," Trina laughs.
"When I think about when I was starting off in the industry years ago these tools didn't exist, it makes sense to share that knowledge. If we make it strong and connected in music industry then everything is better," Trina says.
Little BIGSOUND takes place at The Edge at State Library of Queensland (Brisbane) 29 July.