The annual Earth Frequency Festival is more than an electronic dance festival.
The SE QLD event has morphed into a leading grassroots music and arts festival that has developed strong connections with the local community as well as offering a plethora of alternatives to the normal 'festival experience'.
At the forefront once again is founder and promoter, Paul Abad.
What are the core principles of Earth Frequency Festival?
[Paul]
Self-expression, respect, love, tolerance, diversity, community, creativity and connection.
Earth Frequency is a temporary space that we want people to come along to become their ultimate self, be inspired, fall in love with life again, experience magic and synchronicity, and take all that beautiful energy and creativity back in their every-day lives.
Earth Frequency Festival 2018: MUSIC LINEUP from NOli GANDA on Vimeo.
How has the event evolved the last few years?
Aside from the usual expansion and evolution at a creative level, which is always happening, over the past few years I guess the biggest change has been finding a venue we want to make our permanent home and really fine-tuning our systems around that.
We've evolved from a two-stage doof festival in a much more remote location, to a four-stage event with a much broader music policy and a big focus on community, family, art and workshops. Overall, a much more holistic experience, all contained within an awesome venue that is under an hour from Brisbane and located (south of Brisbane) in a better position for all our north NSW followers.
Paul Abad - EFF promoter
We've been granted permanent planning approval from Ipswich City Council, which is a massive achievement and the result of years of work, and we've refined our focus to be Queensland's premier transformational festival, which is really exploring a new, cultural niche somewhere between the better know polarities of underground doof, folk festival, and spirit/ healing/ arts/ workshop conference.
It's a really amazing space to be putting our focus and we love the results.
Click here to read the 2017 EFF review.
The work done creating a safe environment for everyone to enjoy the festival has been on going. Getting the balance between fun and safe; how much work goes into this aspect of the event?
The safety of our patrons is always our top consideration and it takes months of work each year with all the relevant authorities and stakeholders, as well as keeping a close connection with our community and a lot of transparency and dialogue about why things are happening.
Freedom and creative expression is the ideal and everyone wants to have fun at a festival. But when you see the times it goes bad and people get hurt at or while travelling to/ from a festival, it really does reinforce the importance of safety, community standards and awareness of issues like safe driving, looking after your mates etc.
It's part of our operational plan each year to put this message out strongly and to work towards the best balance of safety and fun.
Let's talk line-up; who are some of the acts you've added to the bill you are particularly happy to have part of the EFF experience?
Victor Ruiz and Beats Antique are our festival headliners this year and I couldn't be more happy to be hosting them; amazing music. Also of note is the Grouch in Dub live band; this is a new project and I think this will be their first outdoor performance; everyone is psyched for that.
On the live band front, Oka, Tijuana Cartel and Bullhorn always deliver a great show, and on the electronic line-up, Kalya Scintilla, Loud, Burn in Noise and Loco and Jam are my picks for standout moments.
On the local front, any new acts you are bringing to EFF punters should be checking out?
Elbow and Cosmoganic are both Australian-based bass music producers who are making some waves, definitely work a look. Crash Cats and Sun Salute are new bookings for us on the live band line-up, and we're also happy to have Arya and Morgazmk, two amazing and talented female DJ/ producers from the local scene stepping on to the EFF stage this year.
The diversity of acts at EFF across the years is a real highlight; do you go out of your way to include as many different elements of the electronic sphere?
Within reason yes, definitely. We have some established scenes/ crews/ styles here which work really well and we like bringing everyone together.
It's not diversity for its own sake though; there is a definite story and cultural tapestry being woven here, and even so it doesn't by any means cover the full range of electronic music happening at the moment. There is so much amazing music being made in so many genres it's impossible to cover it all.
So we focus on what is coming through across the local and domestic scene as well as a few sneaky infusions of next-level newness that we think will go down well.
But it's not just electronic music. There is also a wide selection of live acts also involved, right?
Absolutely, the main stage and Earth Pod both have a decent chunk of live bands. This year's line-up includes Dub Princess, Oka, Tijuana Cartel, Bullhorn, CC The Cat, Katia, Master Wolf, Ladi Abundance, Crash Cats and many more.
The venue is a cracker; how do you describe Ivory's Rock to those who haven't been before?
Ivory's Rock is pretty much the perfect middle point between the beauty of Australian nature with all the comforts you need for an amazing weekend, and it's located under an hour from Brisbane.
We have a maximum capacity of 5,000 people but we have 100 awesome free, hot showers and 150 flushing toilets and I don't think I know of any other festival venue in Australia that provides this. Flat camping, limited powered camping option, easy access for all vehicles, camping with your car, the list goes on.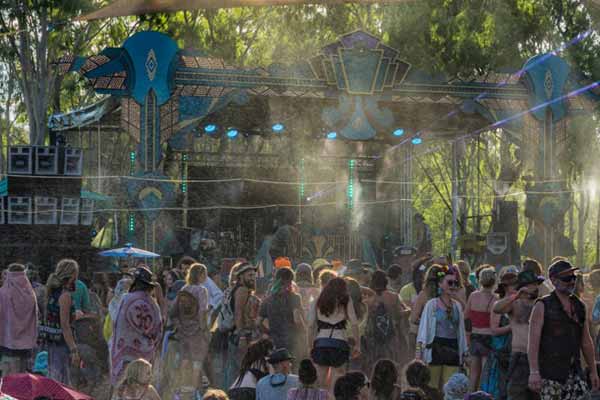 Previous Earth Frequency Festival
Add to that an organic farm. We are able to do a tree plant at the festival this time as well. All the water treatment is done on site and is converted to irrigation water, and there's enough infrastructure in place that in the next year or two we are going to attempt a solar project to take the festival stages off generators, end the use of diesel [fuel] and farm the energy we need over 12 months and use the grid as a battery.
It truly is an epic location and it allows Earth Frequency to explore its environmental themes and ideals to a deeper extent than any of our previous venues.
Between now and the event in February; does it become almost a double full-time job handling everything necessary to open the gates on time?
Absolutely. It starts feeling like a full-time job for me from about July to be honest. But I have to say, it's a rewarding job and there's a lot of fun and awesome people involved both before and during the festival experience.
You mentioned last year that emails devour most of the time involved planning EFF; is this still the case?
Hahahaha, yes. Every day, lots of emails. We have a big team and there's a lot to coordinate. Maybe some day we can evolve to telepathic project management, but in the mean time there's a lot of mail to get through every day to keep things rolling.
Welcome to Earth Frequency Festival 2018 from NOli GANDA on Vimeo.

And the team you have involved working on EFF… time for shout-outs Paul. Anyone in particular you want to thank?
It's a difficult one. The core team of EFF is over 30 people and during operational time the staff numbers are over 100 and the volunteer numbers are over 400.
The EFF team truly is amazing and committed and I couldn't do this without them. The event management, the department heads, the volunteers, the artists... wow. Such a beautiful community of creators.
This year's EFF was one of the biggest yet in terms of music acts involved and the number of workshops offered. Are you nearing the optimal structure of what you want to achieve with the EFF experience?
Absolutely. In terms of attendance we have been sitting around the 80 to 90 per cent mark of capacity and really pushing our creative boundaries and budget getting up to that point. But there's still a bit of room to go and some new ideas on the cards.
We've been waiting to get this permanent approval in place and playing with the formula and the numbers a bit in this process, and so while we definitely want to maintain what's been achieved so far, I think with our last steps of growth it's going to open up some possibilities we haven't been able to achieve yet. Very much looking forward to that being a reality!
Music plays a large part in the EFF experience. But there is still plenty of other activities and workshops to get involved with. What else can festival goers experience at EFF?
Earth Frequency Festival has an art gallery, live painting, multiple workshop spaces, a family/ kids space, a massive markets zone; we're starting to explore ideas for theme camps and interactive installations too, and we'll have a tree plant and a five-day permaculture workshop as part of the festival in 2018.
There's definitely a lot more to the festival than just being on a dancefloor for four days and creating all these different possibilities and pathways is always a beautiful thing.
Earth Frequency Festival takes place at Ivory's Rock (SE QLD) 16-19 February, 2018.