It's a Sunday night, a rainy Sunday night (15 October), and most of Brisbane's rock & roll fans are at The Riverstage to see Midnight Oil.
But for those who think oil and water don't mix, there's Illicit Symphony's album launch at The Triffid.
Three bands were to perform, all three hailing from the Sunshine Coast, however one pulled out at the last minute, one can only assume due to the rising creeks around the Coast, cutting roads and creating mayhem.
Nevertheless, Banned FTC (Banned From The Club) opened to a small but eager crowd at, arguably, Brisbane's best live music venue. Banned FTC are currently a two-piece outfit, relying on drum tracks until they find the drummer who will fit the bill. But close your eyes and you'll soon forget the beats are hailing from a computer.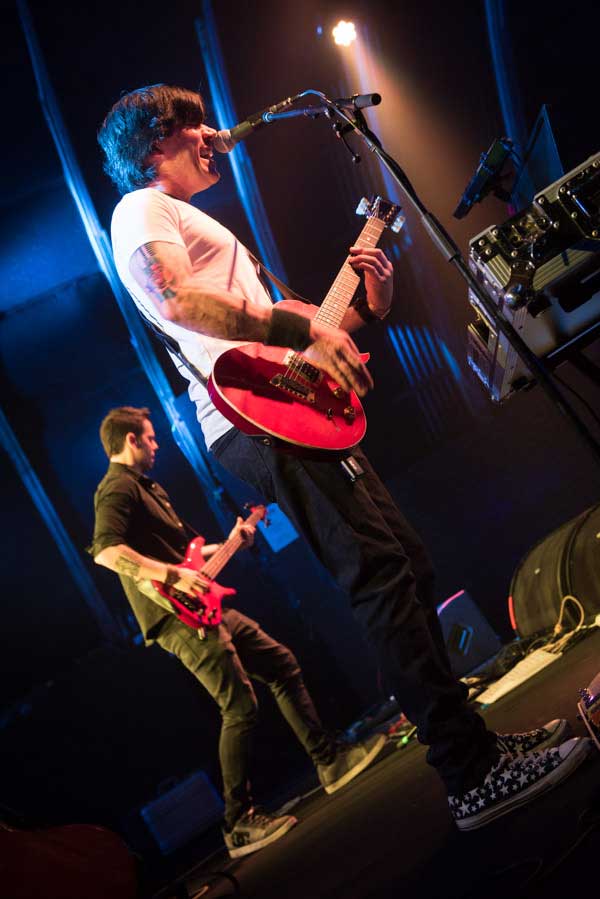 Banned FTC - image © Marc Austin-Zande
Iain (guitar, vocals and chief computer nerd) and Esteban (bass and vocals) set the bar high with an energy and sound that belies their current duo format. Sometimes rock, sometimes a little funk, but always giving it their all.
While Iain maintains the wash of guitar, Esteban lays down some cracking lead breaks on bass. They are a little different and a lot entertaining. Well worth the ticket price if you get the opportunity to see them around the Sunshine Coast.
After a short interval, the headline act took to the stage. I've seen Illicit Symphony before so I had an idea what to expect, but The Triffid not only looks and sounds great, it seems to bring out the best in performers. And bring out the best it did!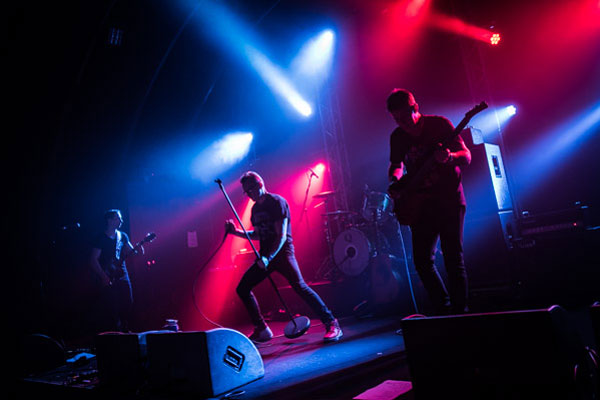 Illicit Symphony - image © Marc Austin-Zande
These four guys put on a show to envy many of the international acts I have seen at The Triffid in recent times.
Frontman Andrew Mann, who I would describe as the lovechild of Morrissey and Mick Jagger, commands you attention. He can sing, boy he can sing. But his stage presence far exceeds his diminutive frame. He is lively and passionate and engages the audience with every word.
Damien Crisp, the seemingly reserved guitarist, crunches through power chords and more gentle spaces then lights up some fantastic licks when the spotlight is turned his way. He's a Jekyll and Hyde with an axe to grind.
Illicit Symphony - image © Marc Austin-Zande
The rhythm section is provided by drummer Daniel Rickard and bassist Wayne Hall. Rickard is a hard hitter and great to watch him at work. Hall gets about the stage, sometimes thundering root notes and sometimes slapping and popping like a funk meister, but add these two together and you have a driving rhythm section to blow the roof off.
This is classic rock outfit, by their own account; they are influenced by The Beatles to AC/DC but wow, they are their own brand of rock.
From start to finish, even yours truly, a punk and grunge diehard, was drawn to this music. Classic rock it might be but hell, they are something just different enough to really set them apart, and above, the deluge of rock covers bands that fill the pubs and clubs of the Sunshine Coast.
Illicit Symphony - image © Marc Austin-Zande
These guys are doing their own thing and to hell with it. And their own thing is a big sound, a really big sound! The entire set was magic.
I managed to get my hands on a copy of their self-titled debut album at the show and I've been playing it quite a bit since. I have to say, the live show did not betray the studio production. Live, they are tight, really tight.
This is a very polished act indeed and songs like 'Hot Body', 'When You Love' and 'Burning Bridges' are just as amazing live as they are on the album. If you get the chance to see Illicit Symphony, do it! You will not be disappointed.
Click here for more photos.