Are music festivals really worth it?
I pose that statement after 15 years in the music industry, the last 5 as music editor, and having attended 100-plus festivals including 14 straight Splendour In The Grass events. That streak ended this year, after I promised myself the day after last year's Splendour I would never return. Even when The Avalanches announced their 14-year return from the wilderness and a host other first-rate acts emerged on the bill. Why?
Note to future self: I looove feestivaals! – © image supplied
I uttered [Ed's note: I screamed it] the headline of this story as I was packing up my wet, soggy campsite, the owner of blistered feet and a battered body: the vision of a broken man. The weekend hadn't gone to plan, and ahead of me lay a mouldy, wet blanket in the form of reality and a work day at my desk piecing together another edition of scenestr. A flotilla of tents surrounded me and enough mud to compete with Glastonbury.
Really, what was a grown man doing amid this orchestrated chaos? As I sat discontentedly in the passenger seat a husk of a human being, I told my festival-partner-in-crime (and my personal Baymax, from 'Big Hero 6', on the journey home) the life drained from my voice, it wasn't possible to enjoy the fruits of another festival without at least a week off from the world. I'm serious.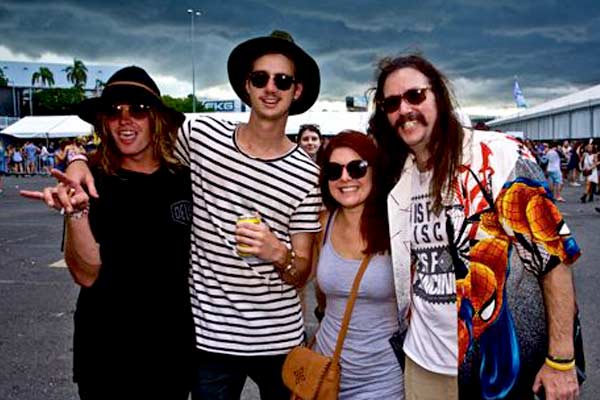 Random meets with two new mates... Gareth Bryant [far right] - © image supplied
Surely, music festivals are a game for millennials and those foolish enough to ruin their bodies in the pursuit of the live-music experience. Now, before you think I'm yet another bitter, old man before my time [Ed's note: I prefer jaded to bitter], hear me out.
If you've never been to a music festival, you really are missing out. From the smorgasbord of music on offer, to extended attractions of food, fashion, arts, fringe and culture you'll walk away from any event with a fresh Instagram wall of memories and shared experiences.
Gareth Bryant rides the zebra: festivals equal great times - © image supplied
I have a bagful of stories that relate solely to Splendour. From the time I walked into a lake unknowingly well after hours that yadda yadda yadda... ended up with yours truly huddled naked next a car trying to avoid hyperthermia. To jumping around the VIP bar with an erect penis [Ed's note: no memory of this one, sorry. Beer. Nonetheless verified by many witnesses] yelling "tour de force"... referencing my love of cycling, obviously.
But once you've notched ten, twenty festivals (maybe not with stories as ridiculously sounding as mine), what is left to gain from another trip to a faraway world other than a shattered bank balance, a bent back from sleeping in a tent and a decent dose of life regret? The temptation (far greater than any Pokemon Go lure) is to once more escape reality with a platoon of your musical heroes. To stand should-to-shoulder with your music brethren and pay tribute to those on stage who create so many enduring memories. It is the best stress release I know.
Everyone will have their own threshold of when enough is enough. I found mine 12 months ago. The moral of this story is that while music festivals will be some of the best fun you will ever enjoy, the joyful, blissful and amazing times many attach to attending a music festival won't last forever. So enjoy this moment.
A post-festival feeling will arrive where the realisation that festivals are silly escapes from reality will sink in. Luckily, a sabbatical year or two will restore the faith that everyone needs a silly escape now and again.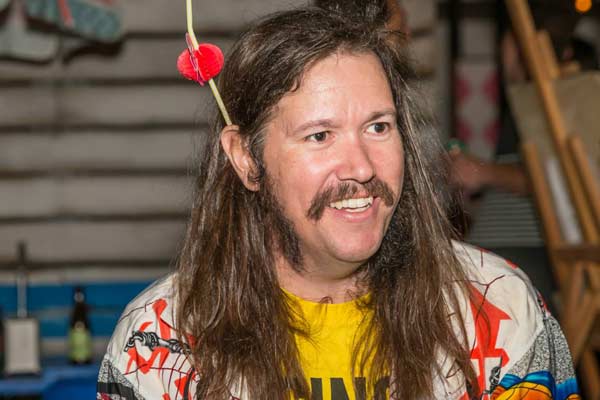 The Matchstick - image supplied ©
So, am I ready to return to the blur of branded food stalls and designer markets with mud/ dust as a constant shadow; to witness another round of drum circles, fire twirlers and harmonica-playing stilt walkers along with a slew of my musical gods? Not yet.
While I'm enjoying my year of rest, the question remains: will I return to the world of music festivals? Bloody oath. Bigger and better than ever... you simply can't stop The Matchstick, (as those who know me). He is easily lured.