The festive season just got jollier with the return of Brisbane band I Heart Hiroshima, sporting a new EP and a more cohesive, mature sound.
Their new EP, 'Spillin' The Light', was released in early December and shows off a revived musical direction for the trio. Guitarist and vocalist Matt Somers thinks of the record as the first for what he considers a new era for the band. "Basically, it's like our first EP again," Matt says.
"I like to see it that way, where we got back together at the start of the year and started writing songs, and 'Fifty Three' was the first song we released.
"It was pretty much the first song we wrote together as a band after getting back together. So it's almost the same as the first EP again where 'London In Love' was the first song we ever wrote and ended up being released."
Prior to the release of the 'Fifty Three' single, the band had been on a lengthy hiatus with vocalist/ drummer Sully Patten having taken up residence in Berlin until earlier this year.
In that time, Matt had been pursuing a solo project, writing songs that eventually became new I Heart Hiroshima tracks. "There are a couple of songs that were originally solo songs that I wrote for my solo thing," Matt says.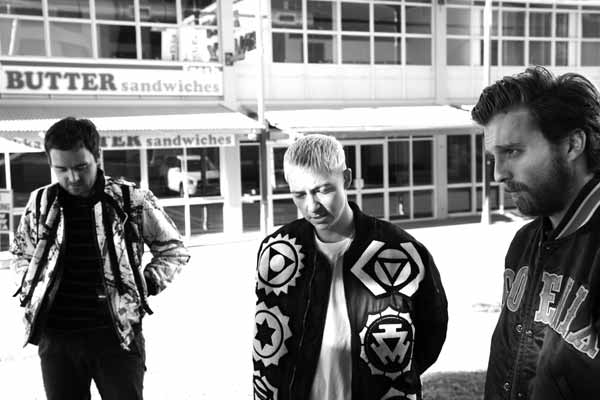 "One of the songs, 'Glow', which is sort of the new single, that song was pretty much what made me realise we needed to get back together, because the songs I was writing just didn't work as a solo thing.
"It's a really good representation of the reason why we got back together. To us, it's a confirmation again that we're doing the right thing because it's half songs we wrote in jams and half solo stuff."
Fellow guitarist and vocalist Cam Hawes concurs with Matt's assessment of I Heart Hiroshima's newfound direction, explaining how their separate enterprises during hiatus contributed to the band's development. "Especially this batch of songs came together in a really organic way," Cam says.
"We've all been doing pretty different things in different spaces and when you get to that feeling when you're jamming, where you don't really have to say anything or vocalise anything and you end up with something really good. We wanted to get back to that space, which was pretty easy."
Both Matt and Cam also assure fans there's more new music from I Heart Hiroshima in the works, it's just a matter of deciding the best way to release the material. "We're debating whether to do another EP or an album," Matt says.
"We've got some recording time available but we're thinking of going away to do a longer session and get a full album, but it would be cool to do two EPs again."
Cam adds that in the modern music industry, it doesn't matter how your music gets out there, as long as it does. "That's something we've been thinking about," he says, "that it seems less and less important what format you release content on, as long as you release content."
I Heart Hiroshima will hit the road in January for a three-date tour in support of 'Spillin' The Light', where Matt says the band will have something for audiences both old and new. "We've written another five, new songs which are ready to record now so we'll probably play most of the EP and two or three new ones, and of course some old stuff," Matt says.
"It's worked out alright because the singles we've released over the years are generally the songs we're most comfortable with."
'Spillin' The Light' is available now.
I Heart Hiroshima Tour Dates
Thu 12 Jan - Oxford Art Factory (Sydney)
Fri 13 Jan - National Gallery Of Victoria (Melbourne)
Sat 21 Jan - Gallery Of Modern Art (Brisbane)