With their much anticipated fourth studio album, 'Bardo State', landing them their second Top 5 ARIA album chart appearance, Sydney hip hop duo Horrorshow have started 2017 with a bang.
Co-produced and mixed by Nic Martin – and with a host of guest artists including Hayley Mary, Omar Musa, Kai and Taj Ralph – Horrorshow rapper, Solo, describes 'Bardo State' as their most collaborative album to date.
"We've been working closely with people whose talents we admire and inviting other singers, rappers and songwriters into the mix to contribute their ideas more than we used to.
"I think the result is a record that is very much true to us and our sound and what we like to do with our music, but also there's the presence of a whole bunch of new flavours there."
Solo and Adit (producer) set a personal record making 'Bardo State', with the bulk of it completed in 18 months. "I think it kind of speaks to the fact that we were a bit more spontaneous with this record and didn't overthink things as much.
"Some of these songs came about from me being around at Adit's house and him making half a beat and me writing half a verse in the backyard and just throwing them down.
"I think in the past, we would have sat on ideas for a lot longer before trying to finish them and this time around I think we had a renewed confidence in our abilities. So we threw ourselves at each song and the result has a bit more flair and spontaneity to it."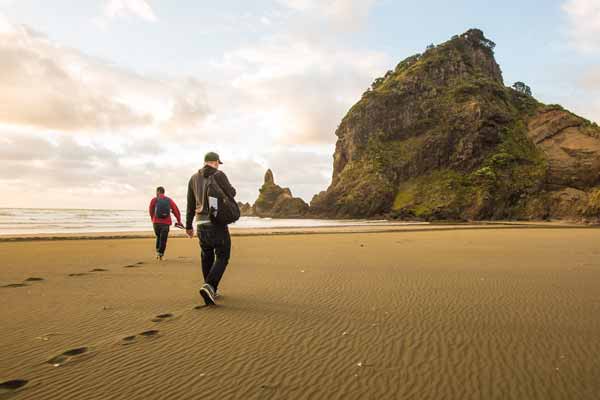 For Solo, the One Day Sundays parties he helped to arrange and promote alongside the rest of the One Day crew had a big influence musically on 'Bardo State'. "We've been putting these parties on for the last three to four years and Adit DJs at them all the time.
"So the two of us have been spending a lot more time around dancefloors and PAs and seeing what kind of production gets people moving and is going to boom in a live setting."
This approach will stand the duo in good stead for their 'Bardo State' tour, which commences in June. With last year's 'If You Know What I Mean' tour selling out across the board well in advance, Solo and Adit have upped the ante. "We're really stepping things up," Solo says.
"We're doing nearly twice as many dates but also the venues we're playing in are much bigger, so we're aiming for a more epic Horrorshow experience. We're really pumped to take it out on the road."

Supporting Horrorshow are award-winning NZ hip hop artist David Dallas and Australian MC, Turquoise Prince. "They're both incredible talents. Turquoise Prince is featured all over our record, so it'll be fun to play those songs with him. And David Dallas is New Zealand rap royalty."
Before the Australian tour, Horrorshow will head to Minnesota to make their US debut at Soundset 2017 (28 May). "It's a really massive, landmark hip hop festival in the [United] States. We were offered the chance to perform, and it's something we've wanted to do for a long time [play in the US]. It's bucket-list stuff."
Accepting the invitation to Soundset meant Horrorshow had to cancel their spot at this year's Big Pineapple Music Festival. "We were really spewing to have to cancel our set at the Big Pineapple… but the good news is that Urthboy is replacing us, so Elefant Traks is still representing and it will be an awesome day."
'Bardo State' is available now.
Horrorshow Tour Dates
Fri 2 Jun - Settlers Tavern (Margaret River) Sat 3 Jun - Prince Of Wales (Bunbury)
Sun 4 Jun - Astor Theatre (Perth)
Fri 9 Jun - Chelsea Heights Hotel (Melbourne)
Sat 10 Jun - Barwon Club (Geelong)
Sun 11 Jun - 170 Russell (Melbourne)
Fri 16 Jun - ANU Bar (Canberra)
Sat 17 Jun - Enmore Theatre (Sydney)
Thu 22 Jun - Magnums (Airlie Beach)
Fri 23 Jun - Dalrymple (Townsville)
Sat 24 Jun - The Jack (Cairns)
Thu 29 Jun - Miami Marketta (Gold Coast)
Fri 30 Jun - The Northern (Byron Bay)
Sat 1 Jul - Max Watt's (Brisbane)
Fri 7 Jul - Wollongong Uni Hall
Sat 8 Jul - Bar On The Hill, Newcastle University
Fri 14 Jul - Republic Bar (Hobart)
Sat 15 Jul - The Gov (Adelaide)Fri 21 Jul - Discovery (Darwin)
Sat 22 Jul - Gap View Hotel (Alice Springs)