Sunshine Coast psych-rock trio Hobo Magic have been making sure and steady progress as a band since releasing their self-titled debut EP in 2015, as guitarist and vocalist Connor Mitchell explains.
"When we first released the first EP we were doing a lot of gigs around the Sunshine Coast when we lived in Brisbane," Connor says. "From that we got our first tour and went to Melbourne; it was an awesome, massive atmosphere down there so we were asked back heaps.
"We've also been doing loads of gigs up the coast, some tours and played with really good, international bands. It's all going upwards, and it's been a long time coming to release some new music."
Hobo Magic recently released their newest single, 'The World Today', a six-minute epic taking aim at everything Connor and his fellow hobos see as wrong in modern society. "We're all pretty passionate about some of the issues going on in the world, and stuff that pisses me off when I write lyrics and songs," he says.
"When I wrote that song it started off real dirty and evil, I was pretty pissed off watching the news, so I felt inspired. It's just pointing out all the stuff we're not too happy with in today's society: the school system, how the government are opening all these coal mines and not caring about the environment much, how it's becoming a more money-based society: things that actually matter.
"That's why we called it 'The World Today', it sums everything up. It's hard to name something 'Fuck You Society'", he laughs. "I'd feel like a bit of an idiot; it's not a negative song, it's more introspective."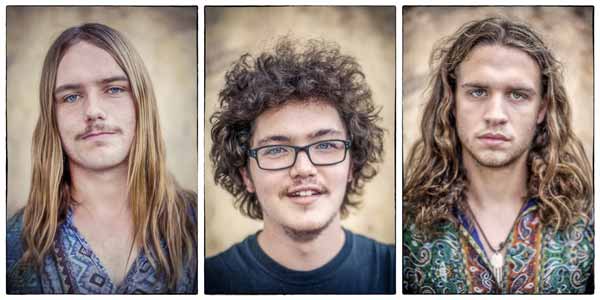 Forming in 2010 as teenagers, it's been a long, slow burn for Hobo Magic as they've worked at crafting their sound and style, which Connor says the band have found with the new music. "We've gotten a lot heavier since we released the EP," he says.
"We've been playing with some of the best bands and our favourite bands in the world, we've been inspired to find our sound and a real powerful sound. A sound that when you hear it live it really impacts you.
"When we were writing the new songs we were trying to make them pack a punch more, and we've got better amps as well so the riffs sound more heavy on the new recording. The riffing is similar, but more driven and powerful on this album."
As they head into the New Year, Connor says the band are working on their first, full-length album, as well as a selection of new songs including one clocking in at over forty minutes long, leaving their current six-minute single looking a little short. "We recorded two albums worth of songs in May this year, we've got eight songs that range from five to ten minutes [long] and we recorded a forty-minute long song.
"We were going to release a double LP but I think we're going to go with an album with straight songs on it, then release the concept album in late 2017."
Hobo Magic play Mojo Burning at Hamilton Hotel (Brisbane) 25 March. They also play Rise Of The Riff at The Bearded Lady (Brisbane) 23 December as well as The Monsoon Rockstock (Sunshine Coast) at Lake Kawana Community Centre 4 March.