Last year's Groovin' The Moo at Oakbank Racecourse was a mud bath, with heavy rain converting the concert venue into an obstacle course.
There were a few gumboots on show this year worn by the ultra-cautious, but they were entirely unnecessary as the Adelaide Hills were baked in unseasonal sunshine (25 April). It was truly reminiscent of a summer festival. By dusk, the constant stomping of the herd between the two main stages had kicked up enough dust to create a haze across the racecourse.
Click here for photos from GTM Maitland.
Taking place at a race track, it is appropriate to discuss the fashions of the field. Being in the country, there was certainly a flannelette presence. Pigtails were all the rage for the ladies, perhaps driven by the style of US pop star Grimes. For the men, the Alex Dyson-instigated legionnaires hat craze still raged.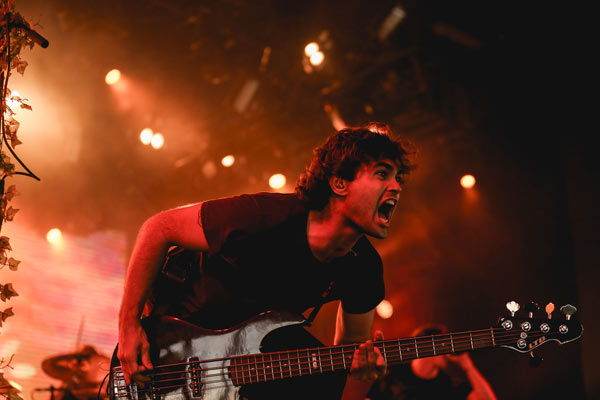 In Hearts Wake at GTM Maitland - image © Pat O'Hara
Dyson's voice was piped in on the Moolin Rouge stage while soundchecks were performed, and I do not know how effective this was. It would have been much better to have someone live and in the flesh standing on stage.
As far as the day's music goes, there was some produce as tasty as the apples grown in Oakbank.
Local Triple J Unearthed artists kicked off proceedings. Tkay Maidza collaborator LK McKay delivered a midday DJ set on Moolin Rouge stage, mixing in Maidza hit 'M.O.B' and a remix of Paces' 'No Chill' with his original composition 'Tip Toe'.
On the main stage, local heavy rockers Grenadiers and punks West Thebarton Brothel Party took full advantage of the spacious performance area. WTBP, in particular, revelled in being able to accommodate their seven member line-up comfortably; they are so frantic on stage that it can be a safety hazard in smaller venues. They weren't as loud as normal, though, which was perhaps the one negative aspect of the entire festival.
Click here to read the GTM Canberra review.
When you attended mega festivals like the Big Day Out or Soundwave, you would feel the bass resonating in your bones the moment you stepped into the venue. Given that GTM tours regional Australia, it is unlikely that it is sustainable to transport the heavy equipment required to create such amplitude. The line-up this year, though, for the most part, lived up to the groovin' theme, so masses of Marshall stacks wasn't necessary.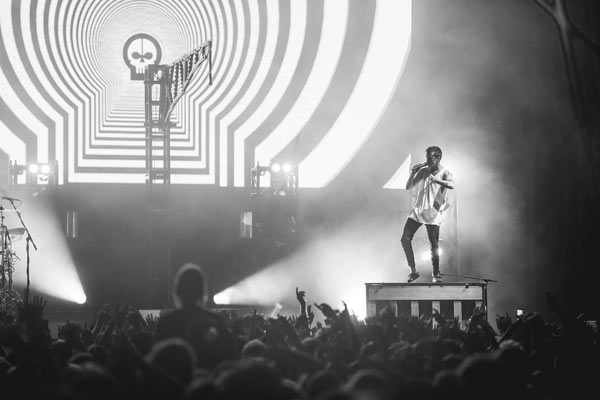 Twenty One Pilots at GTM Maitland - image © Pat O'Hara
Harts was the essence of groove, channelling Hendrix and his recently departed mentor Prince on his incendiary guitar playing. He dedicated his song 'Tide' to the enigmatic purple one, saying that he owed his entire career to him. As he sizzled his way through his hits 'Peculiar', 'Breakthrough' and 'Red & Blue', one could see Harts reaching super stardom himself one day. He hasn't adopted the rock star fashions yet, though. He could take a leaf out of Emma Louise and Ngairre's book when it comes to dressing the part.
Emma Louise came to the stage with her Annie Lennox hair and a sparkling gold two-piece suit that made her look like a seductive serpent. She delivered her sultry vocals on 'Underflow' before inciting a dance party with the tribal rhythms of 'Jungle'. Ngaiire came equipped with soulful backing vocalists and an epic headdress, shining her pearl white smile as she delivered her big tracks 'Once' and 'Diggin'.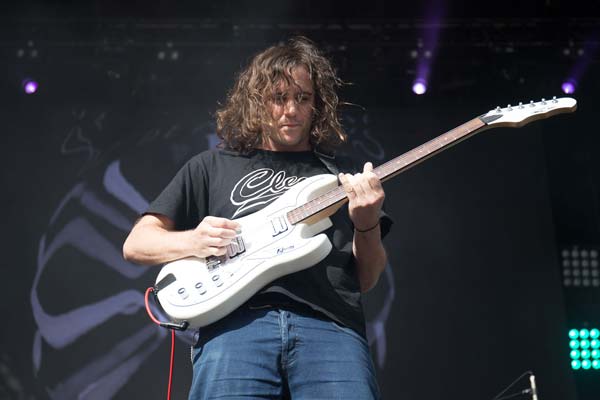 DZ Deathrays at GTM Maitland - image © Pat O'Hara
DZ Deathrays brought the fuzzy riffs, providing ample opportunity for the teenage boys to unleash their pubescent angst in the mosh pit. There wasn't much leather on show at GTM, but after 'Blood On My leather' there was plenty of blood flowing from mosh wounds. In the aftermath, I saw one poor fellow reflecting upon having to spend the rest of his day with only one shoe.
Drapht hit the stage next and brought a horn section and a bit of a bad attitude. He didn't seem to be receiving the audience participation that he wanted. Given that it was a festival environment, he should have realised that the crowd is not necessarily there purely to see him. As was the case for most of the day, punters will rush the stage once they hear the opening bars to an anthem played on Triple J, but don't get angry when they don't mouth the words of your b-side side-projects.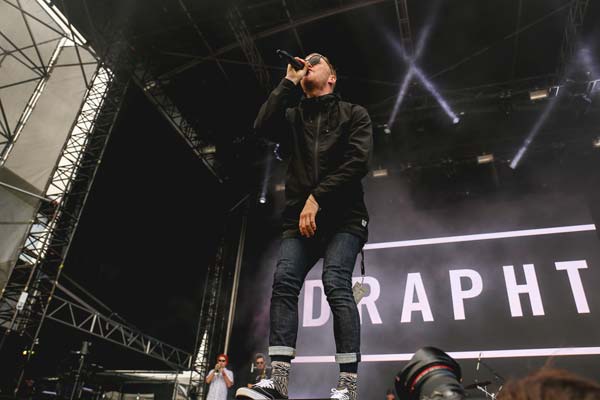 Drapht at GTM Maitland - image © Pat O'Hara
Lizzy Plapinger from New York's MS MR was in a much better mood; you have to be in a good mood when you are dancing energetically on stage in a pair of sequined-blue hot pants. Her stage presence was as blazing as her fiery red hair as the band burned through hits 'Criminal', 'Bones' and 'Hurricane'.
After MS MR, it was all about the falsetto and laidback grooves with SAFIA and Jarryd James. SAFIA, with their reggae rhythms, gave a taste of their upcoming debut album by playing 'Fake It Till The Sunrise' as the sun was setting.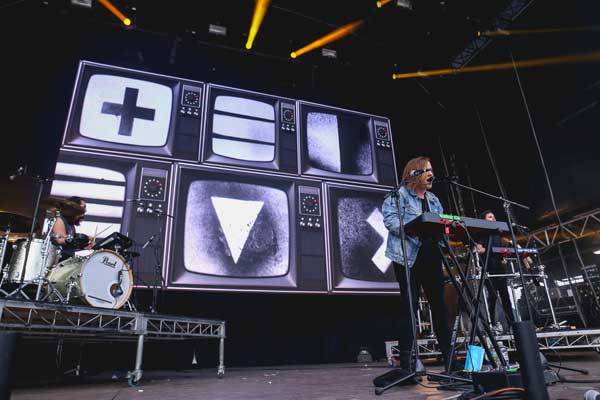 Safia at GTM Maitland - image © Pat O'Hara
Jarryd James, between his piano twinkling and crooning asked the GTM audience a very pertinent question: "has anyone spewed on that yet?". While festival safety has been a hot issue lately, the crowd was very well behaved and this is testament to the careful organisation and planning.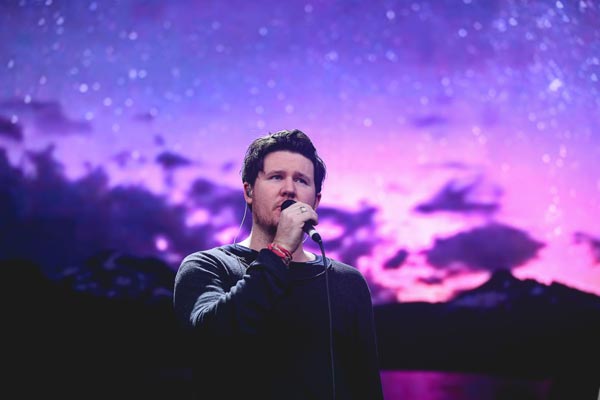 Jarryd James at GTM Maitland - image © Pat O'Hara
As darkness descended, the big stars came out. How did The Rubens go? If you take a few thousand young people, set them free in a paddock with booze for eight hours and then drop the Triple J Hottest 100 #1 track, you have the recipe for mayhem. A festival length set is not long enough to contain their hits.
The Rubens at GTM Maitland - image © Pat O'Hara
Illy brought the night to an end under the big top of Moolin Rouge, acting as the hip hop ringmaster, delivering lyrical acrobatics and spitting rhymes like knives. You needed to plan in advance if you wanted to squeeze into the tented stage area, particularly when an artist has as many hits as Illy.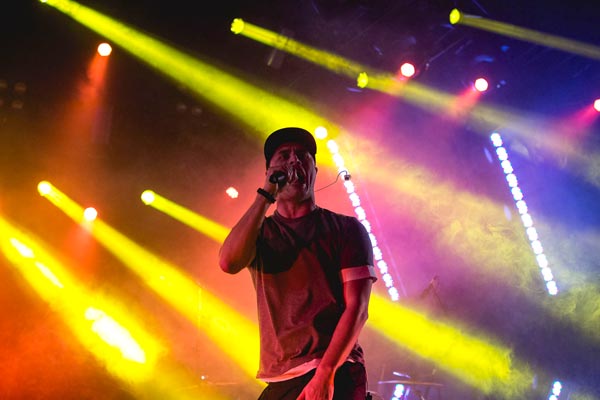 Illy at GTM Maitland - image © Pat O'Hara
Luckily, electro superstar Alison Wonderland was on show for those who couldn't gain access. Wonderland had the crowd grinning like Cheshire cats and dancing like the Mad Hatter as she unleashed her array of hits, including 'Take It To Reality' featuring earlier act SAFIA. Like Grimes, Wonderland has a style and stage presence that only accentuates her music. You get the feeling this won't be the last festival that she headlines.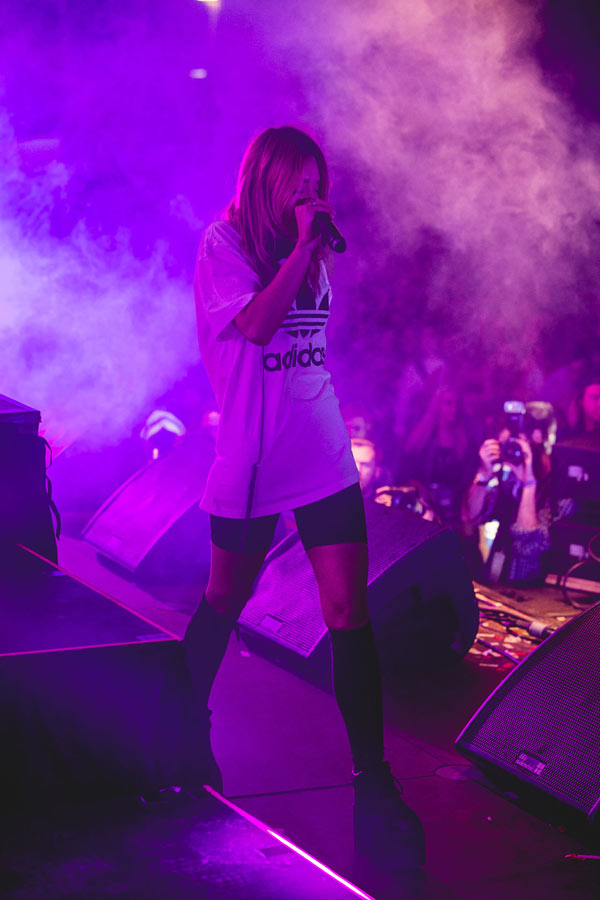 Alison Wonderland at GTM Maitland - image © Pat O'Hara
With images of Coachella filling our newsfeeds, GTM was a perfect way to scratch that festival itch as we prepare for a cold winter and dream of the return of summer festivals. For those of us who live in the city, we are spoilt to live music all year round. This festival is a tremendous outlet for country people to let loose and experience the joy that we can take for granted.
Click here for photos from GTM Maitland.