With this year's Groovin The Moo line-up including Alison Wonderland, Twenty Øne Pilots, British India, Odesza and more, I went to the Victorian city of Bendigo (30 April) to enjoy my first ever Groovin The Moo experience.


With the festival only just beginning, Olympia warmed up an intimate crowd with only a 20-minute set that included songs such as 'Somewhere To Disappear' and 'Smoke Signals'. With a small group watching despite bit of drizzling rain at the beginning of Groovin, Olympia gained a bit of affection from her audience with them shouting "I love you, Olympia"; she replied that she loved them as well, while stating that she was on cough medicine that tasted a lot like Jäger.
Click here for more photos.


Eastern suburban rapper Dylan Joel, who appeared as one of the Triple J Unearthed artists for the day, managed to obtain a large gathering throughout his set. As an independent rapper, Dylan Joel had more skill than I've seen in a number of other rappers; he is known for his ability to chop rap, and even rapped while jamming out on an acoustic, which is quite the rarity in live rap gigs these days. Not to mention the fact he did a radical cover of the legendary Toy Story song, 'You've Got A Friend In Me'.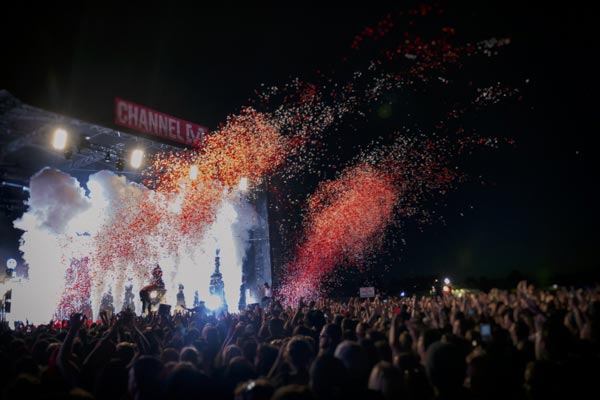 GTM Bendigo 2016 - image © Carl Neumann
Next was Indian-born Australian soloist Harts, who blew up his set with an incredible and intense half-hour slot. Harts, to me, looked like a real life fusion of Cedric Bixler-Zavala and Billie Joe Armstrong, while slinging out many Jimi Hendrix-inspired riffs on tunes such as 'Red & Blue' and 'Streets'. But man, I was blown away by not just his ability on a six-string electric, but also the quality of his live performance made him one of the best acts of the festival.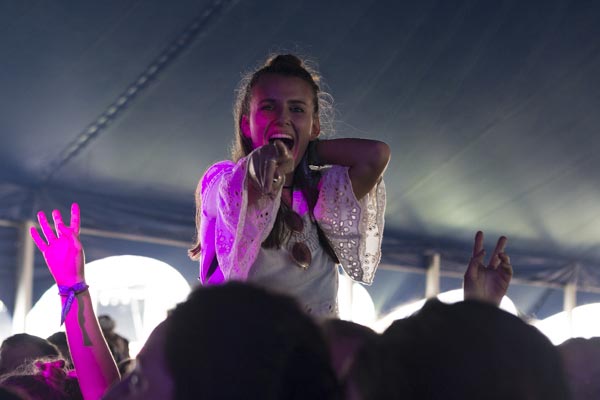 GTM Bendigo 2016 - image © Carl Neumann
Boo Seeka, who identified themselves as a blend of hip hop, indie, electronic and rock music, also manage to score themselves a big following at the festival. Though with no actual album in their discography, the Sydney duo had no problem with taking singles such as 'Oh My' and 'Deception Bay' to the stage, and were undoubtedly, responsible for getting rid of the drizzle and bringing the sun to Groovin The Moo.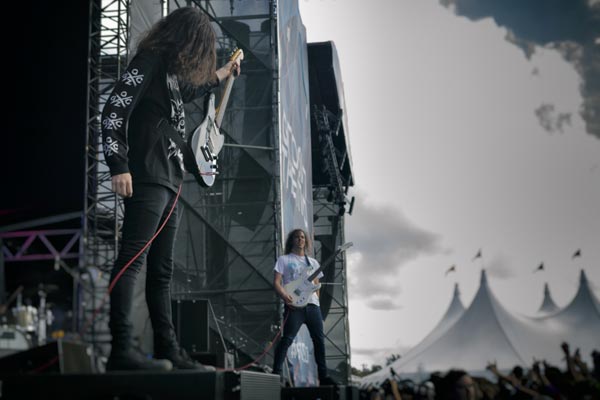 DZ Deathrays - image © Carl Neumann


As far as wild bands are concerned, DZ Deathrays were at the top. For a duo to have performed alongside Dune Rats and Violent Soho in their time, you know their fan base, like those bands, would have some memorable moments at their shows. But with Tame Impala's 'Let It Happen' echoing from the speakers before the band came on, it was the 'calm before the storm' signal.
Then, when 'Less Out Of Sync' smashed out, DZ Deathrays put a spell of lunacy on the entire crowd at the Triple J stage, orchestrating their young and exceedingly dedicated followers into executing wall of deaths and circle pits in a completely frenzy-like state of mind to other tracks such as 'Reflective Skull', 'Gina Works At Hearts', 'No Sleep' and even their own rendition of Blur's 'Song 2'.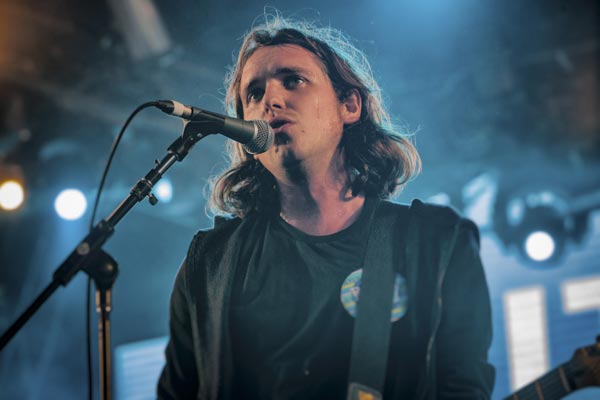 British India - image © Carl Neumann
Having heard their well-received 'Nothing Touches Me' record, British India supplied a heavier performance than I actually anticipated. Even a cover of Rage Against The Machine's 'Killing In The Name' created an extremely animated and enthusiastic reaction from the crowd. British India unveiled a mixed set that presented more of their earlier work than their latest record, which helped produce a fanatical response from their fan base.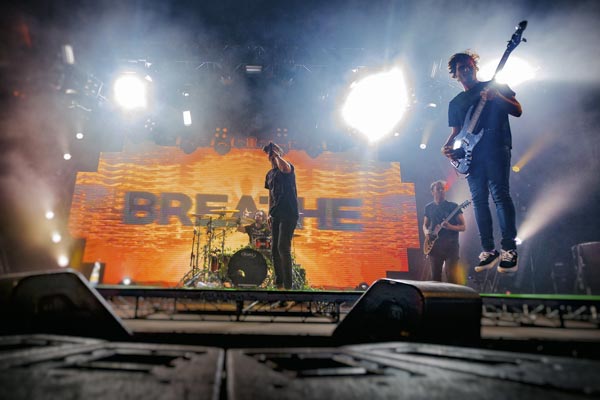 In Hearts Wake - image © Carl Neumann
Even the heaviest of music needs some love at a festival. And while In Hearts Wake didn't pull in a crowd as big as British India, the metalcore quintet had some of the greatest, and most spirited, sing-alongs of the day such as 'Earthwalker', 'Skydancer' and 'Divine'.


If there was one artist that everyone told me to check out, it was Twenty Øne Pilots who have reportedly been one of the best live acts of the decade so far. Their set was the most confusing of the day. While I wasn't exactly blown away the minute they set foot onstage, their diverse performance of indie and alternative music, hip hop and such, only got better and better as they progressed with each song.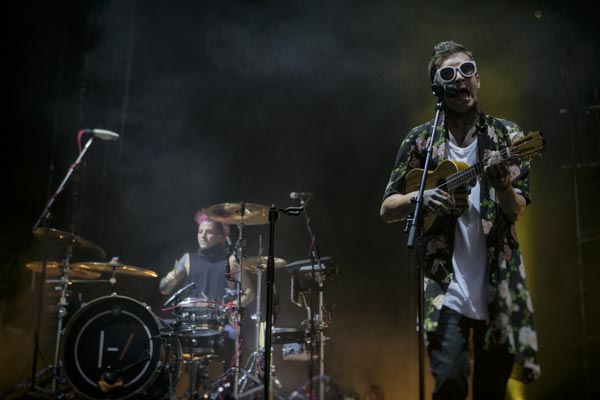 Twenty One Pilots - image © Carl Neumann
It wasn't up until their fourth song where I began to think: "Yes, these guys are genius." From swapping masks between each track, to playing the ukulele, to covering House Of Pain's 'Jump Around', to using a drum kit that was held up by the crowd in the pit (yes, a drum kit being held up by the crowd), Twenty Øne Pilots had outdone not just themselves, but the whole conceptual experience of how a festival performance should be done.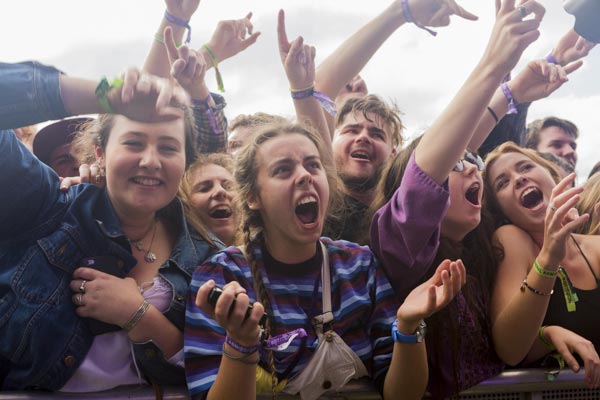 GTM Bendigo 2016 - image © Carl Neumann


Nothing but chill and upbeat, groovy vibes were sent through after Twenty Øne Pilots, as I caught American indie electronic duo Odesza performing in front of a nearly maxed out Moolin Rouge tent. As an atmospherically ambient entity, Odesza still had a vast amount of attendees that danced non-stop to their well-produced tunes.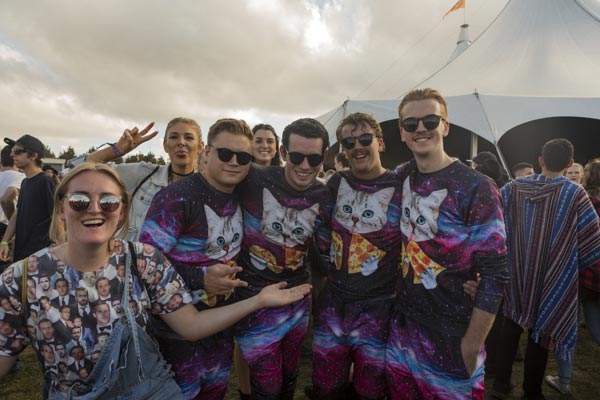 GTM Bendigo 2016 - image Carl Neumann
However, everything got a lot more buoyant and dynamic when the man behind the golden mask known as Golden Features rocked up with some very well composed and remixed house and electro music for his entire set. There even came a point where I witnessed a few people in the pit that tried to start a three-man stack on each other's shoulders.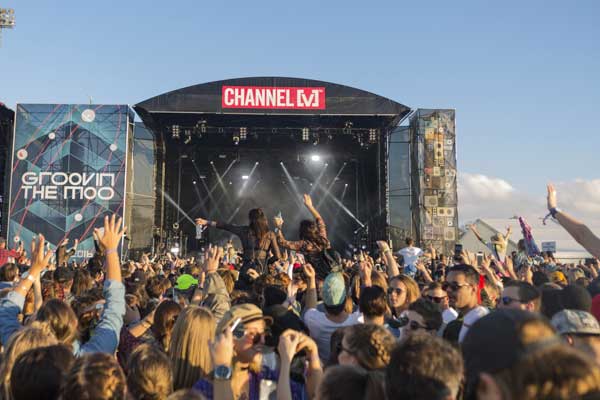 GTM Bendigo 2016 - image © Carl Neumann


Thanks to Groovin the Moo. I gotta update my CD list, because there are a lot of groups I need to catch up on and add to my collection.
Click here for more photos.