They are renowned for their romanticised world music that envelops flavours from a Hispanic culture.
Close your eyes for a moment and their guitar strums will take you all the way to an evening sunset in Spain. Meet Leonard and Slava Grigoryan (Slava is also Adelaide Guitar Festival's Artistic Director), two brothers from a Kazakhstani family that emigrated to Australia in the 1980s.
What began as a family activity, with Leonard and Slava's parents teaching them music, has seen their careers mushroom; they are seen within the classical genre as some of the finest musicians of their generation.
They have also received an incredible 21 ARIA Award nominations. The Grigoryan brothers are releasing a new album, 'Songs Without Words', with compositions arranged by their father, Edward, featuring 17 tracks that are particularly close to the heart and a few new surprises too.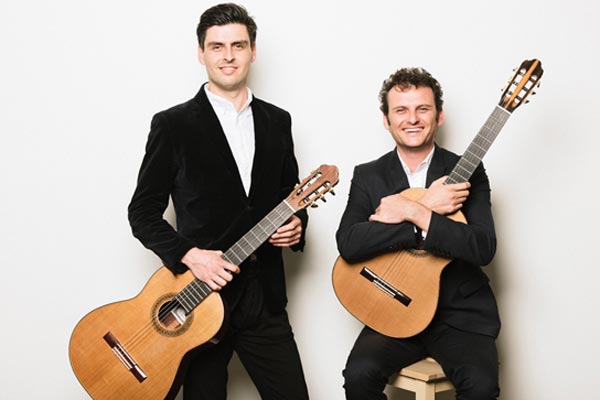 "The way that we have previously worked is, we generally record an album that is traditionally classical and then we'll record an album that's more contemporary," Leonard says.
This release is from the 'classical' folder. The brothers are excited to present their new music their dad has arranged for them. "It's music that was originally written with a singer in mind, music that would be sung with words and accompaniment," Leonard says.
"For two guitars it's an unusual thing to do. The guitar is not an instrument that's normally associated with singing, particularly the acoustic guitar in terms of the actual instrument.
"For us that's something we like to attempt to do and it'll be a lot of fun releasing it and touring the new stuff as well."
While their genre is deeply rooted in the classical style, after discussion Leonard thinks his music is more than just one sound.
"In this particular instance I guess it would have to be under classical. But at the same time if you were to hear a lot of these pieces in their original forms you would definitely say that it's classical music; as soon as you put it onto two guitars it just has a different feel to it," Leonard says.
"A lot of these songs sound a bit more folky and I think this one we'd have to categorise it under classical, but not all of it necessarily sounds classical and for us that's one of the things we like to do, bring out different elements in different styles and try to do something unique with it. Hopefully [it] sounds like it's us doing it, something that has our voice to it I guess."
'Songs Without Words' is released 21 April.