The humble, handmade sign that hung upon the picket fence was hardly necessary to distinguish the home of Garden Sessions in West End, Brisbane.
Even newcomers could pick the house from an entire city of white, wooden structures – it radiated with an unmistakable aura of love and community, welcoming guests as they wandered down the driveway grasping cold drinks in one hand, and friends with the other.
Image © Jade Watt
After being blind-sighted by the beauty of the
August-run event
, it proved interesting to observe the finer details of Garden Sessions (17 September) that enhance each performance in ways the standard, live-music venue would struggle to do.
Sunshine Coast-based singer-songwriter Nicole McKinney was the first to grace the makeshift stage, standing upon the wooden crates and tuning her guitar to an eager audience. She was poised and at ease before the microphone, addressing the crowd like an old friend as she introduced herself, and began to play.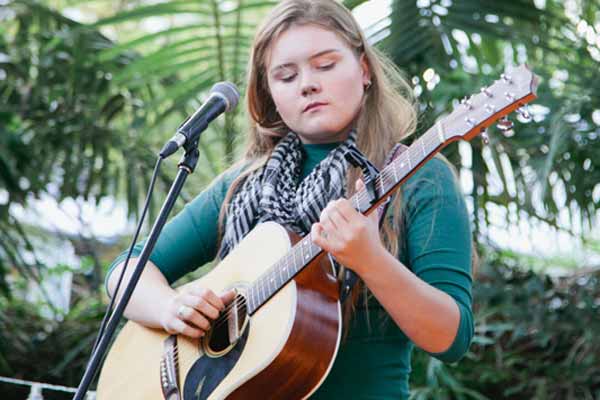 Nicole McKinney - image © Jade Watt
The earthy undertones of her voice echoed through the overgrown foliage, leaves rustling in the wind and softly harmonising her rosy melodies. Her tender lyrics lured the listeners in, etched with purity and charm. Nicole performed with effortless spontaneity, selecting songs on the spot and deliberating her set-list out loud. Late arrivals hovered by the fence as she sang, evidently opting away from disturbing the peace after sensing the calming ambience of the scene.
Excited murmurs reverberated through the crowd the moment Johnny Dustow, or Dusty Boots, surfaced with his saxophone. Even as the instrument sat silent within his capable hands, his attitude oozed with the groovy, bluesy demeanour of jazz. The sound itself was smooth as whiskey sipped on the rocks; smooth as the silky, coloured flags draped across the fence; smooth as vanilla ice-cream scooped fresh from the pint.
Johnny Dustow - image © Jade Watt
Johnny demonstrated an incredible proficiency that only comes from practice, but also an exceptional amount of soul that only comes from raw skill. He regards music the way one would their childhood bed; he becomes absorbed in it, surrendering to its incomparable comforts, completely content to be within its loyal hold. Spectators melted like warm butter as his saxophone soothed and unravelled any weekday woes.
Final act Tay Oskee sat and smiled at the audience through his fringe, gripping the guitar with enough certainty to convince any observer it belonged with him like an extra limb. The independent, roots musician handled the instrument capably and confidently, skilfully drawing melodies from the strings as naturally as the air found his lungs. His voice felt flammable, burning steadily before unexpectedly combusting in a warm, fiery blaze.
Tay Oskee - image © Jade Watt
Crowd members stood and danced with delight as Johnny then returned to the stage, sparking pure joy as he played along in an improvised duet. Tay completed his set alone, triggering fresh spells of goosebumps and an exchange of whispers insisting, 'he will be the next big thing'. It quickly became evident music is no hobby he pursued, but instead something embedded deep within his marrow. Although his aptitude on the guitar is second-to-none, his ability to whisk your mind away from whatever reality it resides is what will stipulate his soon-to-be major music career.
L-R: Josh Aaron & Johnny Dustow - image Jade Watt
I am in constant awe of the calibre of talent clearly hidden in Brisbane bars (and backyards). Even now, as a second-time attendee and already-avid fan, countless moments from Garden Sessions continue to consume my thoughts. For those who plan on attending the next event in November – prepare for your idea of the 'ultimate Saturday night' to be totally redefined.
Gigs in overcrowded bars definitely shy in comparison to those held under the stars.