Meet Freak Street, the moniker of Brisbane freelance artist/ illustrator Ben Adams – the man who created the artwork for Regurgitator's latest album 'Headroxx'.
Ben has been working as a freelance artist for around six years and his art draws heavily on B-grade movie monsters and Japanese Kaiju films. Recently, he received a message from Regurgitator bassist Ben Ely with an offer he couldn't refuse.
"I was actually just skateboarding with a buddy at Kedron and I checked my Instagram when I was sitting down having some water and got a message from Ben," Ben says.
"He contacted me and said they liked my stuff. They'd had a little talk and said my art would suit the style for the next album coming out."
Ben set to work as Freak Street and let loose his inner monster with the only brief from the band being 'do what you do best'.
"They did touch on that they liked the idea of it being essentially a really f...ed-up head, because the album was called 'Headroxx'," he says.
"To be honest, I just drew three or four sketches of these weird, mutating aliens because that was what I was really enjoying drawing at the time. This is definitely the biggest job I've had in terms of the scale of it; it was very cool to be part of but they were very easygoing with everything.
"A lot of people don't have any idea of what they want so you draw a design for them and they go 'no, no, no, change this and change that', and it can be frustrating sometimes, but [Regurgitator] just wanted me to do what I do."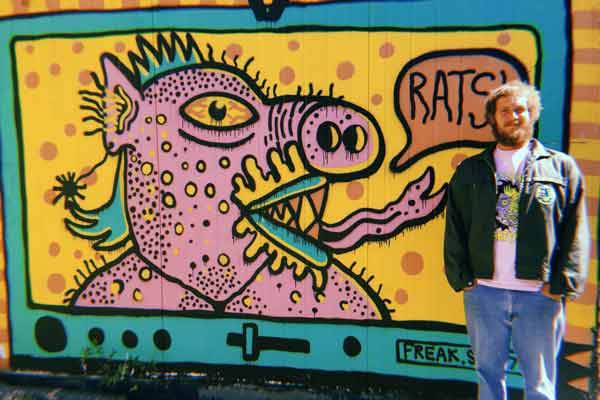 As well as the album cover, Ben's art was used as the production visuals on Regurgitator's recent 'Headroxx' album tour. "The band was kind enough to send some free tickets for a show at Kingscliff and I was blown away," Ben says of seeing his art in the context of a live rock show.
"It was in a sports bar and they put the album cover on every single television but had stretched the album cover so it was this distorted, warped album and it was really cool.
"We also saw them in Brisbane the next night at The Tivoli; I wanted to see them in Brisbane because they're from there originally and The Tivoli is such a beautiful theatre.
"I made some masks for them to perform in on their live tour, and that was exciting to see them come out at the start of the show and do the first song from the album in the masks."
The opportunity to create an album cover for a beloved Brisbane institution has been a major profile boost for Ben's career as Freak Street, allowing him to take another step towards his goal of being a full-time artist.
"I've done freelance jobs for six years now but this is the first year I've been telling people I draw as a full-time job," he says.
"I have a weird concept of everything and it still perplexes me that I'm able to do that. [The album cover] was a big one for me, which was cool."
Freak Street presents his art at 'Freak Treat' at Bloodhound Bar 30 September. 'Headroxx' by Regurgitator is available now. facebook.com/freakstreeet