In the three years since My Chemical Romance parted ways, guitarist Frank Iero has carved a musical path as a solo artist. Now, he returns with a brand new band poised to unleash the fury of his second album.
In 2014 he released his first solo effort post-MCR, 'Stomachaches', an album written, recorded and produced almost entirely on his own. In late October he releases follow-up 'Parachutes', which he has recorded with his new band, The Patience featuring Evan Nestor, Matt Olsson and Alex Grippo. "The first record I did completely by myself and I brought in my friend to play drums and that was it," Frank says. "The rest of it I recorded in my basement on a computer.
"This time around I had already put a band together to tour 'Stomachaches' and so it made sense that I could write the songs, I can bring them to the practice studio, play them with real people then listen back and know how things work, as opposed to sitting in my room playing with a drum machine and not having much life to it. This time around it felt more visceral, more immediate."
With a sound harking back to Frank's primal and frenetic punk roots, 'Parachutes' is thematically driven by Frank's own view on life, which in some ways teeters on the brink of nihilism. "The older I get, I think about life and how we're all just hurtling through it, careening through space," he says.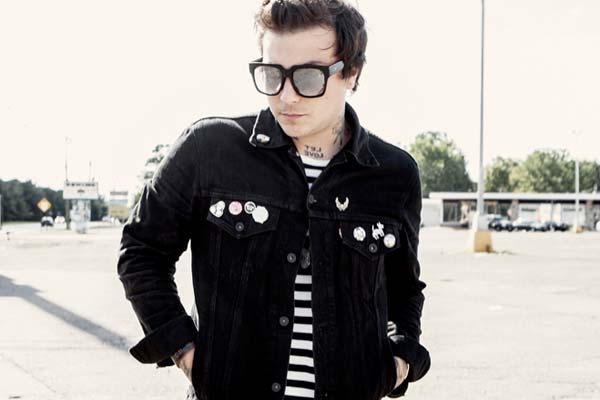 "So I started thinking about how life is like being pushed out of a plane. We don't really ask to be here but here we are; all of a sudden we open our eyes and we're just freefalling. Some of us fall at such a high velocity that it's over in the blink of an eye, they just hit the ground and that's it.
"Some of us are lucky enough to find these things along the way, like love and things that bring us joy and give us purpose. The things that do that, they don't save us because the end is inevitable and we're all going to hit the ground at some point, but if we're lucky these things that distract or slow our descent are these parachutes."
Frank Iero & The Patience hit our shores in October for a national tour with New York rocker Walter Schreifels. Frank was also here earlier in the year when he played free acoustic shows in the wake of Soundwave's cancellation, leading some of us to believe he has an affinity for our fine land. "It would seem so, right?" he laughs, "I just really like it there. Ever since I was a kid I liked kangaroos and I would read about Australia and it seemed a magical place.
"And now the older I get maybe the connection is that there's this weird feeling of camaraderie there. I feel like everything in Australia is trying to kill you and sometimes you feel the same way in Jersey," he laughs.
"So basically it's like Jersey with better weather. What's funny now though is that my son has become obsessed with Australia. It's like his thing: he reads about it, watches shows about it, he likes seeing all the animals and he keeps asking me when I'm going to take him there, but he's only four so I don't think he can handle the flight just yet. I don't know if I can handle it."
Frank Iero & The Patience Shows
Fri 7 Oct - Astor Theatre (Perth)
Sun 9 Oct - The Triffid (Brisbane)
Mon 10 Oct - The Gov (Adelaide)
Tue 11 Oct - Corner Hotel (Melbourne)
Wed 12 Oct - Arrow (Melbourne)
Thu 13 Oct - Metro Theatre (Sydney)