I suppose in a way, it felt as if we were passengers on a plane: the close proximity between people, the anticipation, even the impatience prior to lift-off.
The four-note chime that hums at airports reverberated across The Triffid (9 May); the silhouettes of Flight Facilities drifted behind the turntable. From there, we were airborne.
Uncharacteristically upbeat dance music launched the set, particularly Daft Punk-esque as Hugo Gruzman (traditional pilot costume) spoke into a robotic-sounding voice changer. "What's up, Brisbane?" he asked, words distorted, while 'Stranded' slowly materialised.
Despite surfacing around six months ago, its wow-factor is still intact; the ambitious release retains the duo's pretty production but rather than floating gently, even predictably, it weaves multiple, musical ideas that together build to produce an exceptionally bold piece.
Click here for more photos from the show.
Ric Rufio and Grace Pitts were introduced as the gig's accompanying singers, Ric remaining on stage to replicate Reggie Watt's vocals in 'Sunshine'. James Lyell (donning the modern pilot wear) slapped the bass in the background, song slowly shifting into Drake's 'Passionfruit'.
At first I was taken aback by its inclusion though their captivation by the track makes sense; its smooth sensuality and infectious groove very much mirrors Flight Facilities' token traits.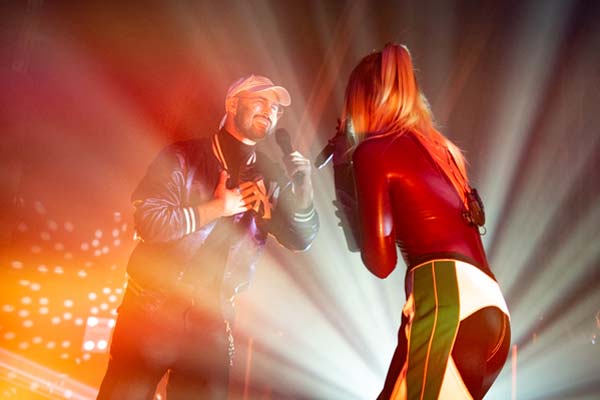 Image © Kalem Horn
Hugo's mouth met the microphone, cliff-hanger hovering as he whistled softly, his tune eventually transforming into 'Stand Still's recognisable riff. Though ironically not so recognisable, it was reworked completely, taking an unexpected turned with heavy house-beat embellishments.
Their three-year silence breaker of 2018, 'Arty Boy', saw the return of James' live guitar, tempo maintained with a club rendition of discography stunner 'Heart Attack'.
Brand new single 'Need You' rounded off a beautiful chunk in the set list, the room then falling silent for the first time all evening.
Gene Wilder's 'Pure Imagination' from the Willy Wonka soundtrack proved magical when meshed with 'Clair De Lune'; classical music is often confined to the tight borders of orchestral instruments, but here, dressed with its Christine Hoberg sample, electronic music mimics traditional.
"Phones up!" James asked, and the crowd obliged, night sky illuminated with stars, The Triffid's own Milky Way. "Jesus Christ you are loud, Brisbane. The loudest ones yet."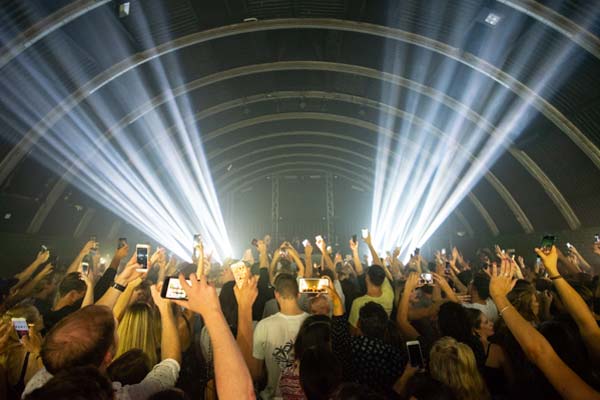 Image © Kalem Horn
They closed the set with funk anthem, 'Foreign Language'. But alas, with multiple stones left unturned, an encore was in order; Flight Facilities returned to their post as the shimmering introduction of 'Two Bodies' began to quiver.
Interestingly, it was then the song that started it all, that finished it all, the catalyst of their success chanted in unison: "They stare at me while I, crave, you."
It was humbling watching the duo quietly though aptly address the turntable, live guitar and drum pads during the set. The boys became a shadow at the helm, steering the plane while allowing their vocalists (strong, though occasionally shaky) to instead take the spotlight.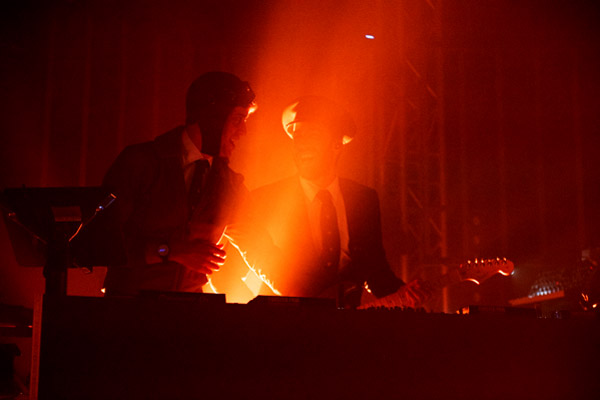 Image © Kalem Horn
In fact, their mysterious stage personas manage to make them more captivating, though they did surrender their alter-egos at the end, entirely human as they invited their parents on stage.
Incredible to consider a limited discography has drawn such an immense following, though listening to their debut album admittedly justifies their swift rise to fame. House music: fast-paced, bass heavy, rises and drops spring to mind, though instead the duo has broadened the spectrum, producing stunning songs that are warm and sensual, works of art, albeit slower.
In saying that, the set list did include more conventional dance 'bangers'. Perhaps an indication, a hint, of new territory to be explored in album two, but then again, perhaps merely an addition to better appease listeners during live performances.
During the bus ride home, a shopfront caught my eye: red banner, red text, grinning pilot. I smiled to myself, pondering the fact Flight Centre will never quite take its customers to heights Flight Facilities can.