Fieu is the alias of Queenslander Emily Brewis, an artist who blends powerful vocals with keyboard synths, electric guitars and expressive percussion.


Fieu is set to release her upcoming second EP that was produced by Joel Quartermain (Meg Mac, Little Birdy), an experience that Fieu almost dismissed. "Working with Joel is great. It's an interesting story actually how that all came about. I was featured in Triple J's Unearthed list and I got an email from Joel saying if I ever wanted to work with him he would be keen. I thought it was a joke; I was like 'yeah right like it's him!'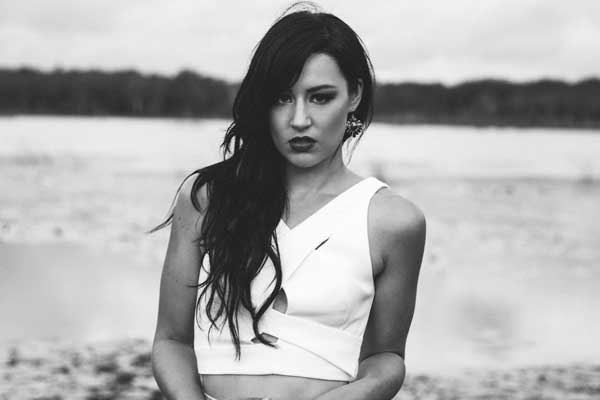 "But then I got a phone call and Joel asked if I got his email. I explained 'yeah I did but I thought it was a joke'. Anyways, I was going to WA for a holiday and that's where he is based, so I thought I'd meet him and see what happens. It was just meant to be a meeting, but we ended up jamming and we wrote the song 'Running', which was released late last year. It was really easy and fun to work together."
After the work she completed with Joel, Fieu felt a lot more comfortable with her own style. "My style comes from experimenting with genres. I was unsure about what my style was; I had never even recorded before my first EP, so that's when I went from a solo artist to an artist with a band. Tim Carr, the producer of that EP, really opened up a world of instruments like synths, drums and percussion. He really helped me develop and find a great bunch of musos for the band. Now I think I've got a style that I'm going to call adventure pop."
Fieu will be taking her confident style to the Sunshine Coast's Solbar as well as the Caloundra Music Festival in the coming months. "I'm really excited to play at the Solbar. I've been here for four, five years now, I've meet great, supportive people and friends. It's a great place. I would recommend anyone to go there."
She is as excited to be performing at the Caloundra Music Festival. "That show is actually going to be very stripped back and chilled out. It's an interesting time of year though. I'm getting married the week after so my plate is definitely full, but I'm very excited to play."
The excitement of the stage and performing to others is clearly evident when you talk to Fieu. "I love playing live as each time is different. You never have the same audience or play a song the same way twice. We can change up what songs we play. If the audience is really into it we might play some new material. Each show is a completely different ball game, which is fun."
The process of creating the new EP was one that Fieu describes as developmental. "It's been a long process. It's taken a year or so. I've really developed since the first EP. This EP is upbeat with electronic, percussion and voice layers; it's really expressive. There is a pop vibe but some songs have a down vibe simply because of the mood I was in. It was just lucky that they all fitted together."
The future for Fieu is bright with an artist album on the horizon. "Yes. [Making an album is] a life goal. I feel ready to start putting together an album. I'm more comfortable with the band and the recording process. I have a few songs but they aren't quite ready. I hope by the end of this year or early next year I'll have an album."
Fieu plays Solbar 12 August and the Caloundra Music Festival 3 October.