Fear Factory's Australian fan base is colossal and fanatical to the point of being almost cult-like.
During their Australian tour in support of their genre-defining album 'Demanufacture' back in 1995, a cancelled concert gained them national notoriety after disheartened fans started a small-scale riot at a Sydney university. This devotion has ensured that Fear Factory has always had a genuine affinity for Australian audiences who, in turn, have always welcomed them back to our shores with open arms.
This time around, they are touring behind their latest opus, 'Genexus', arguably their best album in 20-plus years.
Click here for more photos.
Local Adelaide veterans Truth Corroded opened the proceedings (7 June) with their vicious and uncompromising blend of death and thrash metal. At this point in the early evening, there were far more people crowded around the bar than around the stage. This did not discourage the band members from giving it their all, with their crushingly heavy riffs and impressive drum-work slowly drawing in intrigued punters.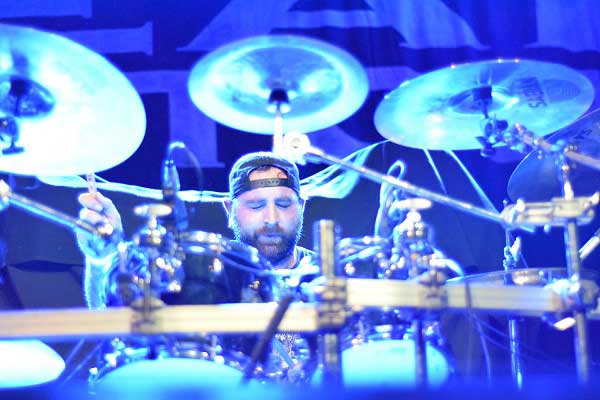 Truth Corroded - image © Jordan Bird
Their persistence paid off by the beginning of their third song, with a substantial and enthusiastic crowd amassing around the barrier, amped up by vocalist Jason North as he and guitarist Trent Simpson hypnotised the audience with their awe-inspiring windmill skills. This is a band that wears its influences on its sleeves, figuratively as well as literally.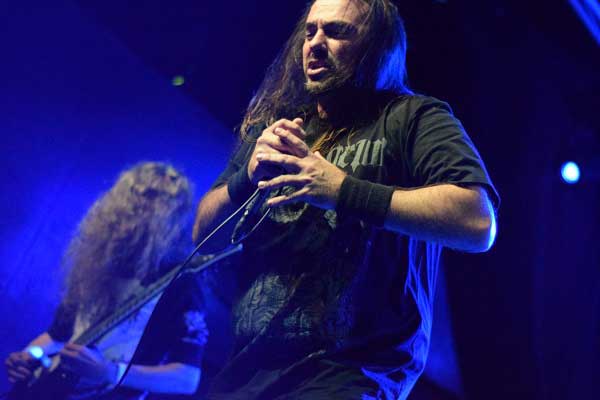 Truth Corroded - image © Jordan Bird
Clad in shirts bearing their allegiance to death metal luminaries such as Suffocation and Misery Index, it was clear where the band drew their primary influences from, while vocalist North clearly worshipped at the altar of Phil Anselmo.
Truth Corroded had the crowd well and truly warmed up by the time Circles took the stage. Singer Perry Kakridas was immediately impressive from the outset, with unique melodies and some quite striking high notes occasionally interposed by deep growls, while guitarists Ted Furuhashi and Ben Rechter layered the songs with intricate djent riffs and complex time signatures.
Despite the progressive nature of their songs, there was a surprising level of catchiness to the songs, with strong basslines and anthemic choruses giving them an almost nu-metal meets Tesseract quality. Electronic samples interspersed their songs, occasionally punctuating certain parts of songs, but more often than not these samples seemed tokenistic, adding little to the songs.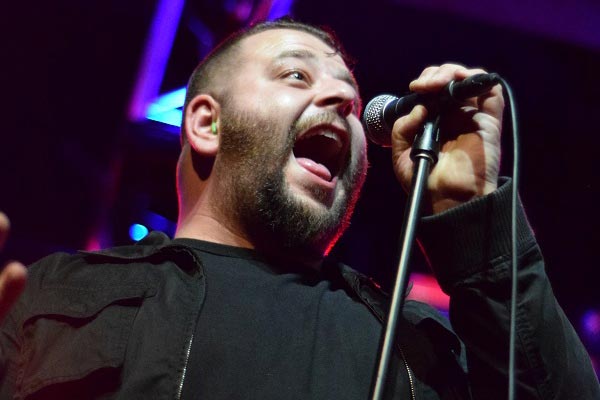 Circles - image © Jordan Bird
While occasionally receptive to some of their heavier moments, the crowd seemed somewhat disconnected from Circles' performance, which was not quite able to capture the audience's attention in the same way Truth Corroded had. This was a clear indication the crowd was clamouring for something with a bit more edge, something heavier, something like Fear Factory.
Anticipation rose to fever pitch as the stage lights dimmed, welcoming Fear Factory onto the stage. To the crowd's surprise, founding guitarist Dino Cazares hobbled onstage complete with crutches and a moon-boot encasing his right foot, before sitting down on a chair in front of his guitar. At this point, no explanation was given, and Dino looked none to happy about being forced to shred sitting down.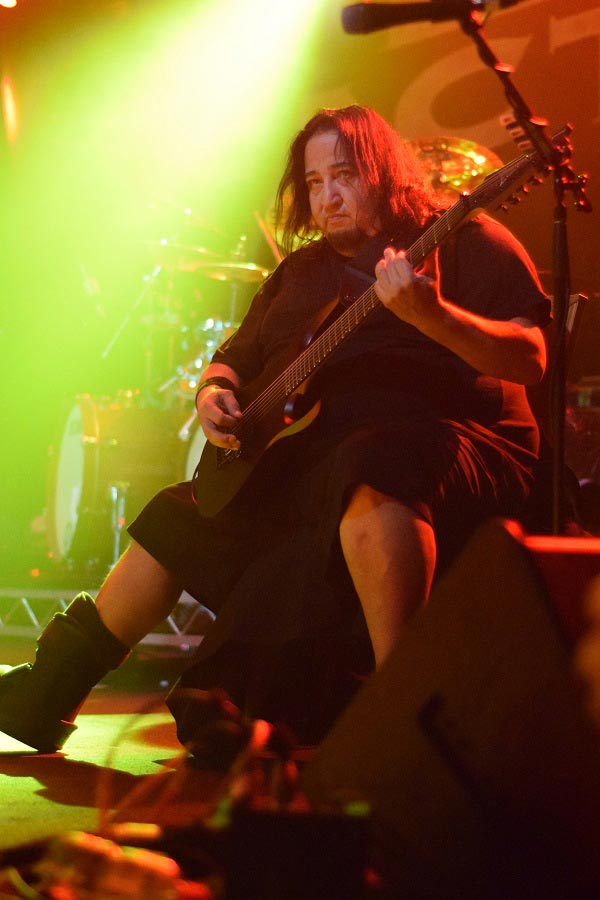 Fear Factory - image © Jordan Bird
This curiosity was quickly forgotten as the band launched into opener 'Demanufacture', with the remainder of the band performing with enough energy to make up for Cazares' injury. In the weeks leading up to their Australian shows, Fear Factory petitioned their Facebook members to 'choose their own adventure', by voting for their three favourite songs, with the tracks gaining the most votes becoming part of the setlist throughout their Australian tour.
This led to an assortment of unexpected gems from their extensive back catalogue being peppered throughout the show, with live-show rarities such as 'Pisschrist', 'Self Bias Resistor' and 'Scapegoat' receiving a rapturous response from the mosh-hungry masses, shouting along to these oft-neglected hits until our throats were hoarse and bloodied.
This is not to discount the crowd's appreciation for cuts from their newest album, with modern industrial metal masterworks such as 'Regenerate' and 'Anodized' receiving an even more raucous response than many of their classic tracks.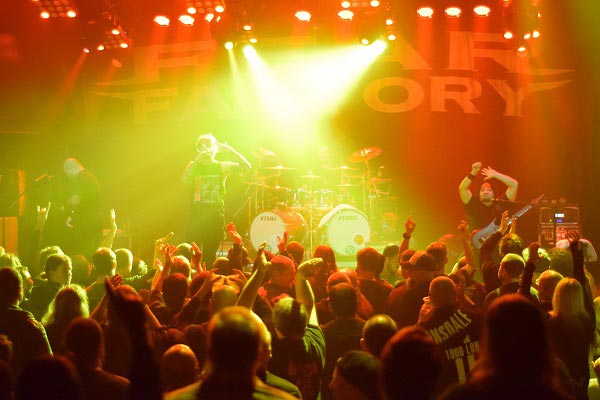 Fear Factory - image © Jordan Bird
Bizarrely enough, despite being in their 26th year as a band, Fear Factory are performing as strongly as they ever have. Dino's light-speed riffs are just as tight as ever, and drummer Mike Heller, while not quite able to capture the sheer intensity of original drummer Raymond Hererra (who was often compared to a machine due to his speed and precision) is still a more than capable replacement.
With his extremely energetic stage presence coupled with an undeniably fearsome and unique staccato vocal technique, vocalist Burton C. Bell has always been the focal point of Fear Factory's live shows. But in the numerous times I have seen Fear Factory live before, it always quickly became apparent that Burton would often struggle with his clean vocals.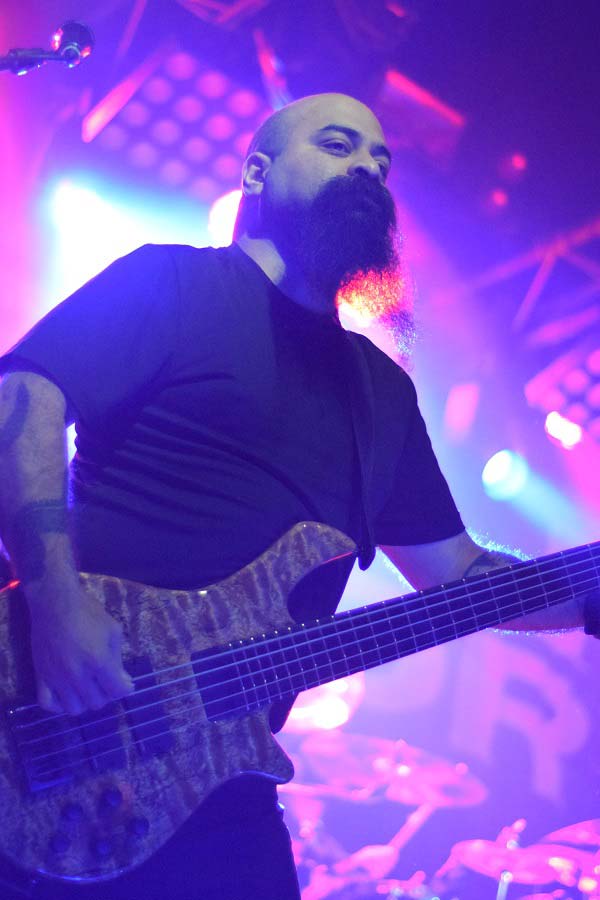 Fear Factory - image © Jordan Bird
This was always somewhat of a disappointment, as the combination of his intimidating barks coupled with his soaring, clean choruses are one of the factors which made the band so unique in the early '90s. Thankfully, this was not the case for this performance, with his higher notes coming through strong and crystal clear. Even during the largely clean, high vocals of tracks such as 'Resurrection' (their most requested song of the tour), Burton's vocals remained sturdy and thoroughly impressive.
Click here for more photos.
Despite the drop in on-stage energy due to Dino's injury, it did not affect the crowd's response, who by the end of the show were a sweating, exhausted, beer-soaked mass. It wasn't until prior to their closing anthem 'Replica', that Dino decided to address the elephant in the room. "Well, Adelaide, you're the first. This is the first time in my career I've ever had to sit in a fucking chair onstage."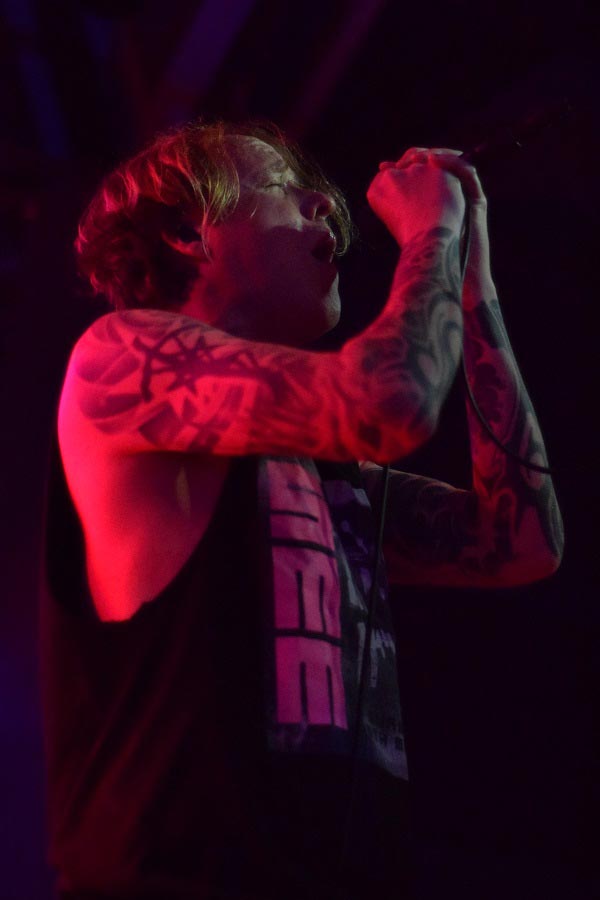 Fear Factory - image © Jordan Bird
This drew roars of appreciation, as a less robust band would have simply cancelled the remaining dates of their tour. "There are some benefits though," he continued, "at least I didn't sweat." The same could not be said for nearly everybody else in attendance, however.