After getting to the festival grounds in the late afternoon after, I already found the vast majority of patrons kicking back in groups around their tents, with their deck chairs and tables all set up.

DAY 1


From Rancho Relaxo to the Grand Theatre, the numbers were increasing all across the festival grounds, with everyone having a gander at the stalls in their surroundings and getting familiar with the areas.


Covered in black veils, the electronic quintet Confidence Man already had the crowd grooving ecstatically. With a near hour's worth of material, a good response from their audience meant a good performance for Confidence Man, from sensual dancing to costume changes between tracks. 

Click here to view more band photos from Falls Lorne.
With a festival full of millennials, you can bet that the one act they were looking forward to the most that day, was none other than Daryl Braithwaite.
For his first ever performance at Falls Festival, Daryl and his band were wholeheartedly welcomed by not only the thousands upon thousands of fans, but the locals and many workers of Lorne's gathering.
No matter what age he's at, Daryl proved to everyone that his vocal range is as powerful as ever. The very minute 'Horses' came on, just about every phone came out from the pockets of punters, with some who were also on other people's shoulders to catch a better view of the Aussie legend performing a celestial classic.


Brisbane five-piece The Jungle Giants were next to help keep the hype going strong. With their renowned upbeat vibe scattered across the Grand Theatre, they got everyone jerking their bodies around while being shrouded by the mist of the thick smoke machine.


As for the hip hop entertainment of the evening, Thundamentals were all about the crowd control. With a DJ as great as DJ Morgs, a fantastic drummer and keyboardist up on stage with Tuka and Jeswon, they were able to execute a fine selection of tracks that had everyone bouncing to the beats and rapping along to the likes of 'Got Love', 'Deja Vu' and 'Noodle Soup'.
At the same time, Jeswon and Tuka would also give motivational speeches to the people of Falls about staying positive and keeping that encouraging spirit strong for the rest of their fans' lives.


DAY 2


Despite the cold and wet weather that came in and out throughout the day, it didn't stop punters from grazing the many areas of Falls. That said, Rancho Relaxo was one of the best places to be in the morning, with yoga classes, meditation sessions and even massages going on to help rejuvenate the body.
At the same time, there was plenty of paper on the tables around the area for everyone to either draw on with oil pastels or use to make origami.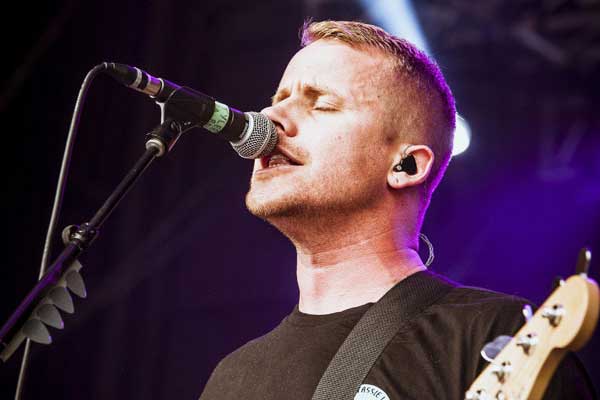 Luca Brasi - image © Stephen Sloggett
Back to the music, Tasmanian punk quartet Luca Brasi had already drawn a big crowd at the beginning of their 3 o'clock set. For the next hour at the Valley Stage, Luca Brasi's uncontrived performance and crowd participation was as strong as ever.
From patrons up on other people's shoulders doing a shoey to moshing in the pit, Luca Brasi's first Falls appearance definitely felt like a welcoming one.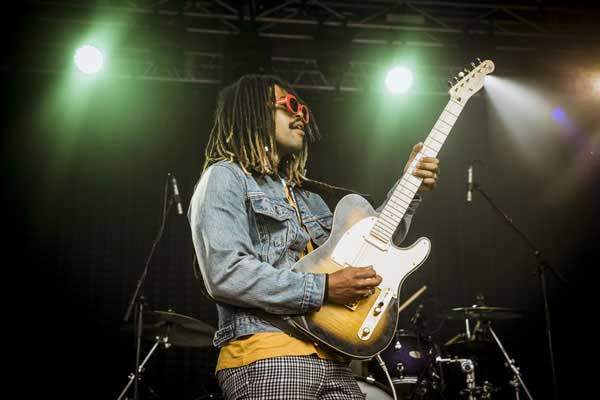 Ocean Alley - image © Stephen Sloggett
Next from the Northern Beaches of Sydney with their psychedelic reggae grooves were Ocean Alley, who brought a chilled vibe.
Replicating the likes of Bob Marley & the Wailers, Dire Straits, Jimi Hendrix and Toots & the Maytals, Ocean Alley conducted a tight on-stage recital, and impressed the hell out of many that witnessed what was the band's first ever appearance at Falls.


The minute DZ Deathrays made it onto the scene, you knew that it was gonna be one hell of a rowdy show.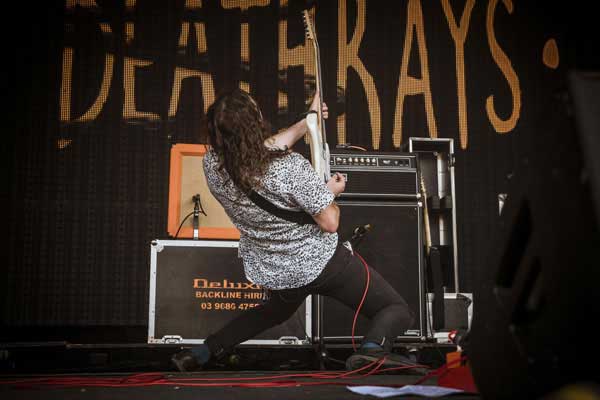 DZ Deathrays - image © Stephen Sloggett
From their 'Bloodstreams' debut to their upcoming 'Bloody Lovely' record, DZ Deathrays' catalogue of tracks that were presented to the many Falls attendees had the fans placed in an aggressive trance that made them go bananas in the pit, with a confetti cannon getting involved later in the set, which ended the hour of punk rock with a bang.


A good show to catch afterwards was none other than Brisbane trio Dune Rats, who made a big entrance on stage to 'Rollin'' by Limp Bizkit, before jamming out a number of Dunie classics such as 'Green Light', 'Scott Green', 'Superman', 'Six Pack', 'Dalai Lama Big Banana Marijuana' and more.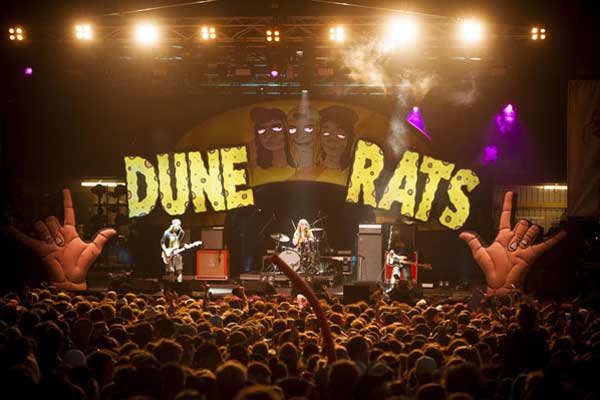 Dune Rats - image © Stephen Sloggett
But one of the more exciting moments that came from Dune Rats was when they invited a fan from the front row of the stage to play on Danny Beausa's guitar for a little while, jamming out to Nirvana's 'Smell Like Teen Spirit' with BC and Brett.


Indie-pop sensations Foster The People also put smiles on the faces of thousands with a highly infectious, upbeat vibe that spread like wildfire the minute they opened the show with 'Pay The Man'.
Foster The People - image © Stephen Sloggett
From there, Foster The People got to work and executed a number of songs off their latest LP, 'Sacred Hearts Club', and had nothing but cheery screams and sing-alongs from all of those at the Valley Stage that were only begging for more and more.


And of course, the headlining act that was Mr Harley Streten aka Flume came hard and heavy with some fantastic live renditions of songs such as 'Lose It', 'Sleepless', 'Say It' and Triple J's Hottest 100 chart-topper 'Never Be Like You', where he had to restart the track halfway through for a minor muck-up.
Flume - image © Stephen Sloggett
Nonetheless, Flume had no problems with that little hiccup and finished his set with flying colours on his digital audio workstation.
With the diversity of his wonky, hip hop-inspired electronic dance music, Flume gave the audience some bass-heavy moments along with some memorable sing-along patterns that packed a powerful punch to the energy of the Valley Stage.


DAY 3


West Thebarton gave Day 3 one hell of a maniacal start to the Valley Stage.
"F#$% all this stowaway bullshit. Let's play some rock & roll," said their vocalist Reverend Ray, and from there the Adelaide septet played hard-hitting grunge tunes to power ballads, swapping instruments with each other between songs.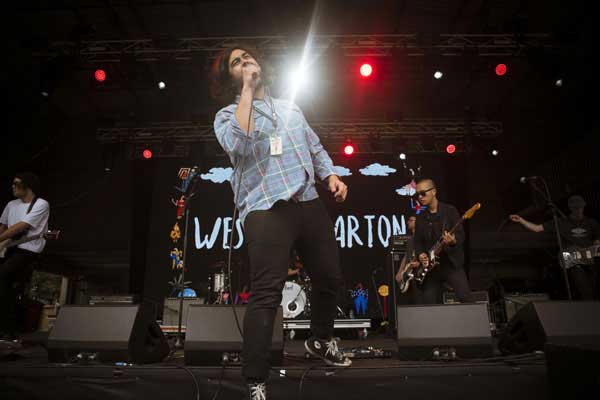 West Thebarton - image © Stephen Sloggett
With a powerful snare and beat going over some funky, indie pop Kevin Parker's prodigies Methyl Ethel brought the house down, delivering many tunes off their 'Everything Is Forgotten' LP, getting everyone at the Valley Stage up and animated.
Methyl Ethel - image © Stephen Sloggett
At the same time, Footscray-based trio Camp Cope held their own with a good following uphill in the Grand Theatre, and gave some very promising results to the many folks that caught their 50 minutes of spotlight.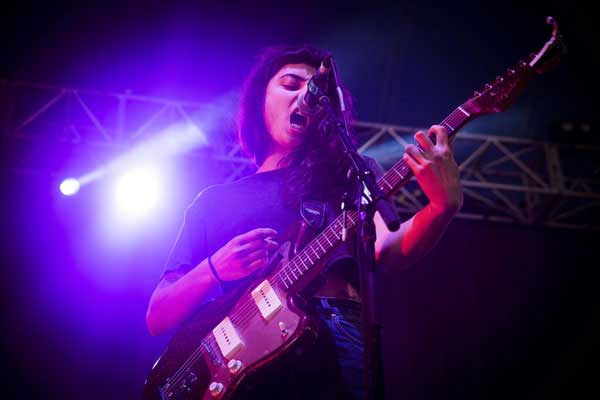 Camp Cope - image © Stephen Sloggett


For his Australian debut, DRAM breezed through with no trouble whatsoever.
Dressed in his Fantastic Fendi trench coat, the Virginia representative kept a recurring quote running throughout the show where he said "If you love your mum, say Yeeeeah-though!" and "Spread love" one song after the next.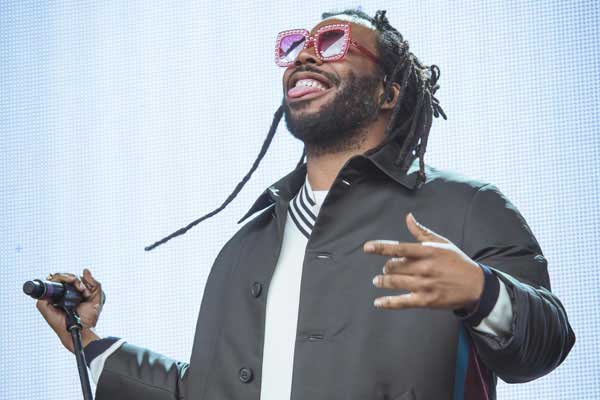 DRAM - image © Stephen Sloggett
Towards the end of his set, DRAM got up close to the audience jumping into the crowd and walking around the pit so people could come up and sing with him.


London-based soul music collective Jungle delivered a number of fresh songs to Falls, with names such as 'B54' and 'Buy Yourself A Dream' as well as a good myriad of tracks off their 2014 self-titled debut.
Jungle - image © Stephen Sloggett
Afterwards, Adelaide rapper Allday popped up for his time to shine bringing in a large number of female fans, with a few that would flash him every now and then, while the dude kept hyping up his spectators to the bass-heavy beats that flooded the speakers.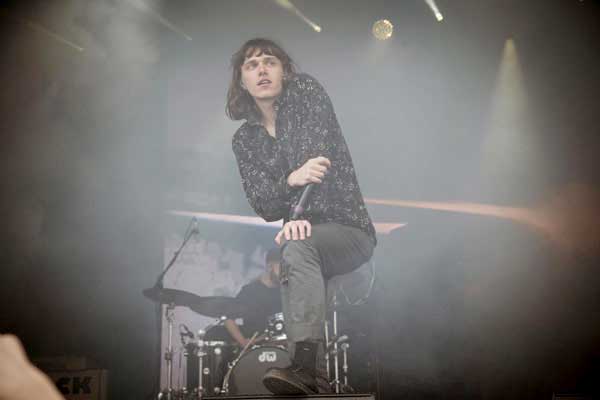 Allday - image © Stephen Sloggett
You would definitely expect a number of Oasis classics to come through the very second Liam Gallagher came on.
From 'Rock N Roll Star' to 'Morning Glory', he supplied Oasis throwbacks as well as seven pieces off his debut solo LP 'As You Were'.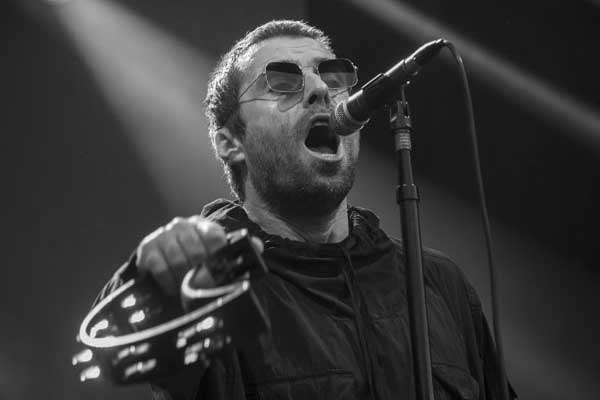 Liam Gallagher - image © Stephen Sloggett
But one of the more surprising elements of the show was not only a very well-executed rendition of 'Wonderwall' that everyone (and I do mean everyone) sang-along to resulting in goosebumps, but also a last-minute decision for an encore to 'Live Forever'.


With three acts left for the Valley Stage, Seattle's very own Fleet Foxes went and wowed everyone with one of the most hypnotic recitals of the week.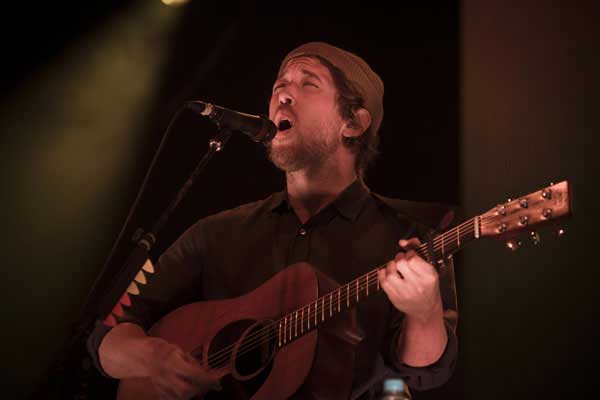 Fleet Foxes - image © Stephen Sloggett
With three albums worth of material in their discography, Robin Pecknold and co. went and enacted seven tracks of their choice including 'Ragged Wood', 'Grown Ocean' and 'Third of May/Odaigahara'.
With the ethereal sound of folk music echoing throughout the festival grounds, Fleet Foxes heightened the aura of Falls in only a matter of seconds.


As The Kooks kept the indie vibe pulsing, Luke Pritchard and his troubadours delivered a great thread of bangers including 'Eddie's Gun', 'Bad Habit', 'Naive', 'Always Where I Need To Be' and 'Around Town'.
The Kooks - image © Stephen Sloggett
The Kooks exhilarated their thousands upon thousands of observers from close and afar.
Luke stated that he was still feeling full after the massive Christmas dinner he had with his family, but notwithstanding he and the boys took their concert to new heights that earned them plenty of new fans.


If you want diversity to appear at an electronic show, you can expect that from the likes of Peking Duk who bestowed a plethora of different features and musical proclivities on stage.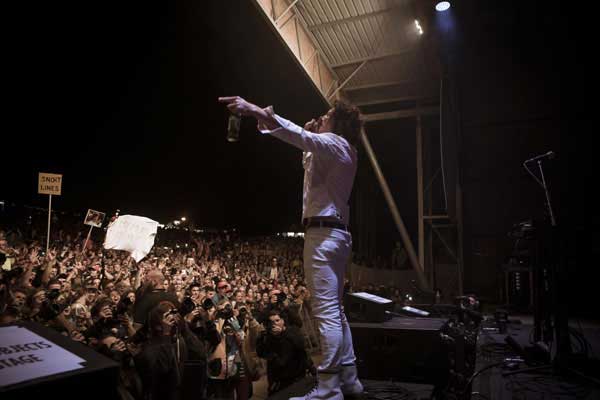 Peking Duk - image © Stephen Sloggett
From starting with a DJ set, to getting their myriad of instruments including the drums, guitar and bass on stage as well as giving spectators a special treat with not only a guest appearance from SAFIA frontman Ben Woolner, but also new song entitled 'Wasted', which set everyone off like wildfire in euphoria alongside a massive confetti and streamer cannon.


DAY 4


It was hard to process the fact it was only a matter of hours until 2018 would commence. At that, there was no time to waste and everyone made sure that every, last minute of 2017 counted.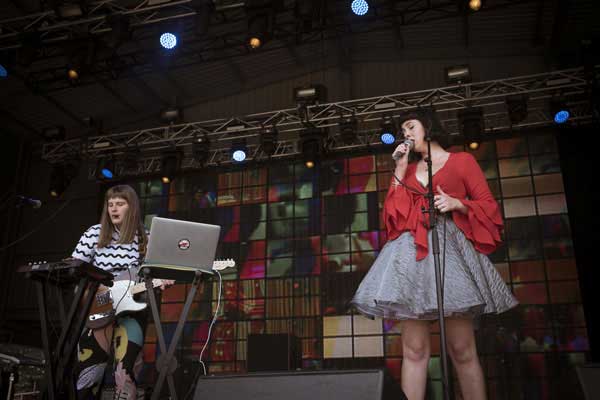 Alice Ivy - image © Stephen Sloggett
Melbourne local Alice Ivy had herself quite a blast with her timeslot and did whatever she could to get everyone in audience energised and bouncing to songs such as 'Touch' and 'Get Me A Drink'.
She also stated that she once used to work at Falls, and to have been able to achieve the dream of performing there was an exhilarating accomplishment.
Alex Lahey - image © Stephen Sloggett
Also representing Melbourne, Alex Lahey gave everyone a good dose of upbeat, garage rock & roll. As a former uni arts student, she stated that the festival had a huge impact on her before starting her course, hence the songs she had as part of set such as 'Just Like You' and 'Lotto In Reverse'.
At the same time, she displayed a lot of charisma as she projected her vocals and skills on her six-string, and her band helped shape her sound in the best way possible.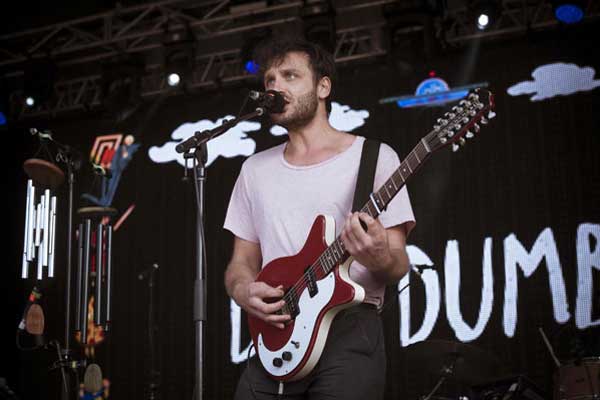 D.D Dumbo - image © Stephen Sloggett
With a number of native instruments involved, Castlemaine-based musician D.D Dumbo had a good following to support him. His Santana-influenced electronica style was presented alongside three accompanists that really helped capture his renowned studio-sound.
A few minutes after, the enigmatic punk queen known as Ecca Vandal brought a heavier spirit to the Grand Theatre and flaunted her alternative Gwen Stefani-like characteristics in the form of some hard-hitting rock music, and provided the festival with charity tees that supported asylum seekers.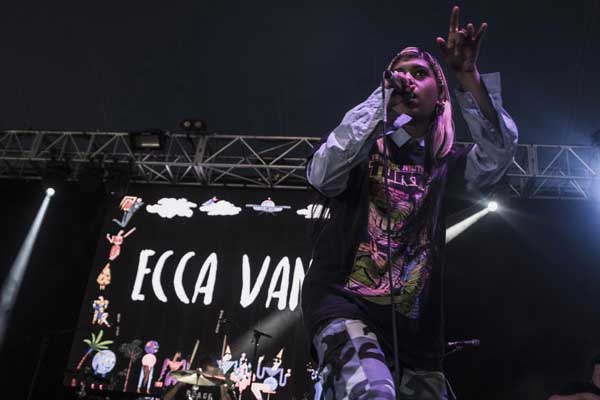 Ecca Vandal - image © Stephen Sloggett
Dressed identically, British indie poppers Everything Everything had themselves a great year with the release of their fourth studio record 'A Fever Dream', which they presented in the best manifestation of the band yet.
Regardless of minor technical difficulties towards the end of the set, it didn't stop them from finishing their set. In fact, they performed an oldie from their 2010 debut as a number of Everything Everything's devotees were on other people's shoulders to sing-along to 'MY KZ, UR BF'.


Everything Everything - image © Stephen Sloggett
Singer-songwriter duo Angus & Julia Stone were also another highlight to many at the Valley Stage. The siblings and their band provided some stellar moments from banjo solos, to eerie trumpets and massive sing-alongs to the likes of 'Cellar Door' and 'My House, Your House'.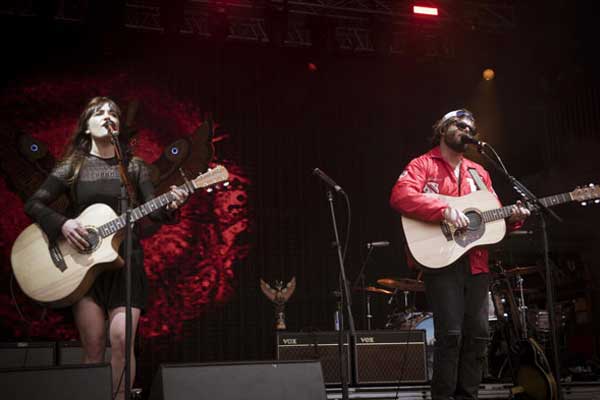 Angus & Julia Stone - image © Stephen Sloggett
Melbourne favourites The Smith Street Band's emo-tinged folk punk brought down the house with what was one of the tightest sets of the festival as well as one of the roughest pits to be involved in.
Considering that 2017 was a massive year for the band, with the release of 'More Scared Of You Than You Are Of Me' and constant touring across the world, an extremely grateful frontman Wil Wagner stated that the opportunity to play at Falls with The Smith Street Band felt like a dream, and that he wished he could be there forever.
The Smith Street Band - image © Stephen Sloggett
Tell you what, I reckon everyone that witnessed The Smith Street Band that day were wishing the same thing.


Glass Animals, who remembered when they made one of their first appearances in Australia at Falls, were another highlight at the zenith of the Valley Stage's line-up.
With vocalist and guitarist Dave Bayley bouncing non-stop in the most enthusiastic state I had ever seen of any band member, his contagious aura got everyone in the field smiling and jumping to 'Life Itself', 'Cane Shuga' and many more.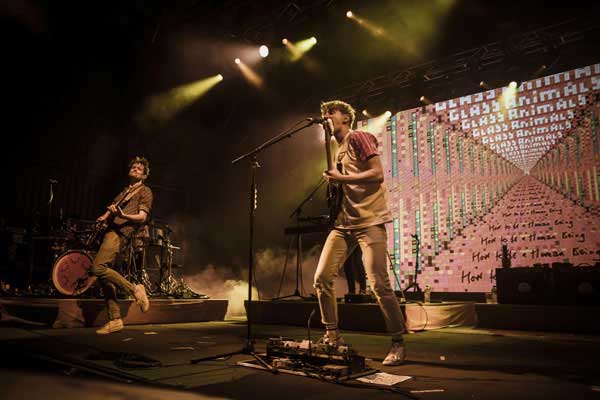 Glass Animals - image © Stephen Sloggett
With the New Year countdown placed in the hands of Killer Mike and El-P of Run The Jewels, it was their duty to end 2017 and start 2018 with one hell of a bang. And by god, did they ever!
The New York super-duo brought it all to the table, as clear as day. From 'Legend Has It' to 'Close Your Eyes (and Count To F#$%)', Run The Jewels executed one of the finest sets of both 2017 and 2018.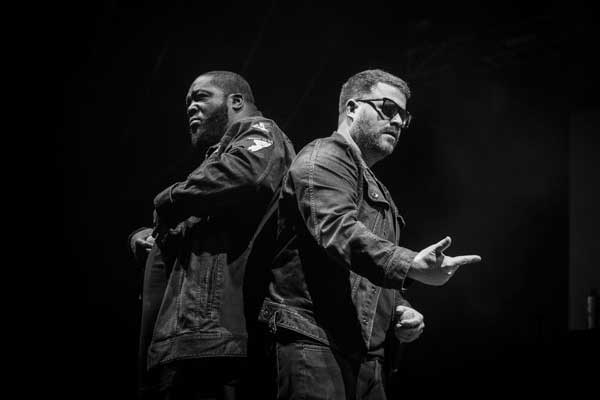 Run The Jewels - image © Stephen Sloggett
Constantly looking back and forth at the clock, Mike and El both were able to do the countdown just in time after 'Thursday In The Danger Room', with their wives coming on stage with glasses of champagne to celebrate the beginning of 2018.


With the countdown over, the festival still had plenty of energy left. Californian rapper Vince Staples emerged in the loud, orange lights that were shining over the stage.
Click here to view socials and general festival photos from Falls Lorne.
With a majority of his set involving his highly acclaimed sophomore 'Big Fish', he also provided his collaboration with Gorillaz 'Ascension'. With his strong crowd control and unorthodox stage presence, Vince packed in numbers with a great production team behind his back.


Looking back on all four days, I couldn't think of a more welcoming festival and culture than Falls. With a fantastic line-up as well as a lot of new, different artists for me to check out, Falls has convinced me to return for 2018/2019.