The stage seemed vastly empty except for a drum rise just big enough for the metric mechanics, on the hottest Perth night in two years (5 March).
I arrive late, totally bummed to miss my home state exports WAAX open for the final time as Fall Out Boy end their Australian 'MANIA' tour.


'Phoenix' begins: graphics on stage show sprinters at starting blocks before taking us inside (and outside) of a Formula 1 car ending in flames.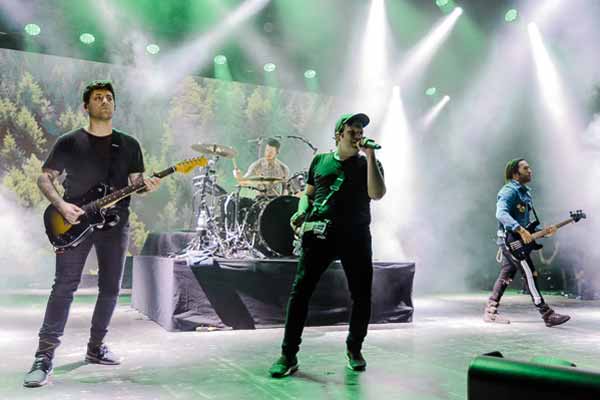 Fall Out Boy - image © Talia Ferguson
Overhead shots of deciduous forests accompany 'Irresistible': the crisply crafted stops and starts are so very FOB, as we soar over snow-capped mountains straight into 'Hum Hallelujah'.

Click here for more photos from the show.
"We could be immortals." Frontman Patrick Stump is nailing it; lead guitarist Joe Trohman wailing it to a montage from the movie 'Big Hero 6', which 'Immortals' featured.
I had to ask some Gen Y's behind me for the movie title: turns out they're local meteorites The Faim (soon to support Sleeping With Sirens nationally before heading to the UK).


In the spotlight, bass player Pete Wentz quips about woolly mammoths and that after being in Oz he doesn't consider them so huge any more, but "quaint". He urges: stay dangerous, stay weird, don't become that thing in a museum, instead "you gotta stay frosty".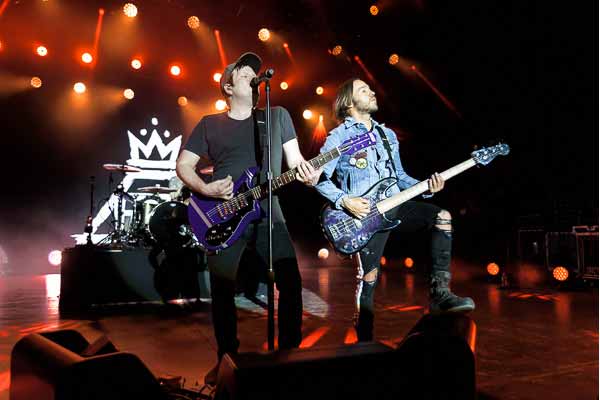 Fall Out Boy - image © Talia Ferguson
Later, he compares Red Hill to Red Rocks in the States but says here is better, partly because someone offered to catch a kangaroo in the car park and bring it backstage.


Patrick swaps guitar for piano, crooning "you are what you love, not who loves you" in 'Save Rock And Roll', the recorded track featuring Elton John; drummer Andy Hurley stands on his chair for the war cry section.


Patrick tackles one of the more electronic tracks 'Young And Menace' (from the current 'Mania' album) solo on piano. Pete appears on the balcony right behind us to introduce and play 'Wilson', followed by a pair of 'llamas' telling dad jokes on screen, before the two llama-onesies prance around on stage.
A riff kicks off the second set with 'I Don't Care', then the buzz of instant recognition before those incendiary words "I am an arms dealer" blaze to footage of nuclear bombs and explosions.


Cemeteries, cathedrals and candy skull-painted faces are dragged across the screen during 'Hold Me Tight Or Don't', then a couple of golden mid-career nuggets including 'Thnks Fr Th Mmrs'.


"We got one more for you guys," says a silhouette in the blue mist, breaking into 'Champion', soundtracked to a show reel of Princess Diana's life. The set ends abruptly: was that the point of the graphics?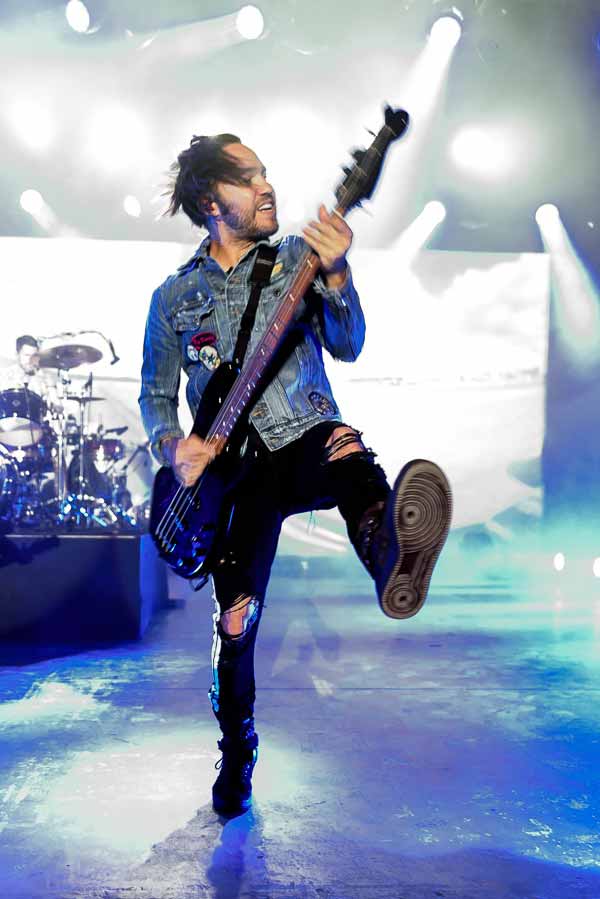 Fall Out Boy - image © Talia Ferguson
The previous night, Thornlie rockers The Southern River Band were fiercely encouraged to encore at Nannup Music Festival: this time I think punters did a crappy job though it did seem inevitable the band would return to the stage.
The intro for 'Thriller' begins: its vocal challenge as well-executed as the live version on the deluxe edition of 'Infinity On High'.

 'My Songs Know What You Did In The Dark', with chanting "light 'em up, up, up", is a real crowd pleaser leading to the traditional finale 'Saturday', from their 2003 debut album in a now-heavier nod to their punk origins.


I quiz punters on their way out about the opening act WAAX: they rave about frontwoman Maz DeVita's energy and awesome voice (thanks Jackie, Jarant, Kate and Laurie). Donna explains Maz worked "to get the crowd involved really quickly to get pumped for FOB".
I'm still sad I missed it, but there's comfort remembering "the best of us can find happiness in misery".