The countdown to Earth Frequency Festival 2017 has begun.
Now running into its second decade, EFF has become one of the South-East Queensland's premier, grassroots music and arts festivals.
EFF dropped the fourth and final artist announcement at the end of last year, adding acts such as Kingfisha, Alex Stein and Hypnotech to an already star-studded line-up. Before Earth Frequency Festival lands in February, event promoter Paul Abad, who will also be performing at the festival, chats about what's in-store for 2017.
We're less than two months out from the next Earth Frequency event; how busy will you be the next eight weeks?
Haha... don't ask. The two month lead-in to the festival is always a big workload and it takes over my life, but when you love your job it's way better than working that hard on something you don't believe in.
Welcome to Earth Frequency 2017
from
NOli GANDA
on
Vimeo
What's the one task that will take up most of your time?
Unfortunately, I would have to say it's a tight race between emails and spreadsheets... I think emails would win actually. Aside from the festival itself there's a number of artist tours, side shows and community-engagement activities going on, so it's a lot to coordinate. But I guess being glued to a computer for two months is worth it if it all rolls out smoothly for the show.
Is it a case of living and breathing EF every moment to get the job done? Or is the structure/ team in place that allows you breathing room?
A bit of both I guess. I feel very lucky to have built up an awesome team of friends and collaborators: around 70 staff positions and 500 volunteer positions. So there's a big team working on it, owning specific parts of the festival and doing it really well. But there's a lot of co-ordination between all the moving parts still to do. I also still take care of most of the music programming, marketing, admin and external relations management, so that keeps me busy.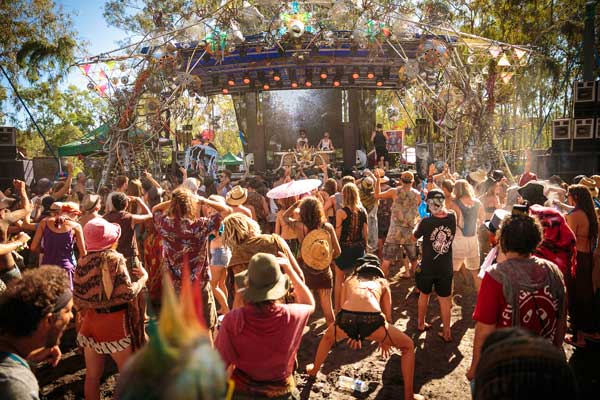 - image supplied
In a sentence, tell us how you are feeling about Earth Frequency 2017?
I feel excited and optimistic. I truly think EFF2017 will be our best year with 30 international music acts, 30 interstate music acts, 4 stages, a massive array of art, workshops, markets, family activities, after-hours venues and even an interactive TV quiz show... it's going to be lots of fun!
Earth Frequency Festival 2017 : Lineup Promo
from
NOli GANDA
on
Vimeo
The collection of acts you have gathered for the 2017 event is arguably the best line-up EF has pieced together; you must be excited to present such names as: Beardyman, The Herd, Marvel Years (first show outside of North America), Opiuo, Desert Dwellers, Ace Ventura; and I haven't even mentioned the national and local acts?
Absolutely. It's a real pleasure working on the line-up each year and being able to do it in a festival format that supports a lot of diversity. The EFF2017 line-up covers techno, glitch-hop, world music, progressive trance, reggae, hip hop, house, psytrance, electro-swing, folk and many more. There's something for most tastes in music, and plenty of new acts and styles to maybe send you home with an expanded musical taste.
Is there an act or two that are extra special to have on the bill, why?
I would have to say that Beardyman,
The Herd
, Ace Ventura, Marcus Henriksson aka Son Kite/ Minilogue,
Smokesign
are all special ones for me as they are first-time bookings for the festival and stand-out acts for their genre. Also the
Desert Dwellers
will be finishing off their Australian tour with an exclusive, expanded format live-stage show including performers and live musicians which is going to be totally epic, and the only time this is performed in Australia.
Can you suggest three, four lesser known acts on the 2017 bill that will become better known as 2017 progresses?
Marvel Years
is a young act from the USA who is rising fast and playing support sets for the likes of Pretty Lights and Bassnectar and he is one to watch for sure: big things ahead for him. Sixis is another USA-based act on the rise; he has a more squelchy, psychedelic approach and as such was booked by Tipper for the 'Tipper and Friends' concert last year. One to watch for sure.
On the domestic front, we're booking Smilk for the first time who makes awesome, progressive trance and is now on the Zenon label, so I expect he'll be continuing to get more support.
Drilling down into what Earth Frequency offers, what can we expect from Frequency Village and the series of talks/ workshops?
The Frequency Village covers everything from personal development, planetary transformation, permaculture, yoga, sound healing, art visioning, ecstatic dance, technology, eco villages and everything in between. It's a great place to check out some talks and workshops throughout the weekend. This year we have international speakers Jamaica Stevens, Michael Garfield, Penny Livingston, and a great line-up of inspiring Australian speakers.
The event is active in engaging with environmentally sustainable initiatives; what are some of the recent investments you can share with us?
It's been great being in a venue that is genuinely supportive of sustainability and local community initiatives, and so in the past twelve months we have formed a partnership with one of the neighbouring properties owned by Queensland Trust For Nature: we're donating money to them from our carbon offset donations and in the first year of doing this, it was over $3,000.
We also have co-funded a local wildlife study, which is a collaborative project between Ivory's Rock, Earth Frequency, the University of Queensland and Queensland Trust For Nature. In June 2016, we also partnered with Ipswich City Council and Ivory's Rock to co-present a World Environment Day event.
Last but not least, we are currently working on an infrastructure project for the venue that could see the majority of the power requirements of the festival all coming from green energy, no generators! It's too early to release the full details of this, but everyone's excited about it and if it goes ahead we'll be looking at a crowdfunding campaign to get it off the ground. It's virtually unheard of to not have generators powering outdoor festivals like Earth Frequency, but with the venue's existing infrastructure and some new elements to be installed, this is a real possibility. More on that soon.
Earth Frequency has a 'Leave No Trace' mantra; where everyone involved at the festival leaves their campsite the way they found it; what other educational initiatives are available?
After 12 years of doing the festival and developing a real sense of community within this temporary, once-a-year space, we have taken the time to define what we consider to be the core values of the festival.
You can read about them all here
; but in summary, Earth Frequency is based on respect (for each other, the local community, and the earth), diversity and tolerance (maintaining an inclusive and safe space), family and community (Earth Frequency strives to be a family friendly, community-focused festival), and continual improvement (we see the festival as a never-ending work in progress whereby we always listen to feedback from our audience and stakeholders and do our absolute best to do the most creatively inspiring and professional event possible).
For everyone attending it's also very important to read the
festival guidelines
, in particular road safety is something we put a big focus on each year and we can't stress enough how important it is to be driving in a sober, well-rested condition.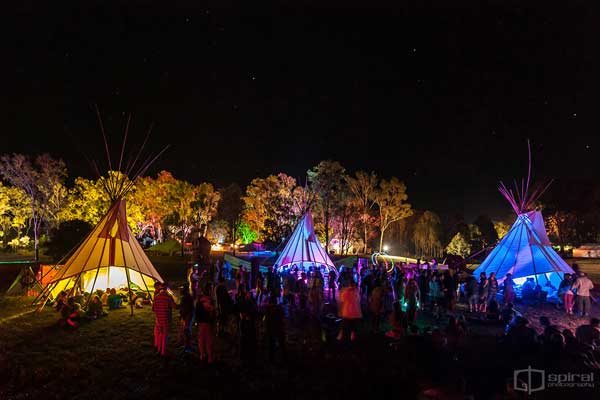 - image supplied
Any new additions/ features to the Family Realm area?
The Family Realm once again has a big list of entertainment, workshops and activities for kids, and a discussion space for parents. Everything from puppet shows, circus, kids yoga, magic shows, and art workshops. We're expanding the focus of the Family Realm too; with some of the kids now seasoned, festival veterans, there's going to be some of their arts and crafts being gifted to the crowd at the welcoming ceremony on Saturday.
On the visionary art side of things, who do you have booked in 2017 to create on site?
The art line-up is looking great this year. We have the Luminarium Gallery hosting international visionary artists: Collin Elder, Morgan Mandala and Randall Roberts, Michael Garfield, Adam Scott Miller, Brad Rhadwood and Caro Caro, as well as a stack of Australian talent including Izzy Ivy, Bryan Itch, Stiff Ives and many more.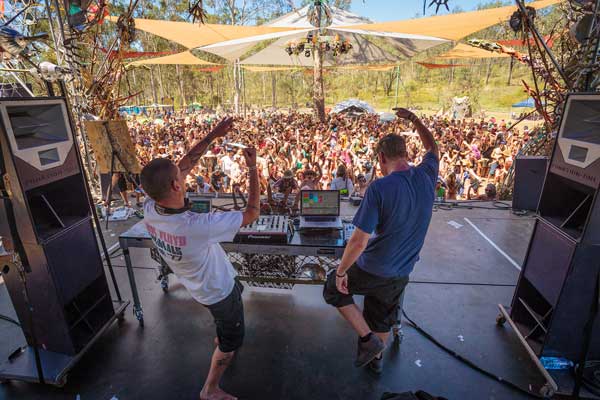 - image supplied
For those who haven't experienced the Ivory's Rock site, what does the space offer?
Ivory's Rock is an incredible venue located in SE QLD, not far from Ipswich. The location is perfect for us. It's under an hour from Brisbane, and being south of Brisbane means a much better travel time for our friends from northern NSW. It's a beautiful, outdoor venue with flat camping everywhere, and it's capable of hosting around 5,000 people, which is perfect for the long-term vision and capacity of the festival.
It's safe, has the best toilet and shower facilities I've seen at a festival venue in Australia; so it makes for a very comfortable festival experience (no gross port-a-loos or paying for showers). Ivory's Rock has been designed with sustainability in mind. It has easy access in all weather conditions and the venue owners are really supportive and happy to work with us on all our eco and sustainability initiatives, which is great as this is a key aspect of the festival.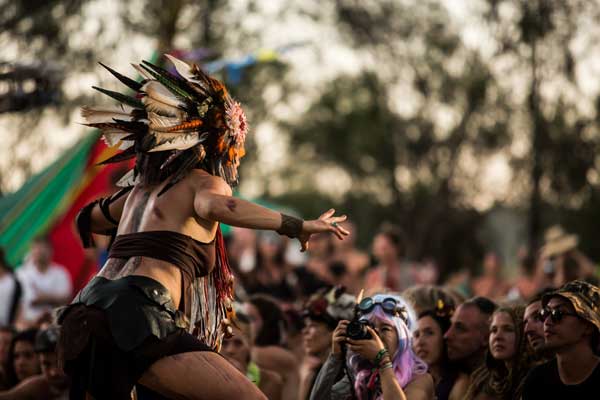 - image supplied
What is the one staple you must bring to the four-day adventure that is Earth Frequency Festival?
Hmmm. I'd say there's more than one! On the practical side of things, sun protection and shoes and a water bottle will help you be in good shape by the fourth day. But the fun stuff is important too, so be sure to bring along some crazy outfits that makes you feel like your ultimate self, something creative for your campsite, and random gifts and shares to your friends or random strangers to keep the love and good vibes flowing.
Earth Frequency Festival takes place at Ivory's Rock (45 minute drive SW from Brisbane's CBD) 17-20 February.