"It wasn't something I ever knew I could make a career out of," 30-year-old Alex Sholler – better known by her stage name Alison Wonderland – says of her electronic music.
"I was DJing, producing and writing music because it made me happy. That's literally the only reason I started. It was the thing that made me want to wake up in the morning."
The producer, DJ and classically-trained cellist tells me that as we speak, she's sitting on an office floor in Sydney, and from the delight in her voice it seems she barely able to contain her excitement about being home in Australia.
Just last year, Wonderland relocated to the States, where she made her US live debut at none other than Coachella, while her debut, full-length original album 'Run' skyrocketed to the top of the charts. She took over the Aussie electronic scene too, with two ARIA nominations and an appearance in triple j's 2015 Hottest 100.
Despite battling with electronic music's reputation for being a meaningless, money-making genre purely created for nightclubs, Wonderland prides herself in ensuring her music conveys personality and emotion, perhaps one of the many reasons her music's taken her so far. "I genuinely believe that if you're not feeling something from what you're making, then who else is going to feel it?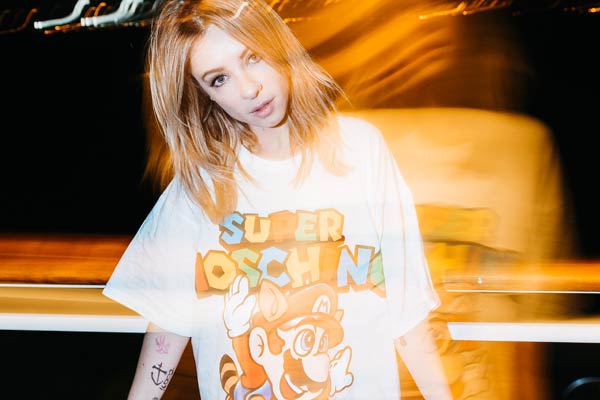 "I want to do justice to my art by being very vulnerable and truthful in what I'm writing… because it's more than just a club jam. There are words and my actual brain in there, getting judged either way," she explains.
"I've had people come up to me and tell me what they're going through and that my song connected with them, which makes me so happy because I've found another person who gets me, and I get them."
Wonderland stands out from the plethora of electronic music, not only due to her vulnerable lyricism but a background in music unlike many. Trained as a classical cellist, and practiced as an indie-rock bass player, it was only when the producer discovered the cathartic benefits in writing electronic music, that she made the switch.
However, it would seem that transferring her songwriting talents to the EDM genre would be the simple part, as finding vocalists willing to sing on her debut electronic pieces proved more difficult. "In my head I wanted people to sing the songs rather than me singing on them, because I never considered myself a singer. But before anyone says yes to you, there's a lot of people that are going to say no."

So, despite never imagining herself to be a singer, let alone being vocally trained, she knew what she had to do. "I got to the point where I was like 'fuck it, I wrote the song, maybe I should try singing it'. So, instead of worrying that I'm clearly not Beyoncé or Rihanna, I just wrote around my voice.
"When I became more comfortable and got to know myself vocally, I felt more okay with putting myself out there. I'll never think I have a good voice; I'm just singing what I feel," Wonderland confides.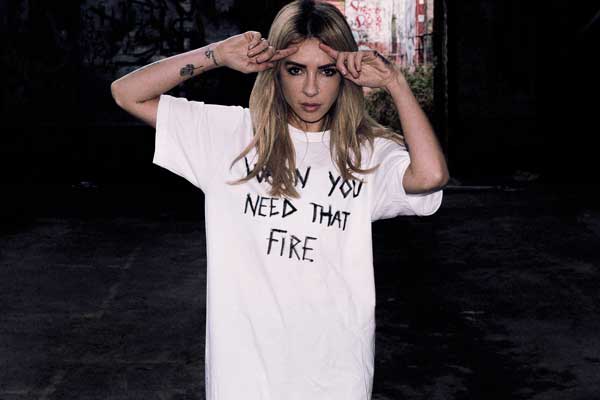 Perhaps one of the most inspiring aspects about Wonderland is that despite the male-dominated genre she works in, she refuses to let her gender be the defining reason for her success.
She may be up against EDM powerhouses such as Grammy Award-winner Calvin Harris, or more locally the recent ARIA Award-winner Flume, but it doesn't phase her. "The more you make it an issue, the more it becomes an issue. I like to just let what I'm doing speak for me. I don't sexualise myself when I play shows, there's GoPros over my hands so people can watch me mixing on the decks," she says.
"I do think the male ego can be quite overpowering sometimes, especially when there's a lot of dudes together, but the key to me pushing through that is having the closest people around me, telling me I've got this. It's easy to doubt yourself in a world where the ego is so loud around you, and that's not necessarily about men."
For the moment though, Wonderland's focus is on becoming the best artist she can be, regardless of any disadvantage or advantage thrown her way. "I don't want to ever make it about my gender. I just want to be an artist, not a female artist.
"Realistically, I think there is still sexism in this industry, because anytime I'm photographed with a guy, there's at least three comments assuming that I slept with that person, when, in reality, I would never. That's just where I'm at.
"There's always that kind of comment, doubting that I'm actually doing anything. That's one of the reasons why I started filming with a GoPro over my hands. It was my silent fight, but at the end of the day I'm glad I did it, because now I see it as me connecting with the crowd, so they can see there's actually something going on. It was just trying to prove what I was doing, which I shouldn't have ever had to do," she explains.
Now undeniably at the top of her game, Wonderland continues to build her career abroad, with the last 12 months seeing her sell-out a massive 30-date tour across the US, and become the first solo female artist to perform on the main stage at the Las Vegas Electric Daisy Carnival.
Despite all the glory though, there's no doubt she'll always be an Aussie girl at heart. This New Year, Wonderland is headlining the nationwide Fall Festival, alongside the likes of Childish Gambino and London Grammar, but she couldn't be more excited to spend some time back home. "Nothing compares to Australia, so I'm really happy to be home. I have a very emotional connection to Australian crowds, because that's what made me [who I am].
"I've been playing for a long time, and just having that support network and growing with people from your hometown and your home country is way more special. It's just something that I can't ever take for granted, the support Australians give to Australian artists."
Alison Wonderland Shows
Fri 30 Dec - Falls Festival (Lorne)Sat 31 Dec - Falls Festival (Marion Bay)Sun 1 Jan - Field Day (Sydney)Mon 2 Jan - Falls Festival (Byron Bay)