Singer-songwriter Angus Stone is letting the good vibes roll.
One half of brother-sister folk duo Angus & Julia Stone, Angus last year released the debut record for his latest, solo venture Dope Lemon, which saw him settle into a more relaxed groove.
The album, 'Honey Bones', was largely recorded at Angus' own studio on his property outside Byron Bay he dubbed 'Belafonte Studios' after the name of Bill Murray's ship in Wes Anderson's 2004 film, 'The Life Aquatic With Steve Zissou'.
Speaking to
The Saturday Paper in June 2016
, Angus said the laidback, coastal vibe imbued in the album came about as a result of the laissez-faire approach to the recording process.
"We'd just walk in after a few drinks," Angus says, "and we'd just play, you know, stoned, and start strumming a chord over and over again, and someone would sit down at the piano and someone would sit down at the drums and they'd just be really long recordings.
"We pick it apart and sometimes you'll be lucky and get a whole stretch of a song in one take and it's great. And on certain days we were a lot more focused and we'd go, 'Okay, that last take was good, let's try this'. "
'Honey Bones' is the third solo release for Angus, his first being 'Smoking Gun' in 2009 under the pseudonym Lady Of The Sunshine, followed in 2012 by 'Broken Lights'.
The first single from 'Honey Bones' was 'Uptown Folks', a song thought by many to be a not-so-veiled reference to the mammoth Mark Ronson-Bruno Mars track 'Uptown Funk'.
In an interview with
The Sydney Morning Herald last June
, Angus clarified the misconception, saying: "I don't know that song! I guess 'Uptown Folks' is about being a symbol of 'getting back to the garden'.
"I feel like with all the sort of delirium of religion, acquiring possessions, and constantly getting ahead of ourselves, you can lose sight of what we need. I feel like open spaces and getting back to the garden is definitely where we need to go."
Dope Lemon have been announced for this year's
WOMADelaide
festival in March, joining the likes of
The Hot 8 Brass Band
, The Waifs, Philip Glass and The Specials, to name a select few.
Angus and his band join the line-up as the festival celebrates its 25th anniversary this year, beginning in Adelaide in 1992 and becoming an annual event by 2003. Marking this momentous milestone is a performance from Indigenous singer-songwriter Archie Roach, who was part of the very first WOMADelaide line-up in 1992.
Minimalist composer Philip Glass will also be celebrating his 80th birthday at WOMADelaide with a special presentation of his classic masterpiece 'Koyaanisqatsi Live (Life Out Of Balance)'.
Hot on the heels of WOMADelaide, Dope Lemon will be headlining
The Hills Are Alive
music and comedy festival in late March alongside Sydney alt-rockers Cloud Control, possibly foreshadowing a busy year of live performances from Dope Lemon; fingers-crossed.
The last studio album from Angus & Julia Stone was 2014's self-titled record, which was produced by the legendary Rick Rubin. Famously, during the recording process the duo apparently racked up a $20,000 bill for, get this, sushi and organic smoothies. "We had a $20,000 sushi and organic smoothies bill, which is pretty interesting," Angus told The Sydney Morning Herald.
"Our manager was like, 'hang on …' and we were like 'oh, we just thought that was on the house!' Being with Rick, it was really luxurious: you had people doing everything for you. It was pretty much like living in a manor with servants."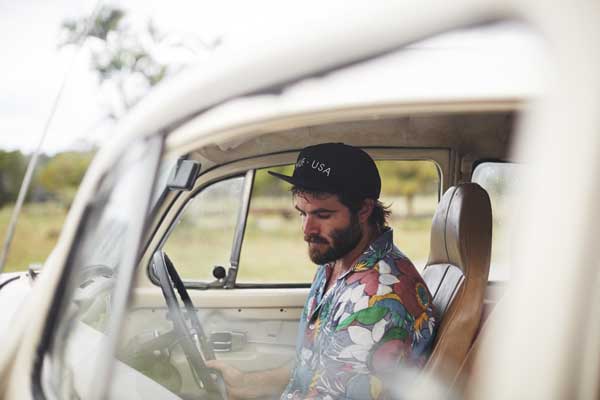 Since then, both Angus and Julia have carved solid solo reputations outside the brother-sister folk duo act, each establishing themselves as formidable singer-songwriters in their own right. So much is their respective success, the siblings found themselves as competitors in this year's Triple J Hottest 100, with 'Uptown Folks' landing at number 87 in the countdown, while Julia's collaboration with Golden Features, 'Wolfie', scored at number 70.
With Dope Lemon clearly his central focus at the moment, Angus hasn't entirely ruled out reuniting with sister Julia, though it's not a decision he makes lightly. "[It's] always a big decision, because you know once you put out a record, you've got a good two years of travel," Angus told The Sydney Morning Herald.
"Are you ready to leave home and live on a bus for two years? It's like you're playing a game of chess with the years that you've got.
"I'd love to tour around Australia – and also the world – if Dope Lemon catches fire. But I'd prefer to do something cruisy, where you're getting back to just playing small shows, and have fun with it a bit more."
Dope Lemon perform as part of WOMADelaide (Adelaide) 10-13 March and The Hills Are Alive (Victoria) 24-26 March.