Next month, Deep Street Soul will be performing at Blenheim Music and Camping Festival. 

Warren 'Waz' Hunter, who is one of the original members of the Melbourne funk, soul band missed last year's festival, but will join the festivities this year. "Half of the band have done [BlenheimFest] before and said it was really great, so I'm really looking forward to it," Waz says.

The band, who formed in 2006, began with just three members: Monique (keyboard); Margo (drums); and Waz (bass guitar). "We played an instrumental four-piece for about four or five years before we started doing vocals," Waz says.
"Stylistically it's similar, but it's quite funny because we made the transition rather slowly and thought we'd get a vocalist up on stage to do two to three songs to give our set a bit of variety."
It wasn't until after six months the instrumental band came to realise that perhaps it was more than just two or three songs that required the human voice. "It sort of became us standing around thinking 'okay, when are the vocals coming on?'. It got to that stage where we thought we needed to become a vocal band," Waz says.
"We've already had four or five years of instrumental musical and while it's really fun and great for learning how to play instruments, after a while you realise you can only take it to a certain stage before you really need to add the dynamics of a vocalist, more for the crowd's perspective than anything."
After the challenge of finding the perfect vocalist, the band were signed by a UK record label who focus on jazz, electronica, funk and soul music, Freestyle Records. The band's European fan base has since grown. "Europe is a lot more receptive to this style of music, you know. You can play a Monday night in the back blocks of France and 300 people are going crazy.
"I guess it's more to do with the population that they have there to support it. Straight away there'd be more bands of that style because there's more people," Waz says. "That's not to say that Australia's bad. I mean, when we first started ten years ago there wasn't a way to play this kind of music at all really."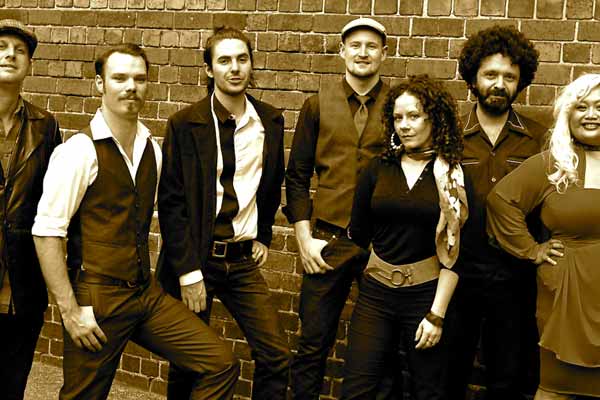 Deep Street Soul
Waz says The Bamboos were a catalyst for the funk-soul style of music in Australia and believes it's definitely improved and developed a lot over the past decade. But Europe will always be an easier task sourcing new fans.
"They've got a culture that supports live music, they're very respectful of musicians and musicians are respected, therefore you're automatically put on a pedestal and not a bad one or worshipping pedestal, just a respect pedestal," Waz says.
"But there's always challenges. The main challenge for us in the last few years is keeping a seven-piece band together who play in other bands. It's really, really difficult playing with seven performers because everyone's got jobs, everyone's got other bands that they do." 

After performing together for so many years, the biggest motivator for Waz has been his passion for music and working with people.
"Performing at venues and keeping it fresh, exciting and interesting might be a bit of a challenge at times. But what we play together, we always love it. When you've done it for so long, you have to keep finding new ways to enjoy it." 

Deep Street Soul perform at Blenheim Music And Camping Festival, Clare Valley South Australia, 13-14 April.