The Thin White Duke, Ziggy Stardust, Major Tom, rock & roll bitch, genre-bender, sexy motherfucker.
These are just same of the faces re-counted by Deborah Conway as she remembered the late, great David Bowie at the David Bowie: Nothing Has Changed Brisbane show (1 October).
Backed by the Queensland Symphony Orchestra (QSO), Conway – along with fellow Australian music icons iOTA, Steve Kilbey, Adalita and Tex Perkins – was there to celebrate the rich, musical legacy of Bowie, and what a glorious, bittersweet tribute it was.
Opening the show with 'Space Oddity', iOTA – who channelled Bowie's chameleon qualities in face paint and an assortment of jumpsuits and flamboyant neck pieces – had me immediately turning to face the strange with longing. His powerful vocals were equally as transportive in the sci-fi hit 'Life On Mars?' flawlessly holding the soaring, plaintive song title line. Conway, instantly recognisable in a trademark, stylish suit, brought grace and spunk to the stage, from her first track 'Starman' to her stirring rendition of 'Ziggy Stardust'.
Perkins' deep, baritone voice was a perfect match for classics 'Fame' and 'Sorrow' and Bowie's last single: the hauntingly prophetic 'Lazarus'. Proving that he can also hit the high notes, Perkins shone during 'All The Young Dudes', however it was his swaggering delivery of 'Young Americans' – flanked by two back-up singers – that had audience members dancing in their seats.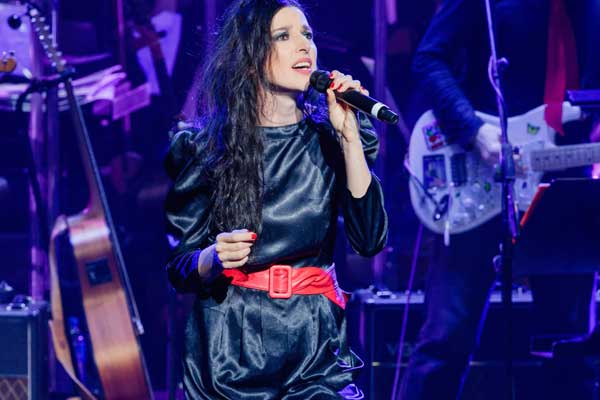 Adalita
Adalita's arrival on stage signalled the start of the rock hits. Rocking a black dress emblazoned with a lightning bolt à la Alladin Sane, Adalita was the first singer to work the length of the stage as she belted out glam-rock track 'Rebel Rebel' and 'The Jean Genie'.
Kilbey brought understated cool to the stage, dueting with back-up singer Robyn Loau on 'China Girl' and commanding the stage solo for 'Changes'. His delivery of 'Station To Station' – brimming with echoes of Bowie's voice – left the hairs on the back of my neck prickling.
Steve Kilbey
The show was peppered with duets, with the first being an energetic rendition of 'Suffragette City' by Conway and iOTA. The enthusiasm of both singers had audience members on their feet and left Conway slumped over the piano, evidently exhausted from boisterously jumping in time with her younger peer.
It was, however, iOTA and Adalita singing 'Let's Dance' that saw audience members leave their seats and dance their way to the front of the stage. As iOTA launched into 'Fashion', more streamed down from all corners of the Great Hall, and there the majority stayed for the remainder of the second half. The closing song, 'Heroes', saw the cast of singers come together for the first and only time. Led by Kilbey, the ensemble took turns singing the anthemic track, with the sounds of the QSO swelling behind them.
Bowie was a kaleidoscope of innovation, experimentation and reinvention. His many guises will become folklore for future generations. To quote Conway: "No wonder it takes so many of us to do [a tribute] right."
DAVID BOWIE: NOTHING HAS CHANGED TOUR DATES
15-16 Oct - Arts Centre (Melbourne)10-11 Nov - Perth Convention & Exhibition Centre