After a lengthy hiatus, Sydney's statesmen of indie rock, Dappled Cities hit back with their fifth studio album, aptly titled 'Five'.
The new album breaks a two-year holiday for the band as they took time off from touring, writing and recording. "To be honest, there was such a long break between this album and our last studio album," says co-songwriter and guitarist Dave Rennick.
"When it came time to write this one, we'd been on the back of a two-year holiday for personal time. The first thing we did when we got back together was to look through and revisit some of our songs that have been hanging around for a few years.
"That kicked off the writing process, rehashing some ideas from the previous ten years of writing songs. There was always shrapnel floating around that we have pulled together and that started to define the direction we were going to go in."
Dappled Cities released their last studio album 'Lake Air' in 2012, the only rumbling of them since then being the 2014 B-sides and rarities collection entitled 'Many Roads'. For 'Five', which will be released on the numerologically convenient 5 May, Dave says the band adopted a more mature and relaxed approach.
"You also grow up as a band and you're in less of a rush to put things out," he says.
"When you're a young band and starting out, you're seeing the world and you feel there's a pressure or that the clock is ticking. Once you're a bit more mature you see that the clock is not fucking ticking at all, you've got all the time in the world to write," he laughs.
"Sure, some people might be waiting for the record but they'll still be there when it's finished and they get to hear it. It's about not feeling that sense of desperation when making music, that's what we really wanted to try and avoid with this one."
Dappled Cities will be taking 'Five' on the road for a limited, east-coast tour starting this month. Though Dave says other cities can expect shows to be announced.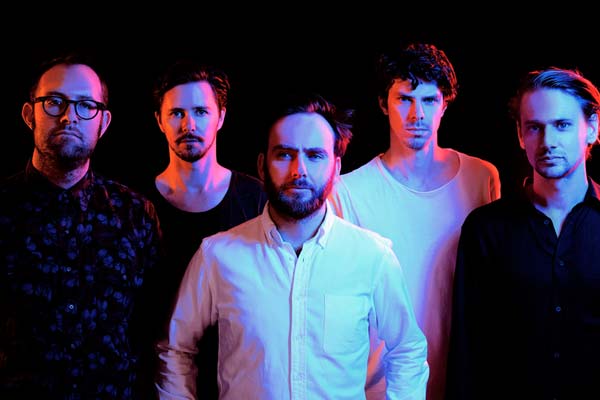 "We will be touring more but we want to be touring really selectively from now on, not exhausting ourselves. We will be visiting other places in Australia and beyond perhaps later in the year or next year."
The upcoming 'Five' album tour concludes in Sydney for a hometown show at Vivid, which will include a spectacular visual display based on the album artwork created by Californian painter Paul Juno. "It's going to be a special night, there's no doubt about that and we're super excited," Dave says.
"Doing an event like Vivid obviously gives you the means and the scope to put together a really incredible visual component for the shows, so that's what we're definitely focussed on. And the fact that all this art we've been working with is really visually striking.
"So we're going to be taking advantage of that aspect of the artwork and transforming it into something super-hectic. It's going to be a real highlight of our career to be honest; I'm not sure what we're going to be able to do afterwards," Dave laughs.
The hardest part about Dappled Cities coming back together and heading out on tour is narrowing down a setlist for the shows. Considering their career spans nearly 20 years, a name change and now five albums, it's no easy feat whittling it into a definitive track list for live shows.
"We're hitting this bit of an issue where it's really hard to fit everything into a set these days," he says.
"We dig up all our old songs and refashion them to the new styles, then make a set and realise our set's fucking two-and-a-half hours long. We have to pick our moments; the old ones are too much fun to play."
Dappled Cities Tour Dates
Fri 5 May - The Record Crate (Sydney)
Sat 6 May - Howler (Melbourne) Fri 12 May - The Foundry (Brisbane) Sun 4 Jun - Vivid, City Recital Hall (Sydney)