In the decade or so that Cold War Kids have been in the public eye, their live show has been what has carried them.
Public opinion – both on the consumer based and critical side of the coin – has been divisive with the band's recorded output, particularly in more recent years. It's cast aside, however, when Nathan Willett and co. take to the stage (Metro Theatre, 26 March) and execute their songs in the flesh, in a manner that can be described as both endearing and workman-like.
Cold War Kids at 170 Russell, Melbourne, 25 March - Image © Katie Dutton
They're not the kind to incorporate flashy visuals or theatrics. Beyond darker-than-your-average stage lighting, it's a relatively no-frills affair. Truth be told, it suits them. Ultimately, it gives the songs a chance to speak for themselves.
Some have had plenty of years to do so, like the anthemic 'Hang Me Up To Dry' or underrated latter-day single 'Miracle Mile'. Others, perhaps overlooked or maligned upon release, get their opportunity to thrive including 'Royal Blue' from the panned 'Mine Is Yours' album and 'Hot Coals' from 2014's 'Hold My Home'.
Cold War Kids at 170 Russell, Melbourne, 25 March - Image © Katie Dutton
As great as the lead-up is, there are moments towards the set's end that truly transcend what has come before it. 'Hospital Beds', the third single from the band's beloved debut 'Robbers & Cowards', still makes hairs stand on end with its heartfelt delivery and passionate sing-alongs.
Click here for photos from Cold War Kids' Melbourne performance (25 March).
'Something Is Not Right With Me' also expands into an intense, drawn-out jam session between the band's five members: a considerable far-cry from its two-minutes-twenty recorded version.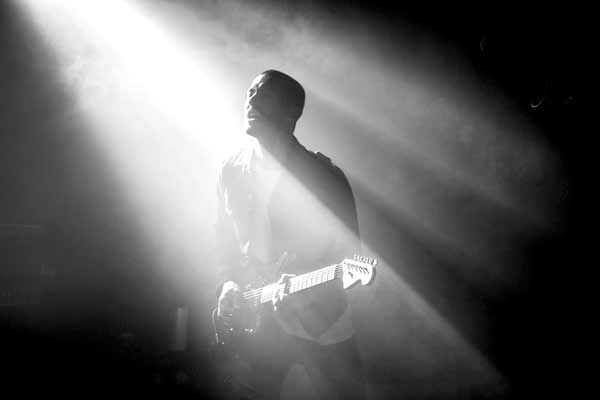 Cold War Kids at 170 Russell, Melbourne, 25 March - Image © Katie Dutton
From festival stages to theatre surrounds, Cold War Kids are always good for a solid evening out, and tonight has proven to be no exception.
Cold War Kids at 170 Russell, Melbourne, 25 March - Image © Katie Dutton
On support duties are Sydney's Mere Women, the post-punk outfit that recently expanded out into a quartet to include bassist Trisch Roberts.

Tonight marks Roberts' second-ever set within the fold, and she blends in seamlessly between Flyn Mckinnirey's authoritative, reverb-laden guitar lines, Kat Byrne's military-precision drum fills and Amy Wilson's blend of glassy, cavernous keys and emotionally-wrought vocal delivery.
There aren't a great deal of bands that sound quite like Mere Women, such is the niche they have collectively carved for themselves. As such, they are often met by unfamiliar audiences with confusion or indifference. Unfortunately, by and large that appears to be the vibe wafting from the audience as the band performs.
Not that it deters them at all. New single 'Numb', the bitter introspection of 'Our Street' and the furious, stomping finale of 'Indians' all make their mark in a sharp, succinct set. Love them or hate them, but Mere Women cannot be ignored.