Bombs Away are ready to take on the world following the release of their newest single, 'Sneak Out'.
The duo are excited about embarking on their month-long world tour together. "As brothers, it's great that we can travel together," Sketch says. "There's a lot of DJs who are friends of ours that travel solo, and it's something that would definitely get to us after a while."
The two are certainly not finding the upcoming shows daunting. "I was just thinking about how nice the food is in this international lounge. It's very delicious," Tommy Shades says.
But that's not to say they're not aware of what's in front of them. "We've found that America has more of an urban influence and so the trap stuff is working really well," Sketch says. "The other style they're expecting from us is Melbourne bounce. We've gone a little bit away from that, but that's what they expect Australians to play. Every show it looks like we'll have a couple of cool locals with us, and there is a huge show in Korea, which is a big festival that has everyone from Galantis to Afrojack. We're really looking forward to that one."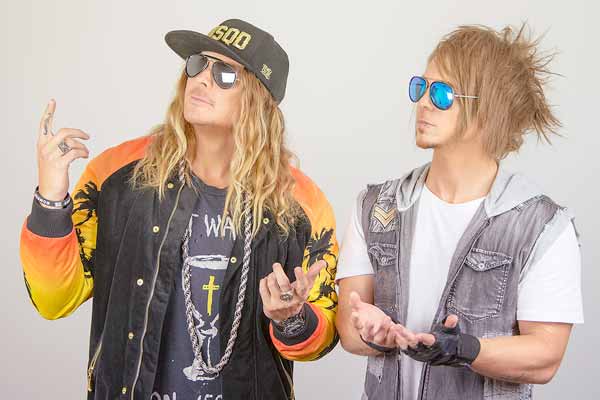 The boys will also be back on Australian shores on the tail end of the tour to party with us once again. "It's where we started, and we can always feel the vibe. We've also got a bunch of new songs that we will get to test out. Whenever we are back doing shows here, we use it as a chance to test our music before we release things.The tracks that get the best reactions from the crowds are usually our next singles."
Their latest single, 'Sneak Out', is a throwback of sorts to their days growing up on the Gold Coast. "It has a care-free summer feel to it that goes back to the memories of us sneaking through the louvers when we were grounded or not allowed to go out on a summer afternoon when it was daylight until about 9pm," Sketch says. "We wanted to have that feeling come through, and we actually filmed it back on the Gold Coast. The music video has an '80s, retro vibe to it.
"We originally had a different location sorted for the filming, but it was a little bit too small and didn't work out timing-wise, so we ended up filming it at our house," Tommy continues. "All the house scenes and bathroom scenes where the girl is getting ready is actually our own house on the Gold Coast. It made it so much easier to get to the location. Normally we've got to fly somewhere or stay overnight, but we were able to just wake up and the camera guys were in our house."
The two are proud of what they have accomplished as Bombs Away so far, and aren't taking anything for granted. "The number one thing is to feel like the crowd is partying with us, not just watching two guys party, or perform separately. Everyone has to be involved," Sketch says. "We still try and keep that fun, care-free vibe we had when we started."
Bombs Away Shows
Fri 21 Oct - Tapas Bar, DevonportSat 29 Oct - Magnums, Airlie BeachSat 5 Nov - Rivaz (Renmark)Fri 18 Nov - Opium Nightclub (Darwin)Sat 26 Nov - Movidas (Mackay)Mon 28 Nov - Ultraglow Paint Party @ Surfers Paradise Beer Garden (Gold Coast)Sat 17 Dec - Candy's Apartment (Sydney)Fri 23 Dec - Dog and Duck (Adelaide)Sat 24 Dec - Mt Gambier HotelThu 29 Dec - Club Mulwala (Mulwala)