After an epic three days, leaving many bleary eyed and a touch worse for wear, not even the miserable weather could keep party-goers from revelling in the glow of Australia's brightest new music stars at Bigsound's Official Closing Party, at The Triffid (9 September).
Now in its 15th year, having witnessing the early beginnings of artists such as Courtney Barnett, Violent Soho and Flume, Bigsound again produced the sweet, sweet musical goods courtesy of a killer party line-up, to close what was another hugely successful year.
Click here for more photos.
Former Preatures guitarist, turned soloist Gideon Benson opened the night, with tracks from his debut EP 'Cold Cold Heart'. Benson's solo material sees him carve out a completely new niche from the content he was producing with The Preatures. Gideon's Bowie-esque like swagger is backed by tracks with a distinct late '80s/ early '90s sound, and infused with a new-wave/ industrial feel.
Describing their sound as 'tough pop/ soft punk', The Rolling Blackouts Costal Fever brought their jangly pop vibes to stage with songs from their 'Talk Tight' EP. With a distinct Go-Between-ers feel, the group had revellers vibing along with their catchy hooks and sunny guitar work.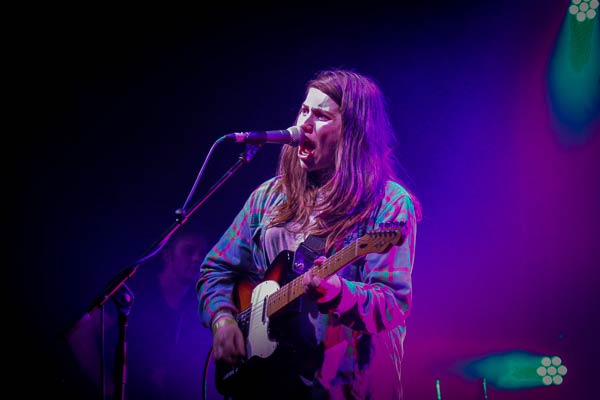 Alex Lahey - image © Tamaryn Bremner
The venue is now swelling with punters when Alex Lahey takes centre stage. Dubbed as one of the most exciting artists to play at Bigsound in 2016, it's pretty easy to see why. The talented Melbourne artist's songwriting is honest, her vocals raw and captivating. Her newly released EP, 'B-Grade University', is self-reflective and talks about living through some of the more mundane elements of the human experience.
Lahey shreds her guitar to 'You Don't Think You Like People Like Me' and party track 'Lets Go Out' while the whole crowd sing-along. As she walks off stage, I'm inclined to agree that the hype is well deserved.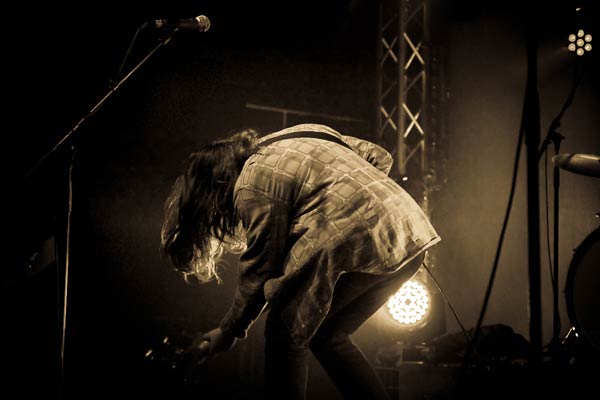 Alex Lahey - image © Tamaryn Bremner
Off the back of their debut EP, 'No Love For Back Home', up next is the Brissie three-piece, Good Boy. Having injecting a distinct, punk feel to some of their new songs, Good Boys style can be accurately described as off-beat, fast and just bloody fun!
Good Boy - image © Tamaryn Bremner
The dreamy, yet angst filled 'Transperancy' has punters transfixed, before the boys break into the fuzzy, frantic anthem 'Poverty Line' at which point the room goes proper mental. These guys are easily becoming one of my faves on the Brissie music scene.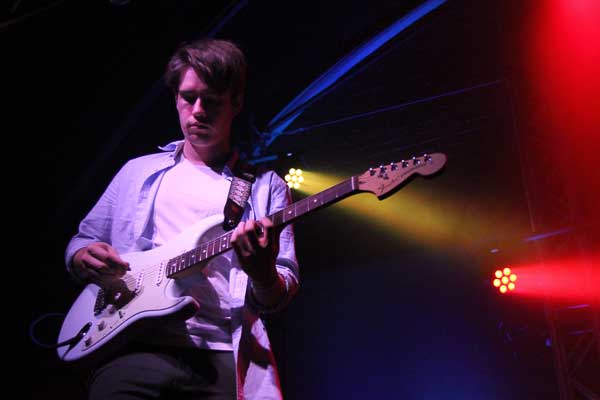 Good Boy - image © Tamaryn Bremner
To wrap up the evening, Flowertruck take the stage led by frontman Charles Rushforth, whose high-energy stage presence is matched only by his unique vocals (think The Smiths meets Talking heads). Their lyrics are deep, emotive and peppered with frustration, and you just can't help but want to get up and start jerking around, circa '80s style, to their post new-wave sound. The crazy popular 'Sunshower' gets people doing just that, along with tracks off their debut EP 'Dirt'.
Flowertruck - image © Tamaryn Bremner
As party-goers file out of the venue, The Valley breathes a giant sigh. Spread across some 16 venues, and attracting over 160 bands and 1,300 delegates, the southern hemisphere's biggest, music-industry conference has finally drawn to a close.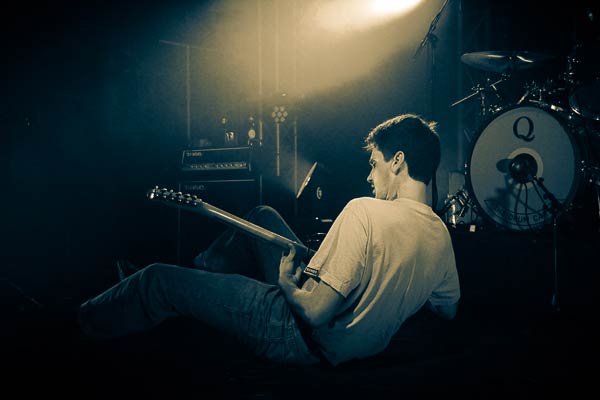 Flowertruck - image © Tamaryn Bremner
Until the pilgrimage again next year, Aussie music… you be aaaall right.
Click here for more photos.