My BIGSOUND Day Two began as the clock chimed 'amateur hour'; I was lamely equipped with a long, structured list outlining exactly who I wanted to see, when, what time, for how long.
Though even as somebody who secretly (or not so secretly) despises spontaneity, even I can recognise that only the best festivals will simply take you where they take you, disregarding any 'plans' with reckless abandon.
I took an unexpected route to the Brightside Outdoor Stage at 8pm, where Cousin Tony's Brand New Firebird already proved quite the spectacle with the ever rare and wonderful key-tar draped across the female vocalist. Who would have thought an 8pm act could be so sure, so coolly confident, practically certain of their sound, their demeanour; hell, even their stage presence.
Click here for more photos.
A core problem with emerging bands (one that's almost always overcome, but rarely skipped altogether) is the lack of direction, a confused grasping of mix-matched bits and pieces from here and there in a desperate bid to discover what they do best.
Revellers at BIGSOUND - image © Kalem Horn
But even early in their career, this band has brewed one of the crispest blends of indie, alternative, rock, even psychedelic, gelled in a way that makes absolute sense and already sounds iconically 'Firebird'. Coupled with a colourful, otherworldly backdrop projected on the buildings behind the stage, their half-hour set was all sorts of warm and swirly, strong from start to finish.
Interestingly, the members who make up following act nyck are arguably more musically gifted; I instantly approved of the use of not one, not two, but three keyboards on stage (ironically, the same time the night before West Thebarton graced the same stage with a similar number of guitars) and awed at the harmonies so perfectly executed the vocals almost sounded like hymns.
Though regardless of their talents the performance was a little flat; each track lacking the kick of whiskey in your coffee, chilli in your curry, teetering on the edges between beautiful and calming, no doubt, but not quite captivating, at least, not yet.
Revellers at BIGSOUND - image © Kalem Horn
The next unintended turn took me to the Woolly Mammoth's Mane Stage; here, Polographia clearly intended to make an instant, impactful impression. I'm a sucker for a duo, it's such a bold venture into the industry, and these two are certainly out to prove less hands don't necessarily mean less quality.
The set started with a bang; strobes and vigorous drumming making music I (having listened to recordings) would have expected to be smooth crooners, like Miami Horror perhaps, but numbed by a literal chill pill. Live however, Polographia kicked it up a notch, maybe even two, fuelling those Miami Horror-like tones with a larger kick, instead.
Delegates at BIGSOUND - image © Kalem Horn
Unlike the previous acts I'd witnessed that evening Lupa J was a name I'd heard before; even her face proved recognisable, unsurprising considering her quirky features. Watching Lupa navigate her way between the microphone, synthesizer and violin (swoon) was a marvel, though she was a little self-indulgent for my liking, over-emotive and angsty.
Her look alone is sure to be an undeniable bonus in her career, it's memorable enough to imprint itself with a Lupa J label in a lot of minds, no doubt. Her sound, however, still sounds a little wishy-washy, STILL, I never doubt a girl armed with stringed instruments.
The only part of my night that went to plan (though zero complaints), next catching The VANNS at New Globe Theatre. Perhaps my opinion was swayed by their spectacular cover of 'Never Tear Us Apart' that circulated on Facebook; either way, there's something about frontman Jimmy Vann that draws striking similarities to INXS's Michael Hutchence.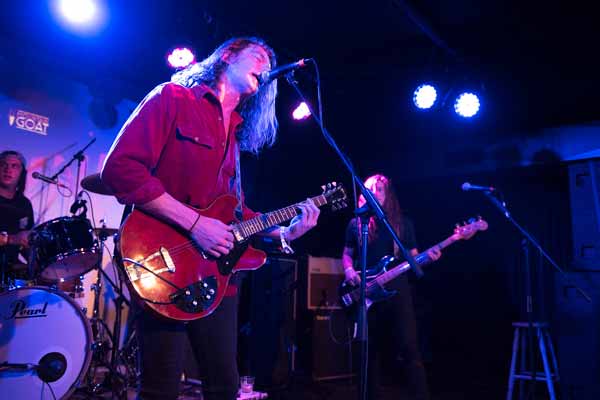 The Vanns - image © Kalem Horn
Performance wise, he quite literally ticked every, single box in satisfying the 'rock & roll' stereotype; his movements in their entirety are as smooth and natural as all-organic peanut butter, not a hint of awkwardness or doubt while juggling vocals, with guitar, interacting with band members, with the crowd, with stage presence, with dancing.
The band are all extraordinarily proficient and love each other like brothers; their chemistry on stage is clear as day. There's something 'childish' about their sound, though I don't hint at the term in any kind of derogatory way; think along the lines of Catfish and the Bottleman; rock music of my upbringing, between the era of late '90s to early 2000s, not quite as hardcore as the classics (AC/DC, Midnight Oil) and not quite as surf rock-sounding as the Sticky Fingers clones surfacing around the country.
Unlike the latter, The VANNS seemingly haven't built themselves off any influences or attempts to duplicate another band's sentiments; they've instead assembled from the ground with a genre strictly theirs, fingers crossed enough fans now assemble to support it.
Click here for BIGSOUND music industry mugshots.