The night began with Hockey Dad.
Not on stage. Instead the pair were perched atop a makeshift DJ booth in the BIGSOUND enclosure down the mall.
8pm act Ocean Alley admittedly weren't quite what I expected; misinformation (or interpretation, perhaps) lead me to believe the band were heavier, hardcore rock. My false perception instantly shifted upon seeing the lead singer's complexion and dreadlocks; truly, there couldn't possibly be a more associated reggae stereotype.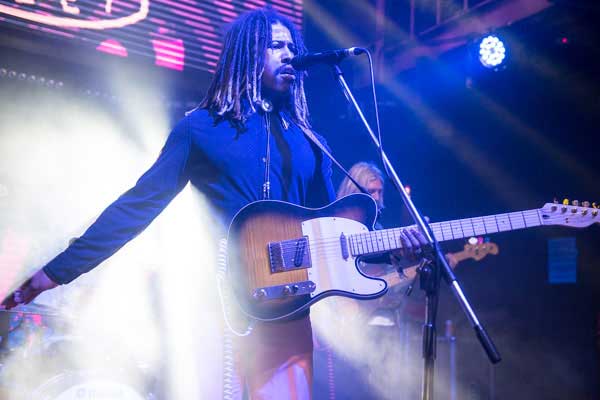 Ocean Alley - image © Kalem Horn
The genre itself isn't usually my thing, although I enjoyed the performance more than presumed. This isn't your typical lazy Sunday haze, all mellow and face down in the grass on a hot afternoon. Their songs have backbone, a structural element that keeps you attentive.
Click here for more photos.
I swung by Black Bear Lodge (arguably one of Brisbane's coolest venues) to catch a glimpse of Mama Kin Spender (via recommendation); you can spot her kind nature from a mile away, her genuineness almost speaks louder than her impressive pipes. I applaud the inclusiveness of a Brisbane-based choir singing backup, and her tender harmonies with Tom Spender were faultless.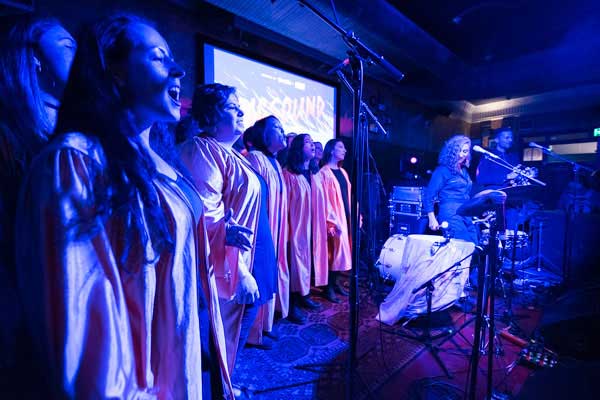 Mama Kin Spender - image © Kalem Horn
A decision dictated by another word of advice, I next caught the end of The Teskey Brothers' set. As a long-term jazz fan, I won't argue with four boys keeping soul/ blues alive; notable mention to frontman Josh Teskey for his taking a harmonica solo to new heights. There doesn't seem to be any pretence or ulterior motives for 'fame' here; they simply want to make some sweet tunes for their fans and jam.
I remember witnessing Tia Gostelow steal the show at the Queensland Music Awards earlier this year, scooping up almost every accolade she was nominated for with honest shock and a humble smile. It surprised me to see she seemed a little nervous to start, shakily tuning her guitar though still showcasing her rich vocals.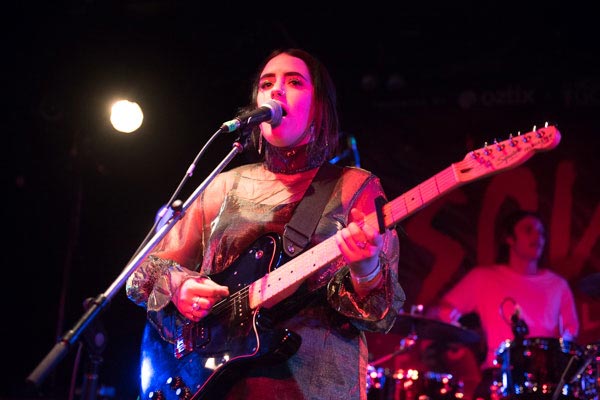 Tia Gostelow - image © Kalem Horn
I did love that she addressed the audience and explained the inspiration behind each song; track highlight was the 'grunge' piece she co-composed with her Dad; Nirvana hues suit her well.
Word on the street was Wharves were one to watch; must have been the kinda street on an edgy side of town where wide-eyed white girls don't quite fit in among the pierced skin and leather jackets. Overreaction, true, though the band are undeniably punk-influenced primarily, I almost felt like I was watching Pete Wenz in his youthful prime, at times.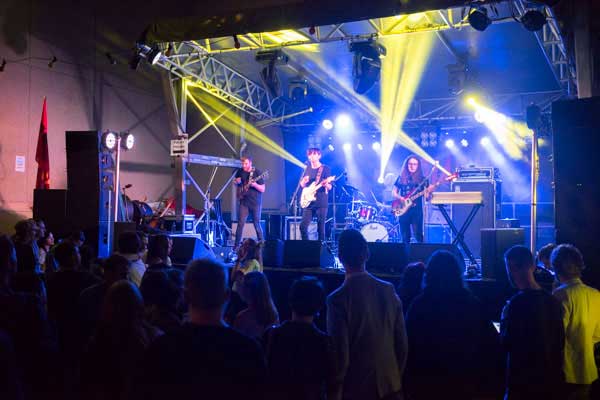 Wharves - image © Kalem Horn
A quick glance at Washington's performance proved the biggest surprise of the evening; just seeing her name on the line-up was shocking enough. Wasn't it just a few years ago she scored a relatively late timeslot at Groovin The Moo, tinkling the ivories as she paved her way through a string of big hit singles?
Turns out the performer has gone Han Solo in the most literal possible form; it was nothing but her and her and her piano, new music digging deep into a heavy pit of emotion showcasing what turns out to be an impressive set of lungs; her comment for those expecting classics? "If you're expecting the old stuff, f@#% off."
Megan Washington - image © Kalem Horn
Midas.Gold proved to be more than a promising newcomer; he's a refined hip hop artist, exceptionally confident on stage all while alluring the crowd (and what appeared to even be passer-bys) in with powerful hook after hook. While it was easy to get caught up in his words and bold delivery, taking a moment to listen quickly asserted the fact that, for lack of a better adjective, his beats are dope, man; one of my favourite BIGSOUND performers.
Nothing like a Triple J Like A Version to propel somebody's music career; Alex the Astronaut has been fired directly into the public eye, and considering the hefty fan base that gathered for her slot I'm presuming she'll be riding the wave of success for a while. She's such a likeable creature, all t-shirt and ponytail and bare-faced; her music reminds me of the 'Juno' soundtrack, a honeyed mix of The Mouldy Peaches and Kimya Dawson.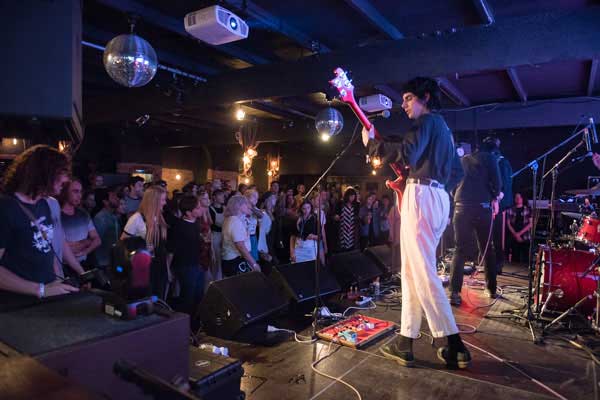 The Creases - image © Kalem Horn
The highlight of many of my morning drives to work is hearing The Creases surface on the radio; the airtime they've received is admirable, and each time I blast it proud knowing a Brisbane band is filling eardrums across the country. It was surprisingly entertaining watching the quirky members meander their way around the stage, setting up and tuning their instruments; a quick "Yeah, I think we're ready" comment preceding an immediate launch into 'Tremelow' tracks.
Mere months ago, I was quick to label The Creases as one of many comparable emerging indie bands in Australia. Now? I've differentiated the band from those others entirely; there's a reason why their album received rave reviews, it's simply a level above.
The night concluded with Hockey Dad. On stage this time at The Elephant Hotel, tearing through their own tunes in front of BIGSOUND's arguably biggest audience. There's something unexplainably smile-inducing about these boys; they've effortlessly ticked the box of being universally likeable, yes.
Hockey Dad - image © Kalem Horn
But they've also taken what could have been breezy, background music to a steady surf or morning skate and instead run a deeper line, with instrumental technicality, poetic (though relatable) lyrics and simple melodies that in fact wouldn't be so simple in the hands of any mediocre composer. The duo is brilliant.
While initially my number one reason to declare BIGSOUND a national icon was its supporting of emerging artists in the music industry (no-brainer), after the past three days my opinion has shifted slightly; there are in fact plenty of others coups, too.
For starters, from the perspective of a punter, it's an incredible three days of live music, just as invigorating as any weekend festival and maybe more so in ways. It's a shining beacon of hope awaiting the end of each workday and a water-cooler topic far more interesting than workplace gossip each morning.
What amazed me most, however, was the Fortitude Valley's transformation into a buzzing hive of activity; a current just as electric as Tame Impala's 'Currents' album ran through the air, sparking so much conversation and camaraderie and energy and excitement that simply walking from venue to venue turned out to be one of my favourite elements.
We in Brisbane may not have a Hosier Lane; there's no structural icon like the Sydney Opera House here. We aren't renowned for our killer coffee and eccentric cafes, and there's no bridge quite as striking as the Sydney Harbour. And our cityscape may pale in comparison to our southern states.
But Brisbane is fortunate enough to host what would easily be the most ostentatious jewel in the Australian music industry's glittering crown and I know I'd rather attend BIGSOUND than pose in a street full of graffiti art any day.
Click here for more photos.