There were a few, glazy eyes as people nursed their hangovers on day two of BIGSOUND 2016, but it didn't stop delegates and punters alike from hitting the streets of Fortitude Valley for BIGSOUND Live.
Bendigo boys Fountaineer kicked things off at Ric's Big Backyard with an energy-packed set. The White brothers gave it their all with a percussion-heavy show and rich vocals. They faced a few issues initially with levels and sound, but it balanced out as they warmed their way into the set finishing with an epic instrumental piece.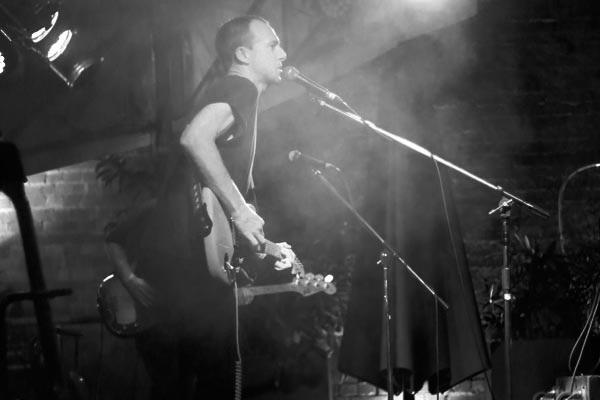 Fountaineer - image © Sophie Wakefield
Over at The Brightside, Cleopold was showcasing on the main stage. His Crusty The Clown haircut left much to be desired, but his set went well. It was himself and a drummer on stage with one of the better light shows I had seen at the festival. He lacked charisma, but was noticeably focused just on the music.
A.B. Original hit the stage at The Elephant Hotel in full swing for a much-anticipated show. Briggs and Trials were joined by DJ Total Eclipse who almost stole the show with his turntable prowess. Caiti Baker also joined them for vocals in 'Dead In A Minute'. They finished the set with birthday boy Dan Sulton making his way to the stage for 'January 26' accompanied by stiff yet shaky, very awkward, dancing from the singer. The crowd enjoyed every minute with the charming and passionate A.B. Original.
Click here for more photos.
I managed to catch the end of Gordi's set afterwards and was captivated by her warm, deep and very unique voice. It was good to see a trumpet on stage, which complemented Gordi's warm voice further with rich tones producing an emotive and enchanting show. There was quite a large crowd but they were unmoving with captivated eyes on the stage.
Yet another female artist killing it at BIGSOUND 2016 was Olympia back at Ric's Big Backyard. She looked like an intergalactic Barbie doll clad in a silver jumpsuit with her trademark platinum hair all pinned up. They suffered some minor sound difficulties early on but pushed through it. Olympia is a little girl with big pipes and was pretty impressive on lead guitar as well as she played her second set of the night (the first earlier at The Brightside). She interacted well with the crowd and her and her band looked as though they were having a lot of fun up on stage; it was infectious.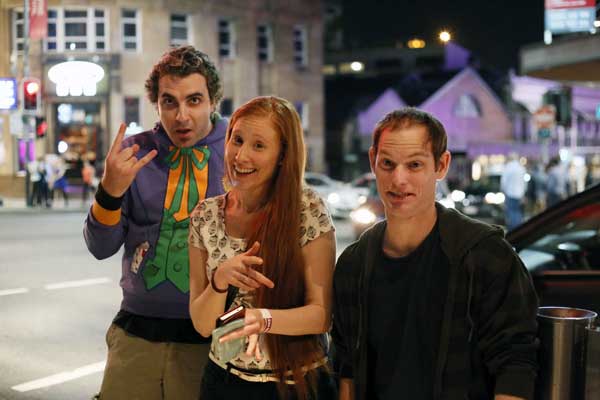 BIGSOUND 2016 revellers - image © Sophie Wakefield
Stepping into The Zoo for DZ Deathrays was the typical hot and heavy scene. The venue was at capacity on arrival and had a line out the front of people waiting to get in. Even with all the windows open and the fans on, it was an absolute sauna. DZs played a killer set with many well-loved tracks. They threw themselves around on stage as the fans went crazy throwing crowd surfers above the moshpit.
Finishing off day two were The Belligerents at The Flying Cock. They were running late and experiencing difficulties during their soundcheck, which left them a little tense before just winging it and getting the show on the road. Despite having little to no foldback, they played pretty flawlessly opening the set with 'Before, I Am'.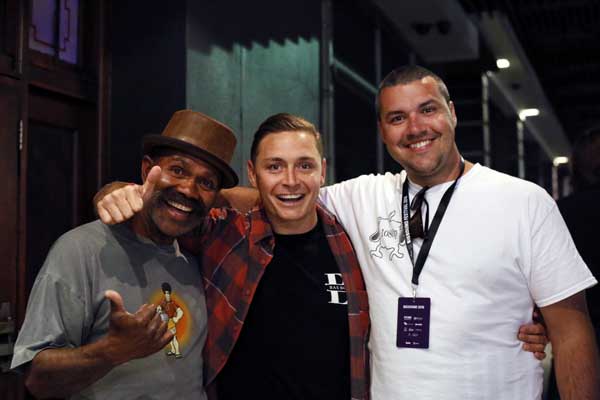 King Social - image © Sophie Wakefield
Frontman, Lewis Stephenson suffered the most from lack of foldback but you really couldn't tell from the audience. He was hip shaking, face twitching, fabulous as he contorted his body in what one can only assume was dancing while the rest of the band looked completely unfazed by his behaviour. New single 'Caroline' translated really well in the live setting and they also threw a couple of other new tracks from their forthcoming, and long-awaited, album into the set. Forced to cut the show short because they had a late start, fans were in an uproar calling for "one more song" before The Belligerents finished with 'In My Way'.
Stumbling out of the venue, I reflected on my first experience of BIGSOUND and was forced to realise and appreciate the rich abundance of talent I had witnessed over the past two nights. I was happy to see so many strong, female artists on stage and really felt like people were humming with excitement throughout Fortitude Valley. It was a great atmosphere and a great event to be a part of.
Click here for more photos.