The streets of Fortitude Valley had been buzzing all day (7 September) while the delegates of BIGSOUND 2016 attended keynote speeches, workshops and all their official conference duties.
It was when the sun set, however, and the live showcases made their way into various music venues, that Brisbane really came alive for BIGSOUND's 15th incarnation. One hundred and fifty bands across fifteen venues really is a bountiful feast of live music that has you spinning in circles not sure where to begin or where to go to next.
Click here for more photos.
Commencing the night with the soothing voice of Northern Territory singer-songwriter Emily Wurramara, however, seemed like a good place to start. Emily started out playing a solo set and was soon joined by a strong band on stage as she showcased her many talents on multiple instruments including keyboard, guitar and ukulele.
Despite having issues with some feedback during her set, Emily's big voice and big heart carried on and smashed out crowd favourite 'Tap Sticks' and brought the crowd to a standstill with 'Black Smoke'.
Mosquito Coast - image © Sophie Wakefield
Following her set at Oh Hello were Mosquito Coast. They drew a big crowd and definitely had the right look but failed to translate that into energy on stage. Over at Ric's Big Backyard stage was Woodes, aka Elle Graham. She looked like a vision on stage in a long, black dress and her flowing blonde locks with a flawless voice to boot. It was a well set up stage at Ric's and Woodes used it well considering it was just her and her guitarist, interacting with the crowd between every song to share her story with us.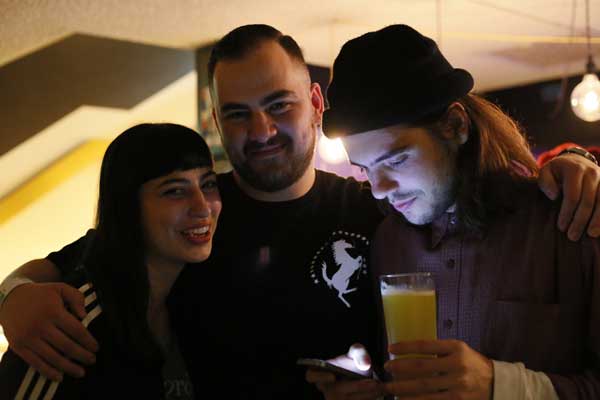 Bigsound revellers - image © Sophie Wakefield
Back at Oh Hello was LANKS who was put through an awkward pre-set sound check similar to every artist who performed at the nightclub that night. It got things off to an uncomfortable start each time, but LANKS produced a dynamic and energetic set on stage with his band. It was surprising how many of his songs were familiar and popular among the crowd. 'Heavy As A Heartbreak', co-written with Just A Gent, was definitely a highlight of the show and was interesting to hear in a live setting.
Highlighting the night was the mind-blowingly talented Vera Blue playing at The Flying Cock. She opened the set with 'Fingertips' and from there on it was all happening. She was incredibly professional and just seemed a step above everyone else with a natural look and effortless voice.
Her vocal scatting throughout mesmerised people. The crowd was absolutely lapping it up and were unable to stand still. She also showcased some new material that was a little more gritty and heavy. Upon leaving the show, whispers of: "that was epic", "amazing", "that was ace" and "how insane", rang through the crowd. She blew everyone away.
It was hard to follow a set like Vera's but I headed to The Woolly Mammoth to catch Polish Club to help keep spirits high. They were definitely loud and fast with hit after hit. They layered big, silky vocals over crashing drums to produce a big sound for just two people.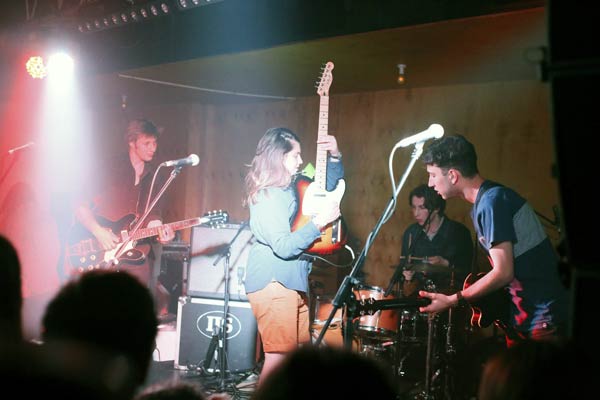 Alex Lahey - image © Sophie Wakefield
Heading back to Oh Hello and next up was Alex Lahey. She was all Aussie rock & roll. She had the hair and the sound and gave you a good opportunity for some good ol' head banging. It was almost surprising with her garage-rock sound to notice she had a very strong and pitch-perfect voice that resonated through songs like 'Ivy league' and 'Let's Go Out'.
Finishing off day one of BIGSOUND 2016 was the energetic and unique Ecca Vandal who brought the house down and drew a crowd with her first two tracks before encountering some major technical issues. It seemed the computer had crashed resulting in delaying the set for approximately 15-20 minutes.
The band kept jamming during this time to fill the gap and Ecca was engaging with the crowd to keep spirits high, but there was some serious tension on stage.
Once things were back up and running Ecca threw herself into the set coming back with 'White Flag'. She had a tonne of energy and was very present on stage, making eye contact with just about every audience member, giving high fives and really engaging with all the bodies in the room. She is small, but she was mighty with an intense vitality as she handled the uncontrollable difficulties earlier in her set very well.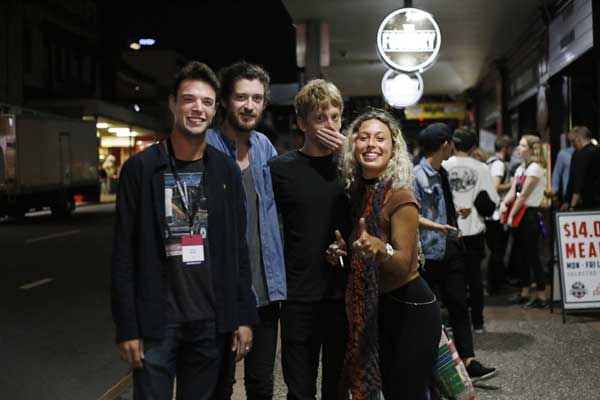 Bigsound revellers - image © Sophie Wakefield
Running from venue to venue to catch such high-class Australian acts is just the tip of what BIGSOUND Live 2016 offered us last night. Having that festival atmosphere at home in the streets of Brisbane that I know so well was something unforgettable and I can't wait to see what day two will bring tonight.
Click here for more photos.