In the space of less than a decade, the founders of the Beyond The Valley have gone from filling dancefloors in clubs to rocking a valley in the shrubs.
While it began in 2014 as a predominately dance and hip hop specific extravaganza, Beyond The Valley is steadily evolving into an all-encompassing New Year's rite of passage for young people of all musical persuasions.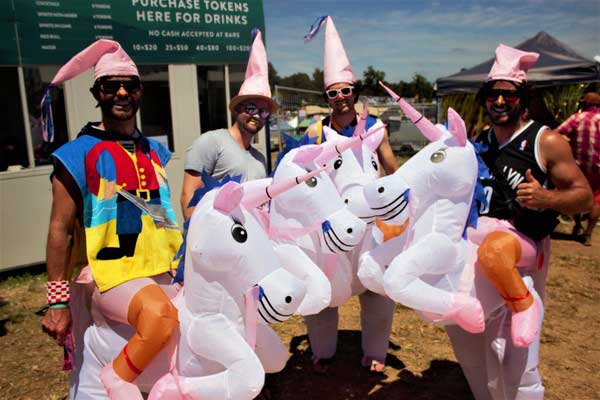 Image © Erin Eustace
Revellers, confronted with four seasons in four days, entered 2018 mostly unscathed, thanks to the meticulous organisation of the friendly BTV staff and crew.
Click here for more photos from Beyond The Valley.
For many, when the clock chimed midnight, their resolution for the new year was undoubtedly to come back to this magical oasis in Gippsland in 2018.
We reflect upon four days of bangers and bruises, bass drops and flip-flops, thunderstorms and fly swarms, MCs and green trees.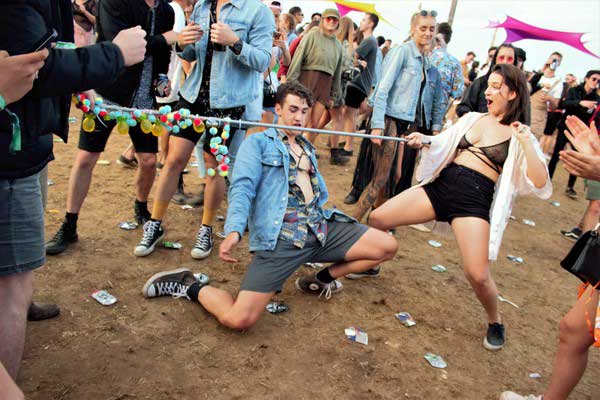 Image © Erin Eustace
Old School and New School
Over the three nights, the headlining acts were a blend of modern day hip hop superstars and Australian electronic royalty.
Stormzy was unfortunately an aptly named artist for night one, bringing cheer to soggy campers who had just endured a snap thunderstorm. While, unfortunately, he didn't bring his mother on tour, the British MC's humour and showmanship had the audience stomping mud holes in the puddles.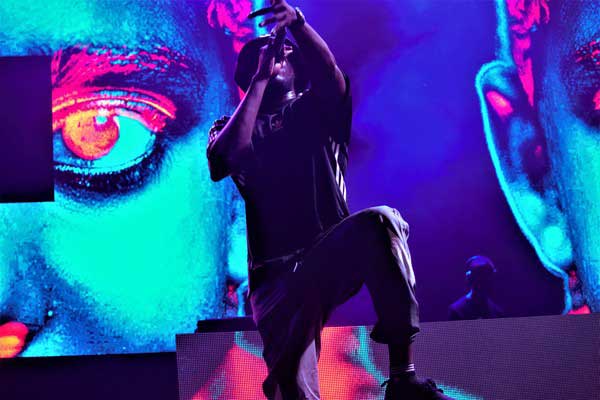 Stormzy - image © Erin Eustace
After Stormzy, there was Hot Dub Time Machine, or Cold Mud Grime Machine, as it could have been renamed for that night.
The skies had cleared by night two, which was fortunate for Cut Copy's Dan Whitford, who came to the stage dressed in white from head to toe.
While much of the audience were likely in primary school during the Melbourne band's pinnacle, New Order-esque hits 'Hearts On Fire' and 'Lights And Music' proved that they were timeless. They definitely didn't need more cowbell though; they had plenty.
ScHoolboy Q, unmasked, then delivered his Billboard Hot 100 hits as well as Kendrick Lamar's 'Humble'.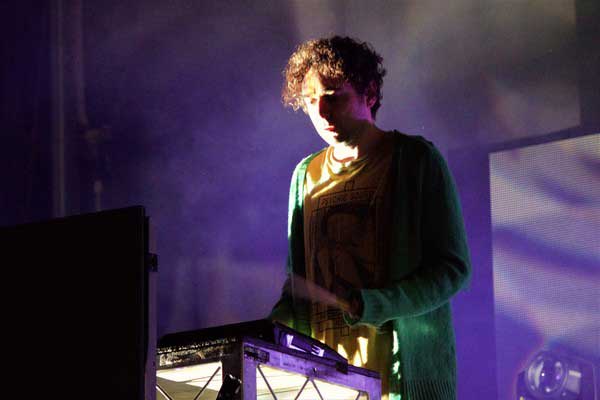 The Presets - image © Erin Eustace
New Year's countdown duties fell into the hands of The Presets, who coyly admitted at about one minute to midnight that they had never had such responsibility before.
Luckily, though, they were armed with confetti cannons, champagne magnums and the banger 'My People', their 2009 single from Apocalypso'.
One Man Bands
On the second night, a bone-rattling throb welcomed Guernsey's Mura Masa to the stage. A multitude of synths and percussion instruments encircled the multi-instrumentalist geezer.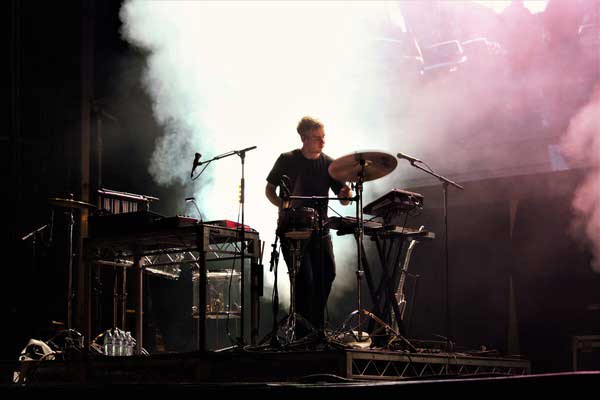 Mura Masa - image © Erin Eustace
MuBTV abounded with bedroom wizards; artists who have toiled on Ableton while noodling and becoming proficient with every manner of instrument.
FKJ began his New Year's Eve set on the saxophone, before building loops with guitars and keys. While it is always spectacular to marvel at such prowess, it becomes more difficult for an artist to interact with and engage the audience when they do not delegate.
As you watched FKJ, you yearned to see this maestro backed by a giant ensemble. This, I suspect, will come with time when it is more financially viable.
The Voice
The Saturday afternoon at BTV was a little like a reality singing show, as the refined pipes of Meg Mac, Matt Corby and Tim Nelson from Cub Sport echoed across the valley.
The angelic three-part a capella harmonies at the beginning of Cub Sport's 'O Lord' was a highlight of the weekend. The Brisbane outfit also premiered some new tracks with a heavy R&B flavour from their next album.
Meg Mac, dressed in a blue trench coat and broad brimmed hat and supported by a duo of backing vocalists, unleashed her barrage of radio hits as well as her Like A Version cover of Tame Impala's 'Let It Happen'.
Matt Corby - image © Erin Eustace
Matt Corby's set abounded with covers, such as Sam Cooke's 'A Change Is Going To Come' and Tina Arena's 'In Chains'; now that is versatility! His 'Resolution' was a suitably titled track for the time of year; when he played 'Brother', even the security guards were singing-along.
His soulful set, laden with political and spiritual themes, was reminiscent of 'What's Goin On' era Marvin Gaye.
Stars on the Rise
We've all heard of Shark Week; 2017 was Shark Year, as Amy Shark dominated global airwaves with 'Adore'. In the skinniest of skinny jeans and black shades, Amy closed her year with the song that started it all for her. She also revealed her affinity for Slim Shady, throwing in a cover of Eminem's 'Superman'.
Dean Lewis and Triple J Unearthed winners Slowly Slowly demonstrated that emotive rock is on the resurgence.
Image © Erin Eustace
During their early morning set, Slowly Slowly's Ben Stewart asked: "How are your hangovers going with a weird, long-haired guy screaming his emotions at you?"
Speaking of long hair, The Belligerents and Skeggs both delivered raucous sets in the mid-afternoon, demonstrating that they are ready to lead the revitalised guitar-rock movement.
In the sand-floored dance tent, Sampa The Great, with her infectious smile, proclaimed that reality is what you make it, as she reflected on a year that saw her support Joey Badass in only her third year as a musician.
Glampire Weekend
BTV has distinguished itself by its luxury camping (or glamping options). The entrance to the luxury area was reminiscent of the foyer of a 5-star hotel, manned by ebullient concierges.
As you wandered past the lush and spacious colony of tee-pees, you could spy the VIPs splashing in an above-ground swimming pool.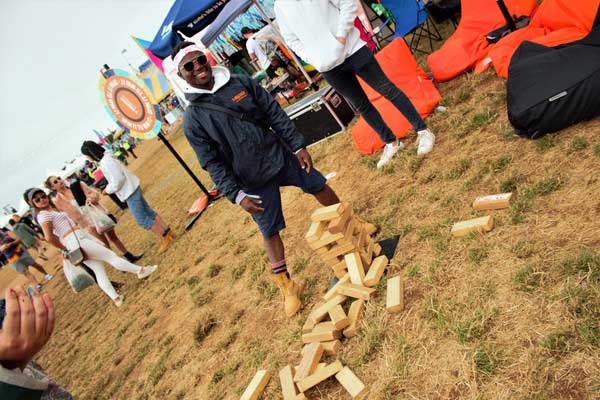 Image © Erin Eustace
While such opulence was not within the budget of all, organisers ensured that even standard ticket holders had access to ample shade, speedy food service and a resplendent spiritual retreat named The Sanctuary, with yoga, healing massage, meditation and more.
A heavy police presence did what it could to minimise anti-social behaviour, and were mostly successful.
The weekend's biggest pests were the persistent and plentiful swarms of flies. By the end of the festival, many had developed an instinctual twitch and the urge to swat and shoo was burnt into muscle memory. If you bring one item to BTV in 2018, bring insect repellent.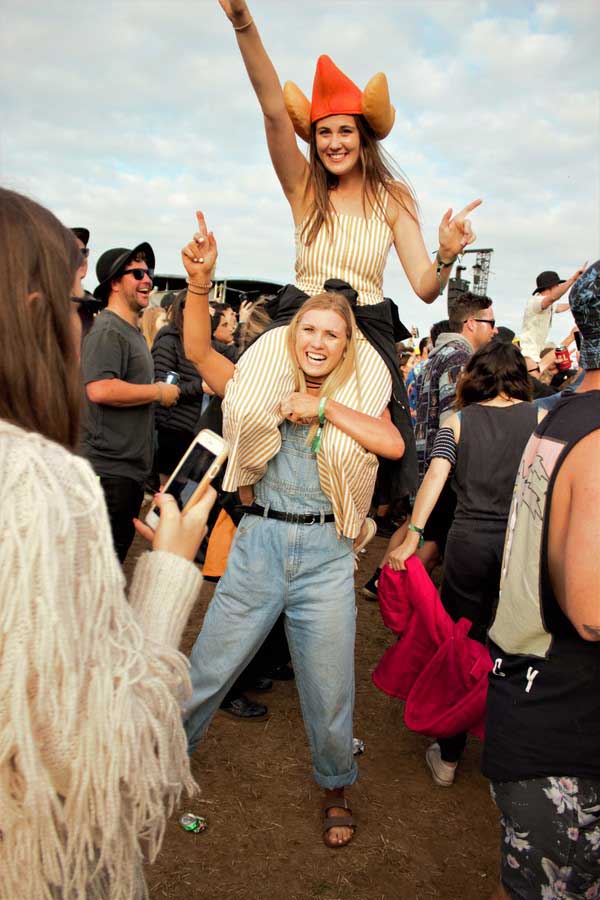 Image © Erin Eustace
Beyond The Valley is an ideal NYE option for those 18 to 28 year olds who desire a boutique alternative to Falls. If you are much older than that, you will probably feel like a toolie at schoolies.
If DJs and hip hop are your jam, there is no place better.
Click here for more photos from Beyond The Valley.