Beth Hart is on fire.
Right now, the Grammy-nominated singer/ songwriter is riding a creative tidal wave, firing out acclaimed albums, hooking up with some of the biggest names in music and rocking the house each night with that celebrated, burnt-honey voice.
In 2016, Beth's latest album, 'Fire On The Floor', is a release that even this fiercely self-critical artist describes as "pretty frickin' good".
Tell us about your new album, 'Fire On The Floor'. How does it showcase Beth Hart in 2016?
It was a collection of songs that was a part of a large group of songs that I turned in for 'Better Than Home' and the producers had a very clear idea of making it cohesive and a very singer-songwriter styled record. So we made 'Better Than Home' and then I really wanted to make another record right away. 'Fire On The Floor' is way more blues: it's got some jazz elements, rock elements to it.
I think if you were to compare the two records I would say 'Better Than Home' was a good record to play at night before you were going to go to bed or before you were just retiring for the day, and then 'Fire On The Floor' is a great record to play in the morning. You know it's kind of a way to get up and get going.
With the experience garnered during your career, do you still have moments of nerves in the studio?
My nerves are very different now than what they were in the studio when I was younger. I never liked my voice much, it was a very high-thin voice and when I would play live I wouldn't really hear it. I think what drew me to singing was really performing, I just love that feeling of getting out on that stage with your band, which is like your family, and I always have adored writing.
But it wasn't until my latter 30s that my vocals really dropped down. I got a lower end for the first time and that was really pleasing for me because all of my heroes; most of them had a lower, resonant tone and I always was such a fan of that. Because of that it was the first time that I started liking going into the studio.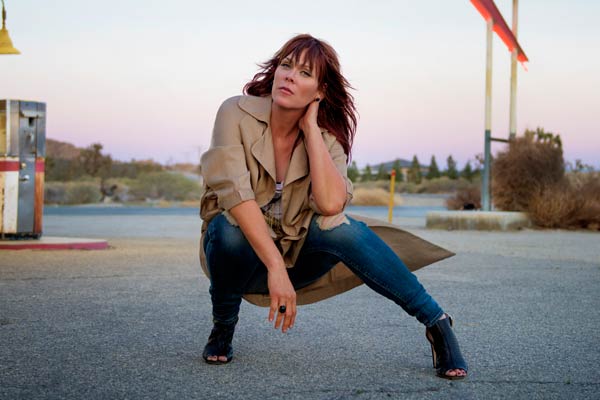 You worked with producer Oliver Leiber and a 'crack studio band'; what did those guys bring to the recordings?
Well they're all phenomenal players, so they brought all that they'd learned, and all that they'd felt and experienced along their lives and their music. You know they showed up; and you know, they're beyond pros.
Next year, you're heading to Bluesfest… does the festival's reputation proceed it?
I've done that festival before, I think this is the third time I've done it. I really enjoy it. I like the backstage: that's my favourite part where all the musicians and everybody can hang out and talk to each other. It's such a great vibe. I love it there.
Beth Hart on stage in 2016… what is the stage show like these days?
The stage show doesn't change. I don't have big lights, I don't have dancers, I don't have any of that. I've got me and my small band and we just go out there and play songs from every record I've ever made, and then whatever is the latest record out, we'll try out different things on different nights.
Festival shows and Australian audiences in general, they make a good couple right?
I really like playing in Australia. The people have been really amazing at that festival. I've only done a couple of my own shows in Australia, and that was really nice too. It was a small, super intimate setting that was really cool. But Bluesfest I really like: it's a great time and people are really cool.
Your press release also mentions an upcoming collaboration with Joe Bonamassa… anything you can discuss on that front?
Yeah, we've just made the record. We spent four days in Vegas and over the last six months or so we kinda emailed back and forth songs we'd like to do and then narrowed it down to a list of sixteen or seventeen songs and then we went in and just recorded for those days and I think it's going to be really really nice. You can't really go wrong with Joe and his wonderful bands. And of course, Kevin Shirley is just such a great producer. So I think it's going to be really, really nice.
Blues Magazine have labelled you 'the ultimate female rock star'; what's the most outlandish, rock star moment you've ever had?
Oh. My. God. (Laughing) I'm so not a rock star. I don't know, I can't really think of any rock star moments: I mean I can think of some things, but they're so thoroughly disgusting I'm not going to say them in this interview. But I guess those kind of things are what I think of when it comes to being crazy rock & roll out there. But I'm not like that anymore.
I think if I would have stayed that way I would have died a long time ago. So I think the reason I'm 44 and still doing this is you know, at some point you start taking good care of yourself and making it about living life: friends, family, marriage; the relationships you have with your band, the relationships you have with my long-time manager – David Wollf. We've been together now for 22 years. Those are the things that become important and I hope they stay important to me.
Receiving such plaudits, other than a nice ego-stroke, does that make you proud especially with all you have achieved?
I don't really feel like I've achieved very much in terms of success as an artist. I really see myself as the way that I am. I mean I'm an underground artist. A lot of people do not know who I am and could care less. And that's okay. I think what's really beautiful is what I was touching on before: I'm alive, I didn't die and so much of what I thought was important before has shifted. The things that I think are important now are just so different, and that's kind of one of the nice things of growing older.
What was the Heineken Music Hall gig in Amsterdam like (5,000 fans there for you!)?
You know, it was a little bit of a struggle that night because I was having vocal problems and it was also the first show of that tour: the top of that tour. I always hope when we're starting a tour that I can be in a smaller [venue] and work up my bearings. I know that's a terrible excuse – I'm just being honest – and every show from the top should be a strong one.
But there is something to be said for when you're out for a handful of dates and you kind of get your bearings about you and then you play a sizeable venue like that. It was definitely challenging for me. But I really, really like Holland. We spent a lot of years playing a lot of shows there so it's pretty cool to play that size venue there for sure.
What else is left for you to achieve in your career?
I don't think of it as achieving; that's important. That word grosses me out. It's not about that. You know, I'm not in a political race to be mayor, or president or something. It's not like I'm in a competition to win a swim meet or go to the Olympics or something. It's just music and it's creativity, and who knows what is to be; I just know that I really love to write music and hopefully along the way I've been able to touch some truths because I feel like the blessing of music is such a beautiful gift that God gives all of us in the world all of these different things, and if we happen to get lucky and stumble upon what some of these gifts are, and then get to do them, it's like a little piece of heaven. I want to keep focusing on being able to tell the truth, and that's what I think, for me personally, music is the biggest challenge: the challenge of being able to figure out what the truth is for me.
Do you ever ponder how people will be interacting with music in 10, 20 years' time?
No, I do not ponder that.
Will streaming still be a thing or will tactile modes like vinyl never go out of fashion?
I don't think that it matters, I really don't. I think that all forms of art have their day and then they kind of go away, and then maybe they have their day again and who knows? Who knows what will be. I don't think that it matters. I think people will reach out for whatever it is that they need, that makes them feel better. And sometimes it will be hip hop and rap. Sometimes it will be classical music. Sometimes it will be jazz music. Sometimes it will be in the form of a CD or vinyl, or through their computer. It doesn't matter you know?
I think when any artist goes to create, always and foremost, the focus should be just the doing of the work and enjoying doing the work, not even caring if people hear it or see it or applaud it or put it down or thrash it. Because there's always going to be people who like what you do and there's always going to be someone who hates what you do, and there's always going to be someone who just doesn't give a shit; and it's all fine. The power of happiness and doing this is just realising how fortunate you are to get to do the work and leave it there. Everything after that is what it is.
'Fire On The Floor' is available now. Beth Hart performs at Bluesfest 2017.