Roller mania hit The Gov in Adelaide last week (2 August) when when the Bay City Rollers featuring Les McKeown came face to face and shoulder to shoulder with the baby boomers, who had already packed the dancefloor eager to relive those halcyon days, living in the '70s.
Hands were held high in a wave of nostalgia and tartan scarves emblazoned with BCR took us all back to those heady days. The band took to the stage before Les McKeown, the only original member, made his appearance to the sound of bagpipes and immediately began with 'Summer Love'.
The enthusiastic applause from the audience greeted Bay City Rollers as they sang along to every word. As if singing to each and every individual member of the audience, Les crooned: "I ONLY WANNA BE WITH YOU!"
Nostalgia abounded as they played the 1974 hit 'Remember'. Remember, we did. The 1969 hit 'Keep On Dancing' was dedicated to Alan Longmuir, a founding member of BCR who passed away only 4 weeks ago at age 70.
Image © Sue Hedley
Band introductions followed, noting Si Roller on bass, Phil Hendriks on lead guitar, Scott McGowan on keyboards/ guitar and Dan Guest on drums. The moment was then thrown to Les and thunderous applause, as we were all taken back to 1975 and all of their hits from another era
Then a surprise interlude as Les brought out the band mascot Angus, a tiny terrier, in his tartan doggy coat.
Click here for more photos from the show.
The band then continued with a touching tribute to the fallen heroes of yesterday, with a medley of songs dedicated to artists such as Bowie, Marc Bolan and Freddy Mercury, followed by the Queen classic 'Bohemian Rhapsody', arousing the crowd's spirits, as a sea of voices poignantly accompanied them.
En masse the room sung: "Mumma, just killed a man." The audience voices harmonised to become a sweet symphony of sound... winding down with 'Nothing Really Matters', much like a seasoned choir. Then the distant sound of sirens faded into Ahah Ahah's 'Popstar'. "I love you, yes love you, yes I want you" sent the tartan scarf brigade into a roller-style Mexican wave, followed by a rendition of Bowie's 'Rebel Rebel'.
The entire audience was then coaxed into spelling out 'S.A.T.U.R.D.A.Y' in honour of that well known song. Yet again, outstretched hands held high, clapping along and singing every single letter, loud and clear into the outstretched mic.
Image © Sue Hedley
Then with a quick break, these ageless popstars hydrated with bottled water, before the music continued. Looking healthy and vibrant, Les at 60-years-old must be doing something right.
With a hint of reflection, BCR covered 'Yesterdays Heroes', originally written by Vanda and Young, making it their own. So apt. Les then paused to thank us all for coming and with a bit of tongue-in-cheek humour, he sang the chorus "We don't want to be yesterday's heroes". BCR were tonight's heroes.
The entire venue were moved to sing, dance and applaud like there was no tomorrow. There were guitar solos from each of the boys followed by a drum solo that lead into 'Shang A Lang'.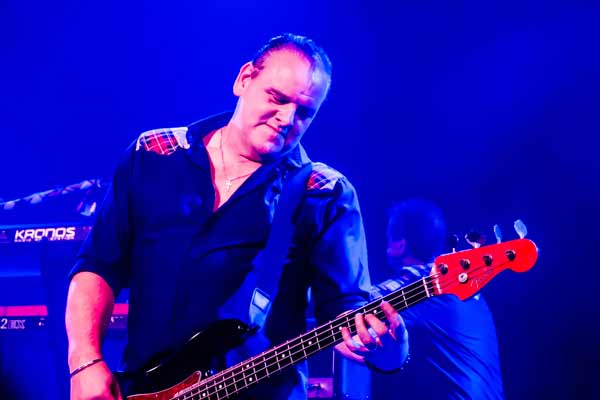 Image © Sue Hedley
The crowd were revved up and calling out for an encore. Voices were raised in unison once more as Les wound up to continue the trip back to another time with the chorus of 'You've Lost That Loving Feeling' to a captivated audience.
The band then returned for one final song, the long awaited 'Bye Bye Baby'. Hundreds of hands respond eagerly once again, raised high in a sea of tartan scarves and mobile phones capturing tonight's memories for tomorrow.