What could you get done in three days?
A week's worth of washing? Visit all your friends within a 10km radius?
How about write and record an original album? That's exactly what Band Of Frequencies managed to do when they created and recorded an original soundtrack to the surfing documentary 'Men Of Wood And Foam' in just three days.
Band member Shannon Sol Carroll says they were strapped for time, so had to roll with the time they had to make it work. "The theme song we kind of pre-wrote, but everything else we were coming up with on the spot.
"We had one song that we laboured over and it was called 'Shutterspeed' – a soul, jazz kind of thing in the vain of Jimmy Smith and Grant Green. It took us about four and a half hours on the first day and we all just looked at each other and said: 'We can't do it this way, it's not gonna work there's not enough time for that method'."
After they had decided on ideas and tempos for each of the remaining songs, they simply hit record and improvised.
"We used a few first takes and never did a second one, and a few others we had a chat about it, changed it a little bit and then did a second and a third take and that was it. After the first two [songs] we never did more than three takes.
"It's a different kind of album. It's mostly instrumental apart from the theme tune. It was only afterwards when we listened to it and said 'I can see myself listening to this as a record not just as a soundtrack', so we kind of decided at that point we would release it as an album independently and put it on vinyl."
Band Of Frequencies are no strangers to being featured on soundtracks, with this being the seventh time they have been involved with a film's score.
"I suppose just through deciding to choose that first film, that first project, everything has just lead from there. Once we got to meet a whole bunch of different people, different projects and concepts popped up that we were appropriate for and we kinda got the gigs."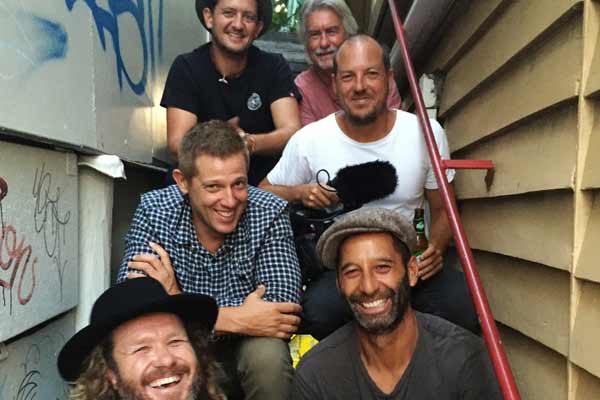 With the 'Men Of Wood And Foam' album released in March, the guys will venture out for several shows, including a jaunt to Bali. Anyone who hasn't seen them play, it's a fairly creative and dynamic process.
"We've got a 50/50 ethos with Band Of Frequencies, which we carry onto the stage live as well as in the studio: we try to have 50 per cent written and crafted songs and 50 per cent improvisational content."
When asked what the band have planned for the remainder of 2017, Shannon jokes they should re-name the band to 'Band Of Pregnancies', since three of the members are expecting new additions to their respective families (one in three weeks, one in twelve weeks, and one in nineteen weeks).
Band Of Frequencies Tour Dates
Thu 11 May - Moonshine Bar (Sydney) Fri 12 May - Yacht Club (Mooloolaba) Sat 13 May - Boundary Hotel (Brisbane) Sun 21 May - Brunswick Hotel (Brunswick Heads) Sat 10 Jun - Full Moon Dance (Eumundi) Sat 8 Jul - Queensland Music Festival (Nambour)