On the last stop of their Australian tour, post-hardcore heros At The Drive In provided a frenzied send-off to the Queen's Birthday long weekend (2 October) in Brisbane.
Despite it being a Monday night and accompanied by a steady deluge of rain, Eatons Hill Hotel was reasonably patronised with the bars doing a steady business and support act Le Butcherettes captivating a solid core of the audience.
Not familiar with their work, it was easy to be tempted by singer Teri Gender Bender's hypnotising stage presence.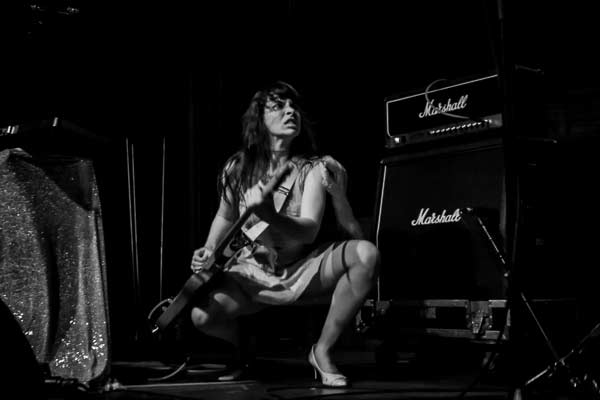 Le Butcherettes - image © Lachlan Douglas
A swirling maelstrom of garage punk-rock emanated from the stage, and by set's end the band had earned a well-deserved raucous roar of approval from the moshpit.
With minimal pre-show instrument/ microphone checks by the roadies, it wasn't long before the main event was in full swing, with the manic Cedric Bixler-Zavala every bit the frontman/ showman with no less than three crowd surfs inside the first couple of tracks.
Click here for more photos.
Launching into 'Arcarsenal' from the group's standout 'Relationship Of Command' LP, Cedric was all arms and legs, bounding around the stage like 'SuperMansion's Black Saturn, his classic microphone-stand-twirling moves showcasing an enigmatic talent in full flight.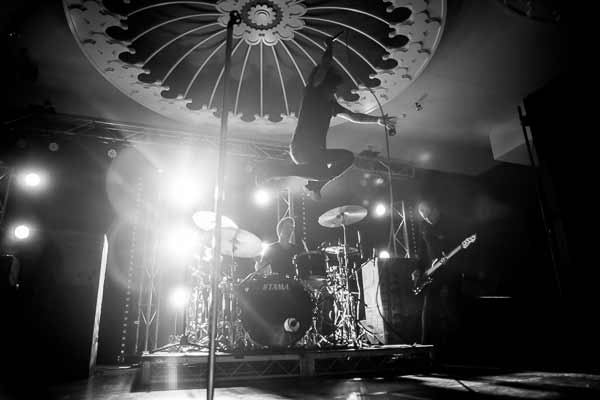 ATDI - image © Lachlan Douglas
The setlist alternated between 'ROC' classics ('Pattern Against User', 'Non-Zero Possibility' and 'Sleepwalk Capsules') and the group's latest opus, 2017's 'in•ter a•li•a' ('No Wolf Like The Present', 'Continuum' and 'Hostage Stamps').
While the moshpit was more hectic than the majority of Brisbane on the public holiday Monday night, it was only a faint shade of the bruised black & blue bodies that emerged from the battlefield that was any moshpit during ATDI's 2001 Australian tour.
ATDI - image © Lachlan Douglas
Though I'll admit, it was lovely to wake the next morning minus fresh bone breaks and/ or a bloodied face. Them were the days Winston.
Old-school fans bounced to life when 'Vaya' EP track '198d' and 'In/Casino/Out' LP tune 'Napoleon Solo' joined the setlist, the head-nodding soon escalating into a frenzied head-bang on the latter track for yours truly. Bless muscle memory. This is forever!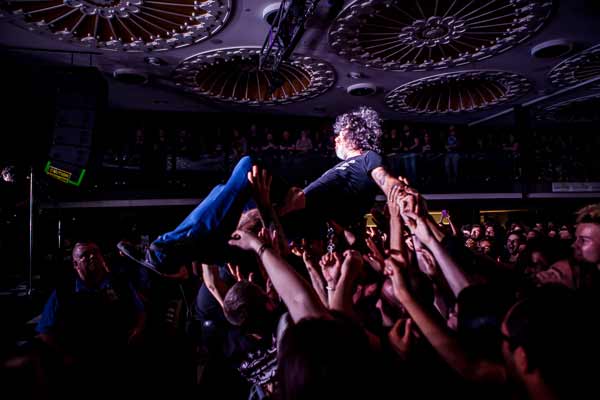 ATDI - image © Lachlan Douglas
The later part of the show was fleshed out by further 'ROC' staples 'Invalid Litter Dept.' and 'Enfilade' with a brief pause after final song 'Governed By Contagions' from 'in•ter a•li•a' before 'One Armed Scissor' highlighted the only encore track, but not before Cedric Bixler-Zavala gave a heartfelt thank you to the band's long-serving road crew (it felt like a goodbye of sorts for at least the next little bit).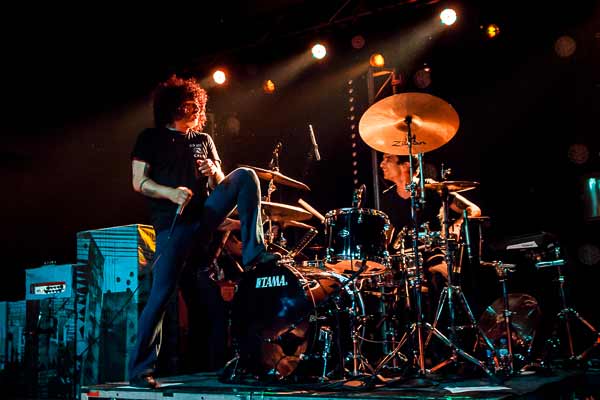 ATDI - image © Lachlan Douglas
After all, we all need to get away from time to time.
Click here to read the review of At The Drive In's Sydney show.