En route to Nashville, soul and R&B singer Allen Stone rabidly munches a burger explaining this trip is just a quick one before he rushes home to his pregnant wife.
Since the release of his debut album 'Last To Speak' in 2010, Allen has enjoyed rapid success.
The popularity of his brand of blue-eyed soul generated two further albums, he toured his native America cross-country for several years, performed duets with contestants on last year's 'American Idol', not to mention a very busy international touring schedule that will see his return to Byron Bay's Bluesfest next month.
These days for Allen, however, home is where the heart is. Expecting his first child, he wants to wrap up all the business stuff so he can be there for his wife the moment Baby Stone comes into the world.
Before Stone was married last September, he was talking a lot about his marriage in interviews and indeed, his music.
Fatherhood, however, will shape his creative output entirely differently, though he can't say how. "Everybody that I care about and trust that's had kids told me that it's refocused their energy.
"I had a really fun thing happen recently where I got to play the opening ceremony for the Special Olympics in Seattle. I'd written a song, out now, called 'Warriors'.
"[It] really fit in with what those athletes accomplish day in, day out, pushing forward and riding above their obstacles. When I played this song at that show, I had never been that high playing music. It finally felt perfect. Man, I'd never felt that good playing music.
"I really believe why it was so great is, for the first time in my music career, I was singing music for a purpose that wasn't involved with me promoting myself.
"It's always my name on the billboard, which I appreciate and I enjoy my work, but for the first time in music, it was about something else, the athletes. For once the purpose of the art wasn't me.
"I think that being a father will allow me to focus my energy on providing for this human being that I love so much and who depends on me. I really hope that's what happens, and I think it potentially could."
Without a doubt, what Allen has been experiencing is euphoria. Riding the wave of his music through all life's journeys, the singer couldn't be in a better place.
"Something incredibly major will happen in my life and I'm so excited to greet that new chapter, and I'm so excited I've the luxury of it coming when I'm ready!"
Allen fondly reminisces the debauchery of his youth, describing the "drugging and the raving" and how it was fun while it lasted. "I'm glad this kiddo, my marriage, all these things came in time. I was given the space to learn how to be a functioning adult before I was given the task of taking care of a child.
"I'd just like to go on the record to say that I don't think I'm actually a functioning adult, I'm just disguised as one who pays his bills on time," Stone says with a chuckle.
He retains a quirky, carefree and adorable sense of humour, his social media plastered with snippet videos promoting shows and songs, windows into his cheeky charm.
Indeed, his 'Dr Stone' promo for his VIP package for the upcoming Australian tour (the mention of which induces giggles in Allen), is simply brilliant. Allen has a lot of those sorts of plugs for the VIP packages available for the shows he does (more giggles).
But these packages aren't just a way for Allen to make a fast buck, he genuinely wants that chance to connect with his fans. "It's a combination of both, I'm not gonna lie to you, it's a viable revenue stream," he says.
"Like when I go over to Australia, per say, that's a break even [a] venture. Those VIP packages will take a tour and pay the bills and put it in a position where I can put a bit of money away for when little squirt comes.
"It does give me, and you, a chance to connect with the fans. I used to go out to the merch table after every show but it's past that point now, I can't really do that anymore.
"It does allow me the opportunity to have time to connect in a dialogue with people who would pay an extra amount of money to see me. It still feels absurd, and it still feels like highway robbery, but it is a viable income stream as well as a really wonderful way to stay connected to the audience that allows me to do this thing."
Inspired by the soul and rhythm & blues of the 1960s and '70s, at this point in Stone's career it's the musicians he collaborates with, the experiences he has on the road and living his life that are shaping his sound. "Immensely," he says.
"Things have changed. Like when I first got struck with that bug of chasing this dream of being a musician that all rationale just left my brain – bless my lucky stars it's managed to be possible. That bug was that '60s, '70s sound. But it's changed for sure.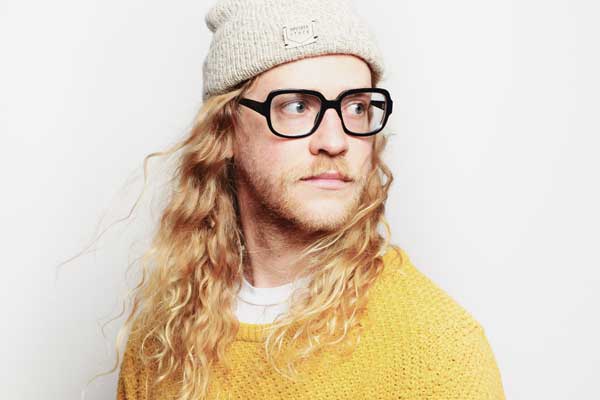 "There's so many new flavours of music out, new sounds, new colours that are really cool, interesting and exciting to see. It all originates in that same place, but I'm definitely excited by it."
Allen's appearance at this year's Bluesfest is one such place to bear witness to both today's new musical talents and the staples of decades.
An impeccable line-up this year, Allen says he wants to collaborate with the entire line-up. "I've never seen Ray LaMontagne [perform], that'll be exciting," he says. "His songwriting is unmatched, he's got the coolest voice."
Bluesfest is of course, a place where Allen has many, many fond memories. "I appreciate Bluesfest, they've always been super kind to me and my camp. This is our fourth Bluesfest. I met my wife on my first trip to Bluesfest, so I have a soft spot for Byron Bay. I can't wait to get back to Australia."
Allen Stone plays Bluesfest (Byron Bay), which takes place 18-22 April.

Allen Stone 2019 Headline Shows
Sun 14 Apr - The Corner Hotel (Melbourne)Wed 17 Apr - Metro Theatre (Sydney)Thu 18 Apr - The Triffid (Brisbane)