The socially-conscious indigenous act A.B. Original (Briggs and Trials) were the massive winners at the 2017 AIR Independent Music Awards (27 July), held in Adelaide for the first time.
Staged at Queen's Theatre, A.B. Original owned the evening with five visits to the podium winning major gongs for Breakthrough Independent Artist Of The Year, Best Independent Hip Hop Album ('Reclaim Australia'), Best Independent Single ('January 26 feat. Dan Sultan'), Best Independent Artist and Best Independent Album or EP ('Reclaim Australia').
The artist formerly known as Chet Faker, Nick Murphy took home his third AIR Award of his career winning Best Independent Dance, Electronica or Club Single for 'Stop Me (Stop You)'. Dropping the Chet Faker moniker last year, Nick certainly hasn't missed a beat with his music.
The award for Best Independent Hard Rock, Heavy or Punk Album rightly belonged to Brisbane's Violent Soho for their 'WACO' album, making this the second time they've won the accolade. The lead single from the album 'Like Soda' has also reached certified Gold status in Australia.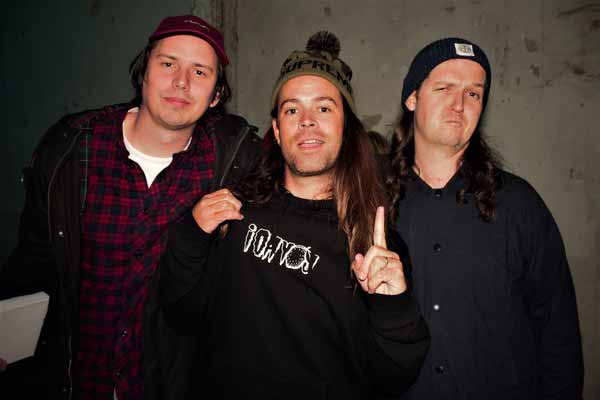 Violent Soho - image © Erin Eustace
The battle of the indie labels saw Melbourne-based company Pieater rise above the rest to be awarded Best Independent Label. Pieater is run by Tom Iansek from alternative rock band #1 Dads and their artist roster includes, among others, Airling and Slow Dancer.
From the desert to the dancefloor, audio-visual duo Friendships claimed Best Independent Dance/ Electronica Album for 'Nullabor 1988-1989'. It might be a lucky thing too considering their song titles, like 'When I Feel Like Killing, I Murder' and 'Keep Smiling At Me Like That And You'll Be Picking Your Teeth Up Out Of The Gutter'.
Best Independent Blues & Roots Album was awarded to Sydney-based singer-songwriter Julia Jacklin and her stunning debut album 'Don't Let The Kids Win'. Julia's bio may say she'll 'put a smile on ya dial, but only for short while', but if this win is anything to go by, she'll be putting smiles on dials for a long while yet.
Sliding right in to the country category, Henry Wagons stole both hearts and the award for Best Independent Country Album with his solo release 'After What I Did Last Night'. It is his first studio album as a solo artist, having fronted his own band Wagons since 1999; Henry is also a respected media personality who hosts the 'Tower Of Song' Americana/ roots programme on Double J.
Henry Wagons - image © Erin Eustace
Two of Australia's greatest jazz musicians, James Morrison and Don Burrows found themselves 'in good company' when they won the Best Independent Jazz Album award for their collaborative release 'In Good Company'. Both legendary, contemporary composers and instrumentalists in their own right, the pair share a close bond as mentor and mentee with James considered Don's finest pupil. Don was recently diagnosed with dementia and 'In Good Company' is being called his final album.
One of Australia's most lauded classical musicians, guitarist Slava Grigoryan picked up another accolade to add to his collection; the award for Best Classical Album. It was for 'Bach Cello Suites Vol. 1', the first of a major series by Slava that surveys the music of JS Bach. The AIR Award win is another notch in Slava's belt, which already holds an ARIA win (plus 13 nominations) and a Young Australian Of The Year Award.
The night's treats kept on rolling with live performances from rock legend Russell Morris singing 'Black Dog Blues' and Elizabeth Rose's dreamy pop and R&B offering of 'Another Earth'. A.B. Original also returned to the stage for what can only be described as a 'killer' performance.
Host Dylan Lewis managed the room superbly, keeping the music industry's finest entertained with the laughs flowing throughout the evening.
AIR GM, Maria Amato commented: "It was great to see the industry turn out in droves to celebrate the success of the independent sector at the 11th AIR Awards in Adelaide. So proud of the collaborations with the South Australian Government and our supporting partners that helped us make this all happen."
Click here for more photos from the awards ceremony.
The AIR Awards were held this year alongside
Indie-Con
, a two-day music industry conference also staged by AIR. Both events capped off Umbrella: Winter City Sounds, Adelaide's two-week festival of South Australian music and arts presented by Music SA. Adelaide will continue to host the AIR Awards the next two years.
AIR is a non profit, non-government association dedicated to supporting the growth and development of Australia's independent recording sector. Established in 1996, AIR represents Australian-owned record labels and independent artists based in Australia with a primary purpose to foster an increasing marketplace for Australian independent music and assist in the long-term development, growth and success of Australia's independent recording industry.