With their first headline shows in Australia in over ten years, AFI brought their new album 'The Blood Album' to The Gov (12 September) with supports Basement and Introvert.
Introvert opened the night to an early bird crowd. Introvert have gradually been gaining a following after their well-received 2016 EP 'Old Taste' and recently gained some well-deserved love from their BIGSOUND performances.
They've been the talk of the town and their live show proved this. Hitting their peak in the song 'Everything Is Different' the band proved why they're continuing to gain traction.
Click here for more photos.
Having toured with Turnover last year to a sold-out crowd, Basement had a respectable audience size for so early in the night. Performing a healthy mix of songs from their 2015 hit 'Promise Everything' and their 2012 spotlight 'Colourmeinkindness', the band got the room singing along and gradually moving with their blend of mellow, melodic hardcore in songs like 'Covet' and heavier gems such as 'Promise Everything'.
Basement - image © Erika Owens
Basement performed a tight, 12-song set more than enough to get the timid and seemingly unfamiliar crowd moving and shouting for more by the final note of their end song 'Whole'.
By 9.30 The Gov had packed out with an eager crowd of mixed variety waiting for the return of AFI. With a decorated discography, with over 20 years of material dating back to 1995, AFI performed crowd favourites from nearly every era to almost perfection.
None of the material sounded dated and the band, with their veteran experience, performed every song flawlessly.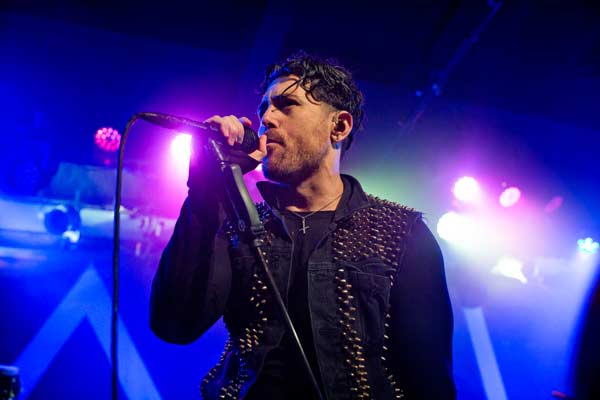 AFI - image © Erika Owens
With the crowd roaring in reception to every song there seemed to be no stopping AFI, that was until the power to the stage cut out leaving vocalist Davey Havok standing alone on stage with a lone microphone working. Caught off-guard the band didn't know how to react as the stage hands ran around diligently trying to fix the problem.
With nothing else to do Davey broke into an a capella performance keeping the show moving and gaining a few laughs from the crowd. Once guitarist Jade Puget's back-up amp and guitar seemed to get some life into it Havok and Puget did the only thing they could do going into the minimal duet 'The Leaving Song'.
After leaving the stage for five minutes to fix the technical difficulties the band returned but warned everyone that it could cut out again at any moment. However, the rest of the set went off without a hitch. The band recovered without hesitation as they kicked into 'This Celluloid Dream'.
AFI - image © Erika Owens
They then went into something fresh that fans hadn't seen at their previous festival sets over the years with newer standouts from 'The Blood Album', 'Snow Cats' and 'Still A Stranger'. One of the main highlights included a massive end going into the first encore with 'Silver And Cold'.
With a short encore break, the band returned to give an anthem end worthy of a stadium sing-along, with everybody's favourite 'Miss Murder'.
AFI gave a highlight-reel performance digging deep into their 20-plus-year career with a long, overdue headline performance, satisfying hardcore fans young and old with a taste of everything they needed to hear.
Click here for more photos