An unexpected album inspired by a lifetime of musical influences will take Diesel across the country to perform live for fans in the coming weeks.
Diesel, aka Mark Lizotte, describes his covers record, 'Americana', as an autobiographical story of his musical timeline, comprising songs that piece together defining moments in his career and personal life. "I was getting ready to make another record of my own when my long-term agent suggested the idea," he admits.
"But once I started picking the songs I become completely absorbed with it, and it didn't take long until I developed an emotional attachment."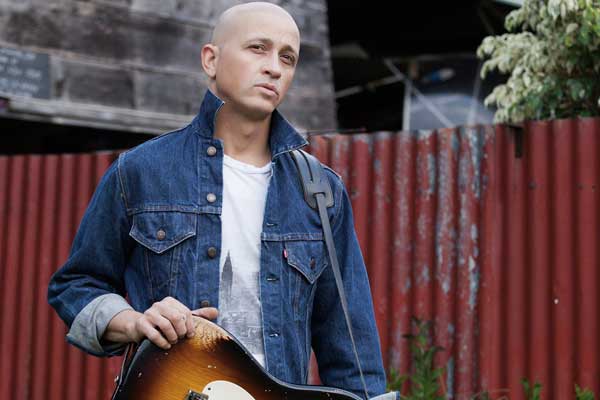 The track list was selected carefully, though without forced deliberation. Mark says he followed his instincts instead of over-thinking each decision. "I let a few people throw their two cents in, but otherwise [I] got cracking and started recording straight away," he explains.
"Otherwise given six months or less, I could have easily ended up with hundreds of songs to choose from."
Bruce Springsteen, James Taylor and Bob Dylan are among the raft of renowned artists reinvented by Mark. "As an example, my sister used to play Joni Mitchell when we were growing up. 'The Circle Game' was one of the first songs she learned on the guitar and made a massive impression on me as a chid," Mark says.
"Now, I was finally able to feel what those lyrics were about, the coming of age, the circle of life, small-town boy growing into a man.
"It impresses me that Joni was so young when she wrote the song: a small-town Canadian girl speaking about huge, deep concepts that definitely defied her age."
Despite the undeniable challenges of reworking original music, Mark describes the process as natural as writing his own melodies. "I tended not to listen to the originals much at all, they're already embedded inside me," he says.
"As soon as I picked up the guitar and started working out the key, the song began to take on its own form. Especially the Johnny Cash cover; it's a whole, new song that simply uses his lyrics and bits and pieces of his melody."
'Americana' reached 15th on the ARIA Charts, an accolade Mark humbly gives credit to the original artists. "People like Tom Petty and Bruce Springsteen are massive in Australia. If I was doing covers of more obscure artists, it might not have been so embraced!" he laughs.
"But that's the great thing about the album, they're such massive songs, huge in people's minds, so you can stray quite far and people will still recognise them."
His upcoming tour extends across capital cities and regional towns, kicking off in Sydney in early September. Mark is particularly excited to see the country on foot, from the coastline to the central Australian deserts. "I have my daily routine, and it involves throwing my running shoes on and exploring the area," he reveals.
"Every time I walk outside with doubts of finding anything, I stumble upon a hidden, natural gem, whether it be a river or an incredible bush park, or even a lake."
The 'blow in blow out' aspect of touring leaves Mark feeling hollow; he instead takes the time to better know each city he performs in. "I feel so much better arriving to the gig when I've gotten a lay of the land, it makes me feel more connected to my audience."
Despite currently working on original music for an upcoming album, the 'Americana' tour will be the key focus for Mark in 2016. "I'm so looking forward to the tour after having a break, I feel very rejuvenated and can't wait to have the guitar back in my hands more often," he says.
"Making and playing music truly instills me with purpose: otherwise I start wondering what the hell I'm actually here for."
Diesel Tour Dates
Sat 3 Sep - The Factory Theatre (Sydney)Fri 9 Sep - The Corner (Melbourne)Sat 10 Sep - Reveseby Workers Club (Sydney)Thu 15 Sep - Friends Restaurant (Perth)Fri 16 Sep - Ravenswood Hotel (Perth)Sat 17 Sep - Charles Hotel (Perth)Fri 23 Sep - Rooty Hill RSL (Sydney)Sat 24 Sept - The Gov (Adelaide)Fri 30 Sept - Sol Bar (Sunshine Coast)Sat 1 Oct - The Triffid (Brisbane)
27-30 Oct - Sydney Blues And Roots Festival
Click here for a full list of regional dates.