Howdy y'all. It's high time we got the lowdown on what it takes to be a true Americana aficionado with Australian country duo, Kris Morris and Sarah Humphreys aka Eagle & The Wolf.
The pair have made a name for themselves as a lovestruck, songwriting team who have won the hearts of fans and critics alike. Combining their own respective talents as accomplished singer-songwriters, as Eagle & The Wolf they create a raw and emotional brand of Americana other artists in the genre can't even imagine.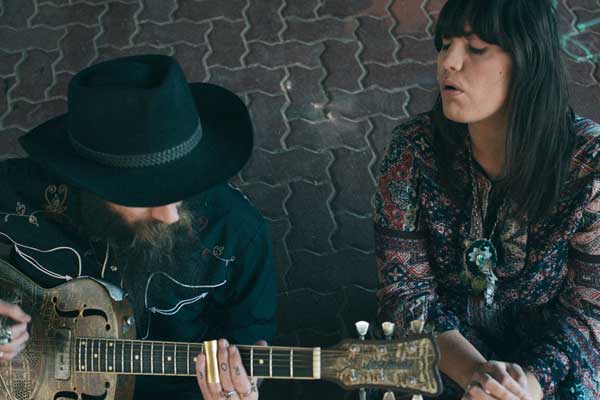 Eagle & The Wolf
Both Sarah and Kris have worked with Australian country musician Kasey Chambers, who produced Sarah's third solo album, 'New Moon', and hails Eagle & The Wolf as a unique force in modern country and folk music. "Separately Sarah and Kris are two of my favourite singer/ songwriters ever," Kasey says, "but the first time I heard their voices together I was taken to a whole other place.
"The blend was like nothing I had ever heard before and broke my heart in the most beautiful way."
In March, Eagle & The Wolf released their self-titled debut which features the single 'Mama, Son And The Holy Ghost', accompanied by a film clip directed by Joel Noble. Currently on tour for the album, Eagle & The Wolf will perform in Brisbane at the inaugural
Welcome To Morrisonville: Americana Festival
. They join real-life Texan outlaw-country-Jewboy singer Kinky Friedman and his fellow Texan singer-songwriter Hayes Carll as the headliners, along with Australian duo The Weeping Willows and Brisbane troubadour Paddy McHugh.
For those of you who don't know a bolo tie from a bow tie, ahead of the Welcome To Morrisonville festival, Kris and Sarah give their top five tips for passing yourself off a rootin-tootin' down-home Americana know-it-all.
1.
Always wear a cowboy hat. Even to bed.
2.
Weave Jason Isbell or Sturgill Simpson into all your conversations. Even job interviews.
3.
Talk about all your favourite spots in Nashville (even if you've never been there). But obviously you are going there for Americanafest and everyone needs to hear all about it. Every day. Without fail.
4.
Learn two Townes Van Zandt covers, write a song about a horse and book a national tour.
5.
Whiskey.

Welcome To Morrisonville: Americana Festival takes place at the Morrison Hotel 15 October from 2pm. The day will also feature American whiskey and beer as well as Brisbane's best American-styled food trucks.
Eagle & The Wolf also support Hayes Carll at his Melbourne show (14 October - Thornbury Theatre) and Sydney show (16 October - Factory Theatre).