Scorching summer days, a warm sense of nostalgia in the air and thousands of screaming fans from all over the world… this is just a taste of what the artists travelling across the USA with Kevin Lyman's Vans Warped Tour experience.
Vans Warped Tour has shaped and laid the groundwork for festivals all over the world and influenced heavy metal, emo, punk, rap and even mainstream pop music for the past 23 years.
It has seen the birth of emo with bands like The Used and Taking Back Sunday, and helped launch the huge careers of Fall Out Boy, My Chemical Romance and Avenged Sevenfold. You could literally sit for days and list all of the diverse and incredible acts who have graced the many stages all over the USA thanks to Warped Tour.
Click here for more photos from 2018 Vans Warped Tour San Diego.
This year's line-up was filled with particularly impressive artists - and for good reason. 2018 is the final year that Warped Tour will be travelling cross-country and there is not a chance that this was going to go out without a giant bang.
After opening in Pomona, CA, San Diego (22 June) was the second show of the 38-date tour, meaning that everyone was pumped and ready to kick on with high-energy performances.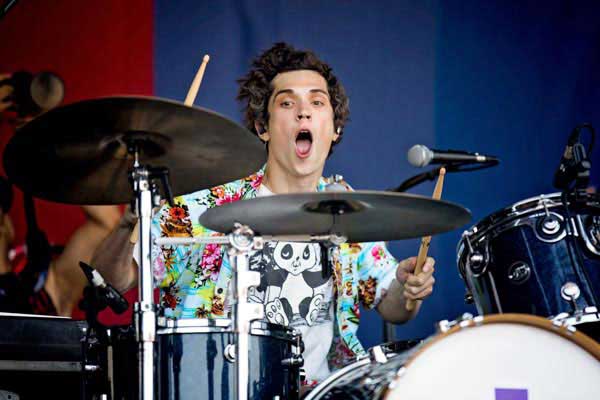 Waterparks - image © Erika Owens
One of the first new age pop-rock acts of the day, Waterparks brought along My Chemical Romance's Mikey Way for the ride and from this they pulled not only their usual young, colourful fans but old-school emo lovers of all ages.
We The Kings made their way onto the Journey's Left Foot stage not long after Waterparks finished their set, opening with Celine Dion's 'My Heart Will Go On' sung by guitarist Cooley O'Toole - with frontman Travis Clarke emerging to give a performance of old-school pop-punk classics including 'Skyway Avenue', 'Sad Song' and 'Check Yes Juliet', which I'm positive took everyone in the crowd back to when they were 14-years-old singing-along in the back of their Mum's car.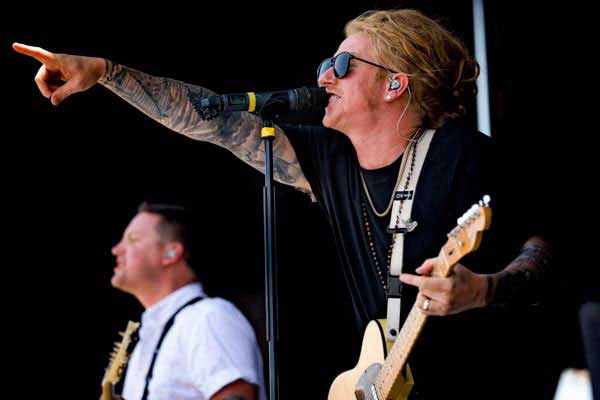 We The Kings - image © Erika Owens
On the Journey's Right stage, Four Year Strong came out and the crowd went crazy within seconds. Four aggressively-attractive bearded men emerged from the back and from the first, gritty chord of 'We All Float Down Here', they had everyone jumping, punching the air, screaming and even crying.
They played a mixture of their classic, more-well known songs such as 'What The Hell Is A Gigawatt?' and 'Wasting Time (Eternal Summer)' as well as some impressive new stuff.
With a consistent, swimming pool-style circle pit and at least twenty crowd surfers going at one time, there were times I was worried - but nobody else was even slightly phased. Every person in the pit was belting out the lyrics word for word to every single song, so in sync that at times I couldn't even hear the band themselves - only their adoring fans.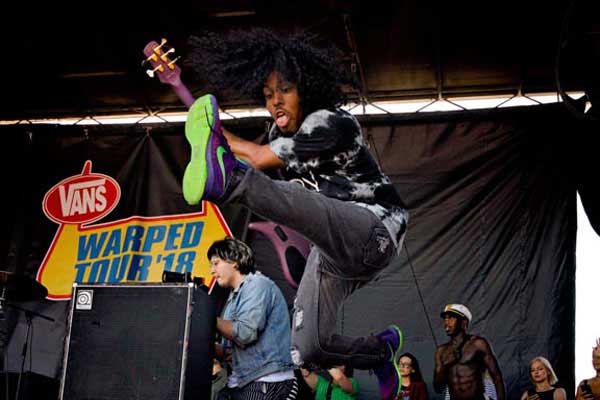 Four Year Strong - image © Erika Owens
Another highlight of the day was one hundred per cent electronic music duo 3OH!3.
With a high-energy setlist of absolute BANGERS, every person was dancing along to old favourites 'DONTTRUSTME', 'My First Kiss' and 'STARSTRUKK' with huge grins plastered across their faces as they watched the very quirky pair dance and jump around the stage like maniacs for 30 minutes.
The best part of 3OH!3's performance was hearing literally thousands of people proclaim in unison that 'I'M A VEGETARIAN AND I AIN'T F****IN' SCARED OF HIM!' before bustin' a move to the body-shaking beats of the chorus.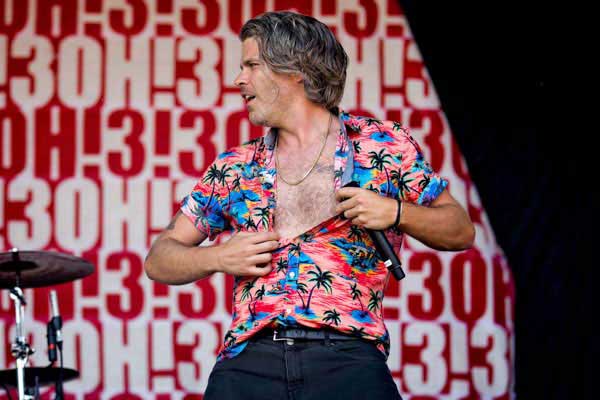 3OH!3 - image © Erika Owens
Old Warped Tour favourite Mayday Parade were then due to grace the Journey's Left stage, as the crowd watched gentle and almost softly-spoken lead singer Derek Sanders spending half of the set pushing his gorgeous, long locks out of his face, and the other half jumping up and down singing old classics.
They opened enthusiastically with 'Jamie All Over' and I couldn't help but smile and think back to my youth as I watched the band (specifically a very smiley and animated Brooks Betts on lead guitar) perform so many songs featured on my own personal high-school soundtrack.
They ended their set passionately with break-up ballad 'Jersey', which had everyone dancing, singing, screaming and even crying.
Mayday Parade - image © Erika Owens
Simple Plan ultimately took over Warped Tour 2018 with their set - they are currently celebrating the 15-year anniversary of 2002's album 'No Pads, No Helmets, Just Balls', which contains almost every Simple Plan song you'll remember from your childhood.
Click here to read our April 2018 interview with Simple Plan.
Opening with 'I'll Do Anything' frontman Pierre Bouveir showed everyone that it's more than okay to jump, sing, kick and scream along to lyrics that we should've all grown out of by now (but obviously never did).
They threw it right back for the original SP fans by playing one of their first songs released - 'Grow Up' - and showed us some new stuff with one song from their latest album - along with all the classics like 'I'm Just A Kid' and 'Addicted'.
Among the fun, upbeat tunes, we also heard 'Perfect' and 'Welcome To My Life' performed acoustically, and it felt like all of our hearts were breaking all over again. A Simple Plan show is always nothing but good times, and Pierre, Jeff, Seb and Chuck certainly know how to get the crowd going and return us all to our former years.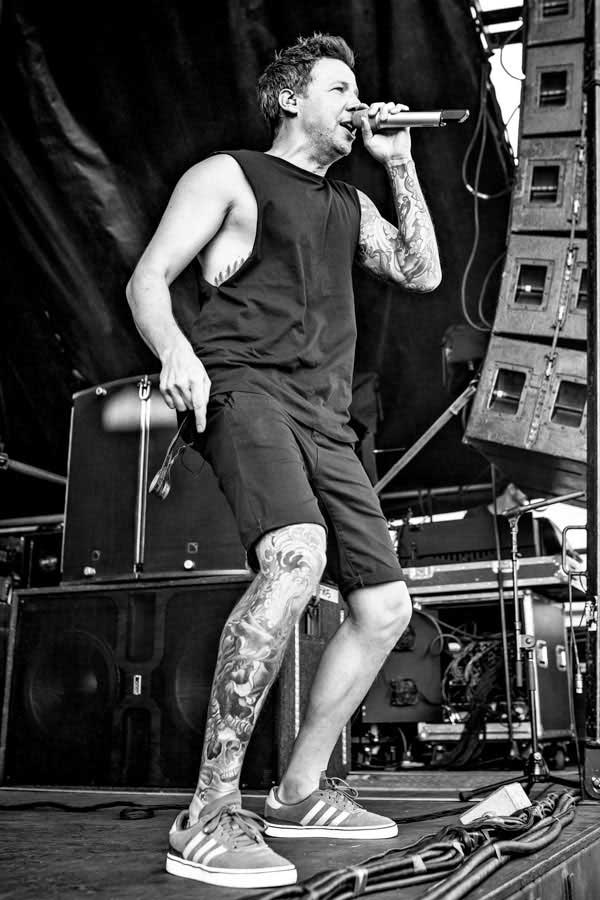 Simple Plan - image © Erika Owens
All in all, if I had to describe Warped Tour in one word, it would be GRUELLING.
But I say this in the best way. Spending an entire day with thousands of people, who are different in almost every way, was truly an experience - because for that one day, we were not so different. We were there for the music. It all means something to us and Warped Tour is truly the embodiment of that.
Each and every artist at Warped Tour proved to be unique. With such a diverse line-up, you'd almost think they'd have nothing in common.
However, after watching a teary-eyed speeches from We The Kings, All Time Low's Alex Gaskarth and Bert McCraken, all independently thanking Warped Tour and festival goers, referring back to their first shows in 2006 and 2008 respectively, it was so clear that everyone attending and performing was feeling the nostalgia and an indescribable feeling that after 23 years, Warped Tour was finally coming to an end this (American) summer.
Click here for more photos from 2018 Vans Warped Tour San Diego.