DZ Deathrays, Holy Holy and Ecca Vandal will headline the 2018 instalment of Secret Garden Festival.
Flamboyant fun and party bangers are on the menu for this fabulous forest party when Secret Garden takes over the Bronwlow Hill Farm (NSW) 23-24 February.
With tickets already officially sold out, there's only one thing revellers headed to the farm need do, check out the 2018 line-up. For those minus a ticket, read on and make sure you plan early your 2019 Secret Garden adventure.
Press release from Secret Garden Festival:
'Leading the way are fuzzy dance-punk duo DZ Deathrays, with purveyors of widescreen, cinematic indie rock Holy Holy hitting the prime-time Friday night set. Genre-pushing, stage crushing power-house Ecca Vandal will be banging out her best and the oblique, shimmering beats of synth wizard LANKS are set for the stage.
'Folk hero Alex The Astronaut brings her intricate and lyrical sing-alongs and The Harpoons kick things up a notch with their euphoric, soul-pop.
'Fashion icon, internet celebrity, hip hop star and unapologetic bad-ass Miss Blanks is set to rule, while Unearthed Artist of the Year Stella Donnelly is ready to mesmerise yet simultaneously break your heart. Impressed?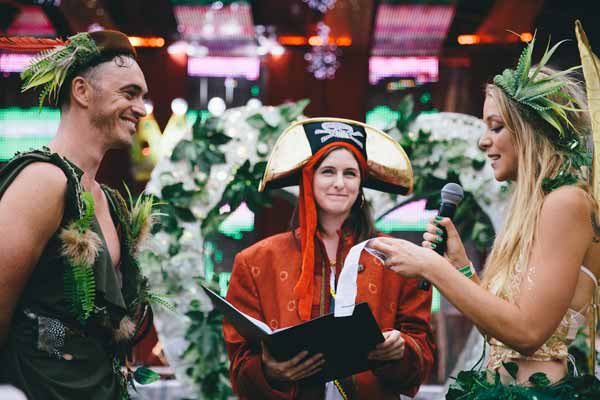 'In true secret garden fashion, we've just scratched the surface. Deep in the forest, Secret Garden have programmed two days bursting with adventure.
'Laden with treasures trickled throughout the grounds, your Secret Garden matriarchs, the Camp Queen Drag Queens return for two days of hot and heavy dancefloor action.
'The Great Fatsby will host the Annual Feast; a regal banquet shrouded among the trees. Single ready to mingle? 2018 welcomes the Mystery Bachelor or Bachelorette or for those not quite ready for the commitment can head to the Kissing Booth for some loving without the pressure of meeting the in-laws.
'Crowd-sourced entertainment is high on the priority list with the brand-spanking new Shout Something Nice bar and The Applause Audience, an audience welcoming Gardeners into the forest.
'They say that things get better with age and in her tenth year, Secret Garden presents a seated theatre with flowing French champagne at the (In A) State Theatre. However, as we have come to expect of Secret Garden, what is programmed there will be nothing short of wild debauchery and a lot of nudity. Hallelujah!
'Created as a choose-your-own-adventure world, Secret Garden escapades through more than 14 forest dancefloors and captivating hidden worlds. Expect actors, dancers, comedians, pop-up performances among the bustling maze of adventure that assures the more you put in, the more you get out.
'Celebrations begin Friday night with the festival-wide fancy-dress theme Year 10 Formal, so dust off that pink chiffon dress you stashed in your closet, it's time to re-live your teenage prime.
'All of this soundtracked by the band of your teenage dreams, Bris 182 – an 11-piece Blink 182 cover band extravaganza. Saturday night remains open for Gardeners to fulfil their wildest of dress-up desires.'

Secret Garden takes over the Bronwlow Hill Farm (NSW) 23-24 February.